News
Why Lexi Thompson is returning to the scene of that painful missed putt this week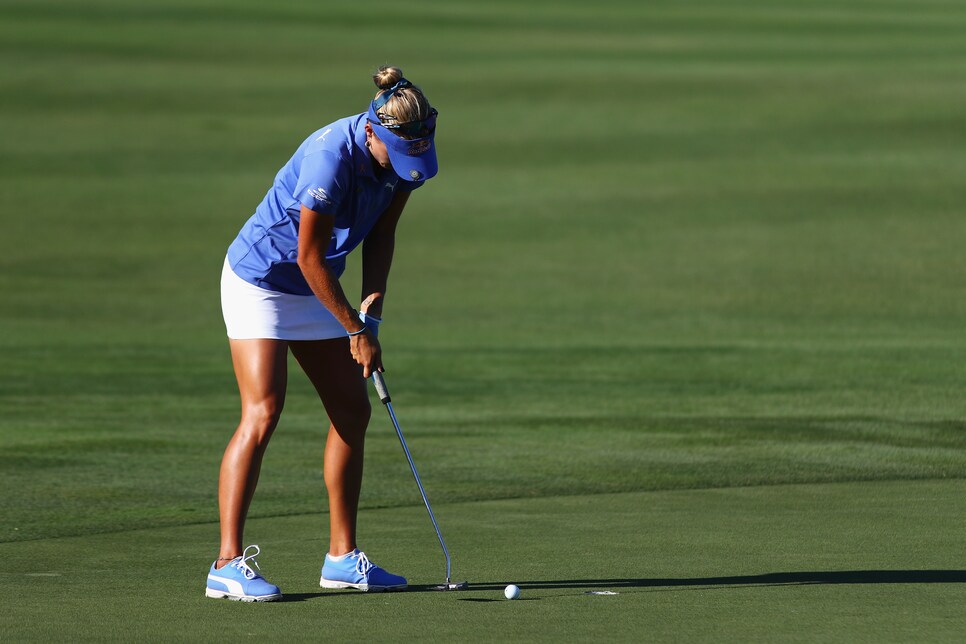 Just two weeks ago, Lexi Thompson stroked the missed putt seen 'round the golf world, a (maybe) two-footer that barely grazed the cup on the final hole of the LPGA's season finale. It was a stunning development on the 18th green of Tiburón Golf Club's Gold Course as Thompson lost her grip on both the tournament and the LPGA's Player of the Year Award. But now, the LPGA star is already headed back to the scene of the crime painful miss.
No, Thompson isn't participating in some sort of new-age therapy to exercise her on-course demons, but rather, a coincidence has her playing in another tournament there. For a second consecutive year, Lexi will be the lone female playing in the QBE Shootout, a (mostly) PGA Tour silly season event featuring 12 two-person teams teeing it up at the Naples course.
Thompson will partner with Tony Finau this week after finishing tied for last place with Bryson DeChambeau last year. Matt Kuchar and Harris English are defending champs.
"I guess it's just golf," Thompson said after her short miss, which led to Ariya Jutanugarn winning the event and Sung Hyun Park and So Yeon Ryu sharing Player of the Year honors. "You know, crazy things happen like that. I'll move on."
Despite the scheduling quirk that has Thompson returning so quickly to the spot of something she's trying to put behind her, there are plenty of positive waves to spin this. For one, she has a leg up on her male competitors when it comes to reading the greens. Secondly, the miss didn't cost her the LPGA's season-long $1 million bonus. And third, because of said bonus, Thompson, who lives near Naples, can now roll up to Tiburón Golf Club in a souped up Nissan GTR she purchased with part of her winnings.
Looks like Lexi will move on, indeed. And in style.