The Loop
Why Jon Rahm hasn't seen his Masters invitation yet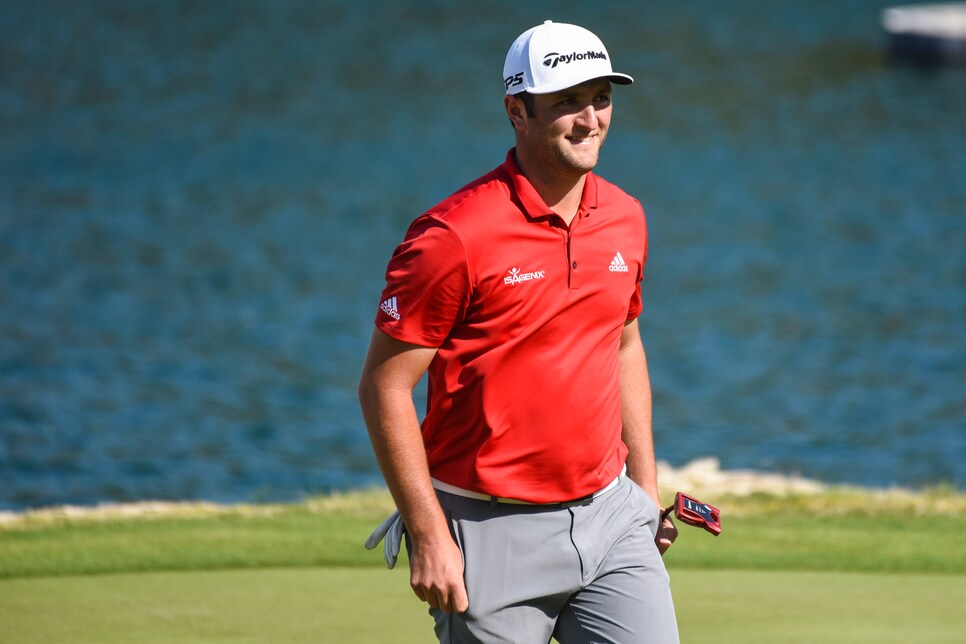 AUGUSTA, Ga. -- Jon Rahm punched his ticket to the Masters in January, but on Thursday, the 22-year-old revealed he hasn't seen his official invitation yet. No, this wasn't an oversight on August National Golf Club's part. Heck, Rahm's invite was probably sent the moment his eagle putt dropped on the 72nd hole at Torrey Pines to wrap up his first PGA Tour title. The young star has simply been too busy playing more great golf since.
"I haven't been at home for a long -- I mean, I'm home for a week, every other week. I haven't seen it yet," Rahm said. "It might be in the mail right now. I don't know. I can't tell you. I haven't physically gotten it yet."
So. . . who let this guy in?
Actually, Rahm received an email invitation, "which was just as exciting," but the physical copy is something he's looking forward to getting his hands on.
"I do have plans of framing that first invite and keeping it at home, that's for sure," he added.
How about hanging a first green jacket also? Rahm entered 2017 as a likely breakout player, but he's suddenly being talked about as one of the Masters favorites despite this week being his tournament debut. That's what happens when you finish T-3 and runner-up at back-to-back World Golf Championships. In fact, only Dustin Johnson has earned more Official World Golf Ranking points this year than Rahm.
But history isn't in Rahm's favor as a Masters rookie. Outside of the tournament's first few years, Fuzzy Zoeller is the only first-year player to win a green jacket. Rahm, however, points to his first PGA Tour victory as proof he can buck trends.
"Truly, Torrey Pines is not one of the places rookies usually win for the first and I was able to do it," Rahm reasoned. "Obviously, this is different. It's a major and my first time in Augusta . . . I'm going to tee it up believing that I can win, competing to win. I might do it, I might not, but that's how I do it."
Rahm made one prior trip to Augusta National following a T-3 at the WGC-Mexico Championship. Rahm played two rounds that week and he was hoping to get 18 more holes under his belt on Monday, but bad weather kept him to only a little chipping practice.
Of course, Rahm could have arrived at Augusta National early, but he chose to play in the Shell Houston Open instead.
"One of the main reasons was that I didn't want to be at home practicing, over-thinking it, just being anxious to be here," said Rahm, who finished a ho-hum T-10 in Houston. "I know myself, I probably would have tried to come early and spend too much time here. The anticipation would have built up so much high in my head that I wouldn't have been able to handle the first day."
Rahm will get back to practicing on Tuesday and he hopes to play with fellow Spaniard Jose Maria Olazabal on Wednesday morning. He looks forward to picking the brain of a two-time Masters champ -- but maybe not too much.
"I'm the kind of player where if I have too much info about the tournament, I might not know what to do with it," Rahm said. "So I'm just going to try to keep the routine the same as I usually do and just let the good play take care of itself instead of forcing it."
Considering the run he's been on, that sounds like a smart plan.