Tour Life
Why Jon Rahm is much better prepared to play the week after a major this time—and his advice to Wyndham Clark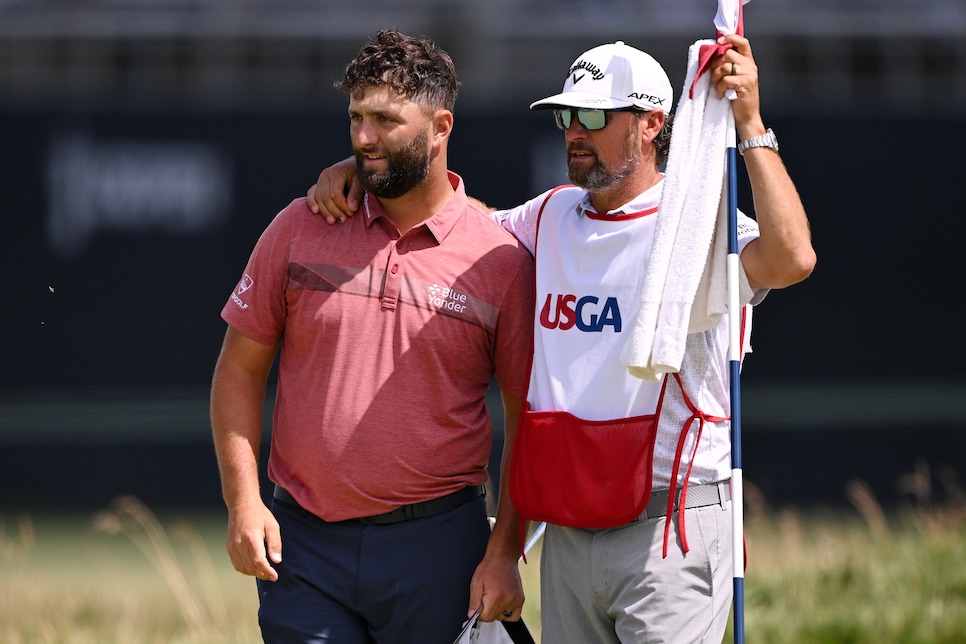 CROMWELL, Conn. — Jon Rahm didn't just show up for the first pre-tournament press conference of the Travelers Championship on Tuesday, he arrived at the media center a full five minutes early ready to go. If the two-time major champ had any sort of major championship hangover from the U.S. Open, he didn't show it. Then again, the situation was a lot different from the last time this happened a couple months ago.
The PGA Tour has been jam-packed this season for top players, most notably with two of the new designated events falling the week after a major championship. Rahm drew praise for playing at Hilton Head in April just days after claiming the green jacket. But on Tuesday the only green on his mind were the bright shoes he wore as he got right back to work.
"Oh, way easier, way easier," Rahm said when asked to compare this week to the one at Harbour Town following his Masters win. "I was pretty drained on that Thursday still when I tee'd up at Harbour Town, and mainly because that week was unique in how demanding it was on the weekend with all the starts and stops and the tough whether. Every time I win it takes a little bit more out of you."
Rahm didn't win at the U.S. Open, but he did finish strong with a Sunday 65 at LACC. That vaulted him into the top 10, but he acknowledged that not all high finishes are created equal.
"For the better part of the weekend I was never in contention, so all that stress and intensity that comes with it wasn't there," Rahm continued. "Even though I finished great, my round was done at 3 p.m. and I was able to enjoy most of the broadcast like everybody else. That extra energy spent on battling Sunday afternoon at the Open, so energy-wise I'm much better."
There is a big difference from going between Augusta and Hilton Head versus a cross-country flight from L.A. to the East Coast. But as a travel vet, Rahm offered three pieces of advice to overcome potential jet lag: 1. Stay hydrated on the flight; 2. Stick with your meal plan; and 3. Hit the ground running. Literally.
"And then when you land, if you have time and a gym are whatever it may be, to get a little bit of exercise in," said Rahm, whose T-25 in 2016 is his best finish in three previous starts at the Travelers, the last of which came in 2020. "It doesn't need to be crazy. It could be 30, 40 minutes of just some kind of stretching or whatever to get the blood flowing a little bit more so your body can just naturally recover and get things moving. If you just sit for five hours and then you arrive here late, have dinner, and go to bed, I don't feel my best the next morning."
Good to know. Rahm also had some advice for golf's newest major champ, Wyndham Clark, who is also in the field this week with another $20 million purse on the line.
"After winning I'm pretty sure he doesn't care how it goes this week," Rahm said. "So, I really couldn't tell you. It's so personal. All I could tell him is to enjoy the win as much as possible. You know, if you want to focus and play this week, go ahead, but just take the time to enjoy those moments, just because, you know, they're not easy to come by."
Judging by the video that emerged of Clark chugging from the U.S. Open trophy, he appears to be doing just that. So Rahm would definitely approve—he just might suggest that Clark focus even more than normal on his hydration before teeing it up on Thursday.