Equipment
Why grip size is way more important than you think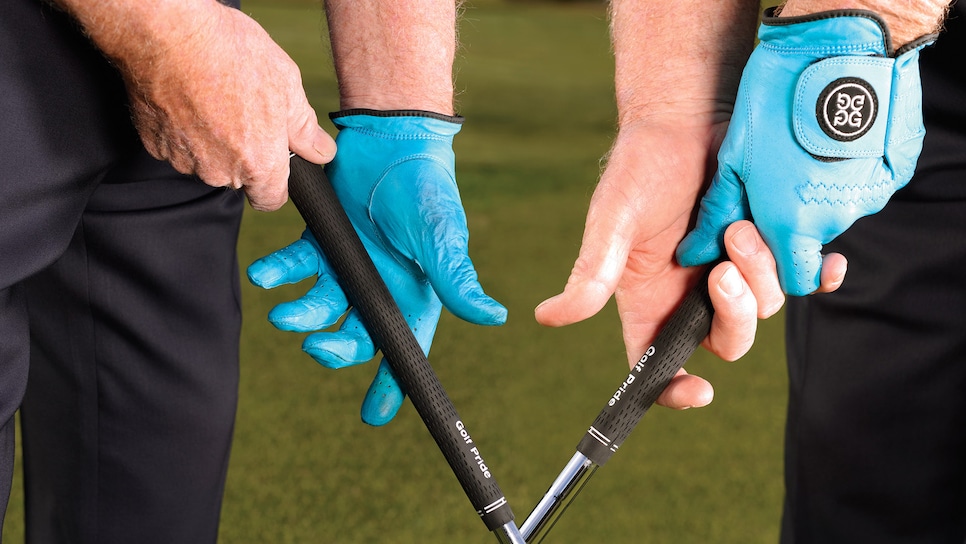 If you're considering new clubs, or perhaps even wondering about your current set, what might be right, or worse, what might be wrong, you could focus on the vast array of specifications that could affect performance: loft, lie, length, weight, shaft flex and on and on and on. Or you could take a cold hard look at the only part of the club you actually touch during the swing.
"Grip size is the most important element related to grips, and it is a significant component of a properly fit set of clubs," said Craig Zimmerman, general manager of RedTail Golf Center in Beaverton, Ore., a perennial selection to Golf Digest's list of America's Best Clubfitters. "Grip size is often overlooked or an afterthought of the fitting process, and the wrong grip size can have a substantial impact on how clubs perform."
It's not merely that so many average golfers don't think about size, or even the texture or the composition or even the weight of the right grip for their games, they may not even think about them at all beyond some superficial surface-level motivation, like what model a favorite tour player uses. But here's the thing, there are dozens of grips and grip configurations being played at the elite level today. Case in point: Take a look at Ping's website which lists the club specs of every member of its tour staff. Each listing is unique and sometimes even within the same player's bag. For instance, Harris English plays the Golf Pride Tour Velvet Align 58 plus one wrap and plus one black tape except on his G410 Crossover hybrid iron, which uses a Golf Pride MCC with three extra wraps under the right hand and one extra wrap under the left hand and one black tape.
Every element in your choice of grips can affect performance, but that doesn't mean the right grip is only about personal preference. "I prefer to get something that feels good in the player's hands, but many times what feels good does not work," said Woody Lashen, principal at Pete's Golf in Mineola, N.Y., another long-time repeat selection in the America's Best Clubfitters list. "Larger grips often feel good at first but can turn out to be not the best choice for the player. We look at someone's hand size, how they grip the club and the pressure they apply to the grip during the swing so we can see the results. Just like testing different shafts, the player may need to test different grips to find what's best."
Zimmerman and his team at RedTail developed a chart they call Total Hand Size, which measures the distance from the first crease of the wrist to the tip of a golfer's longest finger and the length of a player's longest finger, as a static starting point. Typically (although not always), larger grips, like those listed as Midsize or even larger, can help a player who is struggling with a hook. Smaller grips can help a player who is fighting a slice to help the hands to release more efficiently to square the clubface at impact.
"A player with a large hand size may have less face awareness with a grip that is too small," Zimmerman said. "This may also cause a player to have excessive grip pressure. This can cause tension in the forearms and make it more difficult for a player to square the face. Conversely, we increase grip size if the player struggles with over-rotating the face. Larger grips or those with a built-up section for the lower hand, like the Golf Pride Plus 4 models, are better for someone who closes the face too much. Look at players like Bryson DeChambeau, Bubba Watson and Tony Finau. They play extraordinarily large grips to 'take their hands out' and try to reduce over-rotating and closing the club face."
Most fitters agree that better players with faster swings tend to favor grips with a firmer feel, but there are no hard and fast assumptions golfers should make about their grips. That said, a player should be aware of certain physical tendencies (like how sweaty his hands get), as well as how often rounds are played in wet or rainy conditions. There are certain grips that better answer some of those specific problems, but they may come with a compromise in terms of what feels right when they're trying out a grip on a simulator indoors compared to what it might feel like in a cold, gentle rain during an early morning round.
Furthermore, a softer grip may also require a player to pay a little more attention to maintenance and wear. Those softer grips may help golfers struggling with hand injuries or arthritis or even those who opt out of wearing a glove, but they may not last as long for a player with stronger swing speeds. While that softness can be a blessing, "these grips tend to have more give in them, adding to the natural torque of our hands," said Kyle Cullum, owner of No Bogeys Golf in Southern California, another perennial favorite for Golf Digest's list of America's Best Clubfitters. "We typically do not encourage better players to use softer grips with more play/give/torque, because this is not beneficial for consistency under pressure."
Average golfers need to pay attention to how their hands fit a certain grip size, realizing that while there are "midsize" or even jumbo grips on the market, the right grip adds the kind of consistency that can be the foundation for an improved swing. Players should insist that the selection process go beyond sorting through dozens of boxes of new grips or grabbing on to some partially shafted grip samples. Testing them during a fitting should be as common as trying a different shaft or a different setting on an adjustable driver.
"If I were a betting man, I might go as far to say that grip fittings will become the next hottest trend," said John Hutzler of Swingfit in West Virginia, another one of America's Best Clubfitters. "It's just that important and when compared to buying a brand-new golf club it's not a bad way to breathe new life into your clubs at a very small cost."