The Loop
Why does it seem that golf's rules are always doing more harm than good?
SPRINGFIELD, N.J. — How do you know when your sport has a rules crisis? When it takes almost 15 minutes of television time and 600 words of transcript to describe it, and the folks watching still don't really know what happened.
Jordan Spieth's adventure on the seventh hole at Baltusrol Golf Club Friday was just the latest iteration of the absurdity that is the Rules of Golf—an Encyclopedia Arcana that has become so complex that even the walking rules officials at major championships can't be trusted to interpret it correctly, and can leave golf fans with the impression that the purpose is to hit players with nitpicking gotchas.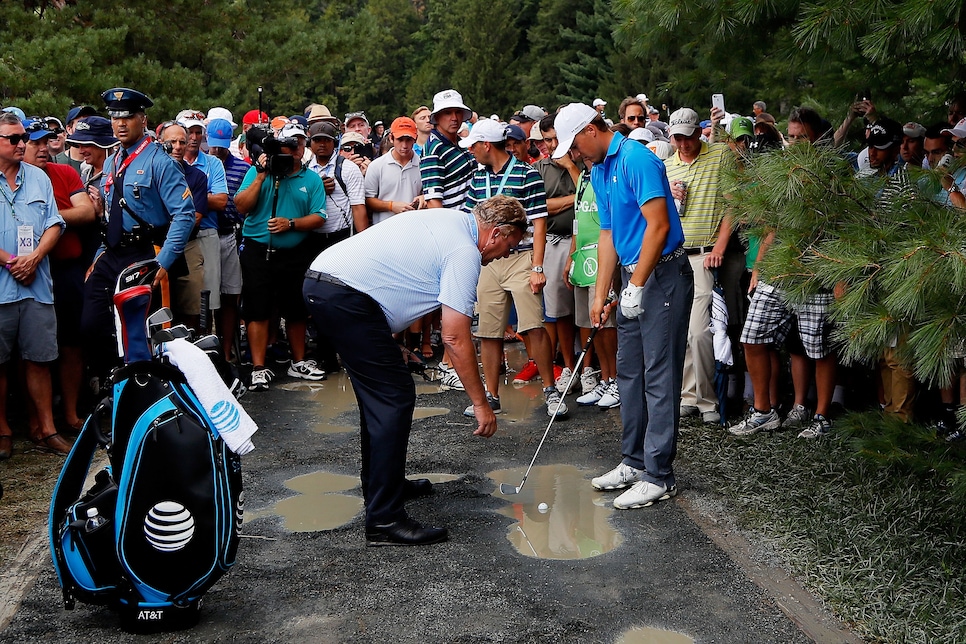 It took Spieth and the official walking with his group 15 minutes to figure out how the two-time major champion could legally proceed from a puddle of water on a gravel cart path wide right of the fairway. And even after the official blessed Speith's drop—which he took while still on the path, so he could avoid butting up against some trees to the left—chatter about Spieth's course of action continued all the way through to when he signed his card.
Given the memory of how Dustin Johnson was penalized a stroke at the U.S. Open even after an official had cleared him to play without penalty, the question was whether Spieth would get docked a penalty shot after the fact for a bad drop? Or perhaps two shots, for a bad drop and playing from the wrong spot?
Since Spieth's actions and the ruling had played out live on television (and were subsequently replayed through on social media via Twitter), a pack of reporters descended on the No. 3 player in the world after he finished to find out if he thought he had broken a rule.
"Really don't know why we're talking about it, to be honest," said Spieth, who shot 67 to move onto the first page of the leader board. "I would have never hit if I was not told it was OK by a rules official."
But thanks to the new culture of high-definition video rules review, if a committee in a conference room somewhere (or a rules nerd watching at home) sees something different, the seal of approval from a player's fellow competitors or the walking official might mean as much as a random shout from the grandstands.
Think about what happened to Johnson at Oakmont, and to Anna Nordqvist the shortly after at the U.S. Women's Open. Johnson said he didn't cause his ball to move on the green, and fellow competitor Lee Westwood backed him. Still, Johnson got nailed with a penalty shot more than two hours after the fact. Nordqvist got her own delayed two-stroke penalty after a tight, slow-motion camera shot revealed she had moved a few grains of sand with her backswing during her playoff with Brittany Lang. By the time Nordqvist found out about her penalty, it was too late to change her strategy to account for it.
In both cases, the USGA said it was protecting the field, but the "infractions" were unintentional and produced no advantage. In fact, the decisions and the time it took to make them actually damaged the competitions by leaving competitors—and spectators—in doubt about the state of the leader board. It's as if the officials at the Super Bowl got together at halftime and decided to take away a touchdown in the first quarter.
PGA of America officials explained the Spieth ruling in a carefully worded statement that referenced two different rules decisions about relief from casual water, direction of play and type of shot. Still, the damage was done. We spent an hour in the heart of major-championship Friday trying to figure out if Spieth broke a rule that almost nobody understands, and played out while he was being advised by an expert rules official who potentially could have been overruled.
Here's a thought: It's time to put the game in the hands of the players. Take a machete to the rulebook, and carve it down to four basic principles: 1) Play the ball as it lies. 2) If you can't, find the nearest point of relief, take a penalty stroke and move along. 3) If you lose your ball, take a penalty stroke and hit again from the previous spot. 4) If you didn't intend to move the ball or gain any kind of advantage, put it back and start over.
Hitting a golf ball will always be hard. Parsing the rules doesn't have to be.