News
Why did a coaching legend leave a college golf powerhouse for a rebuilding project? Let Andrea Gaston explain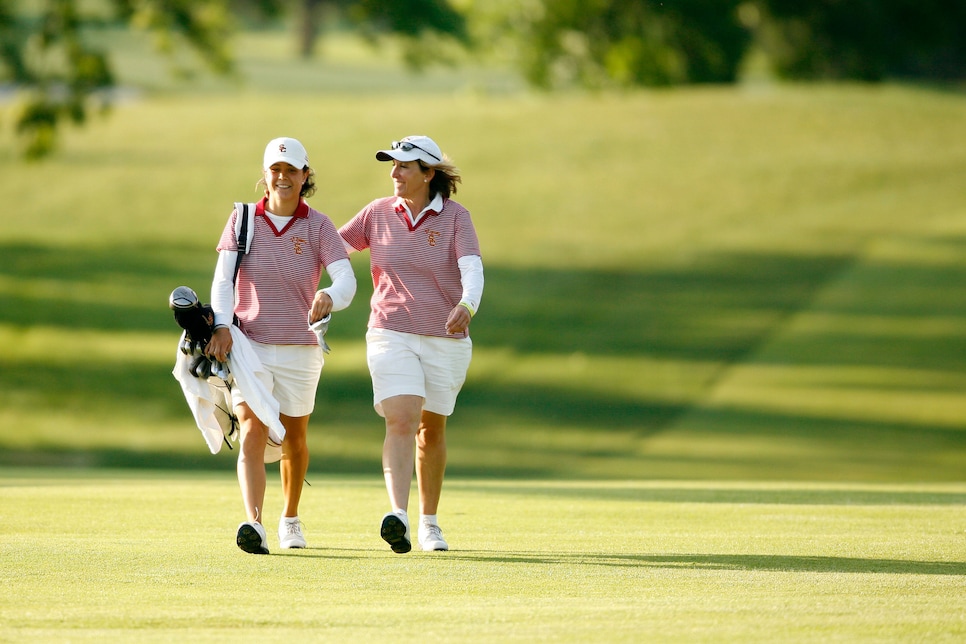 Photo By: Jamie Schwaberow
It takes two minutes for Andrea Gaston to get from her home in College Station, Texas, to her office at The Traditions Golf Club. Among the list of the things that have changed in her life in the three months since College Station unexpectedly became her home, nothing is more simple or mundane. And yet nothing is more symbolic, either.
For more than two decades, Gaston needed an hour at least to travel to work, usually more depending on the fickle Los Angeles traffic and which golf course she was hustling to on any given day. Still, she was content, having created a college golf powerhouse.
Since Gaston took over the women's program at USC in 1996, her teams had won dozens of regular-season tournaments, four Pac-12 titles and three NCAA championships (2003, 2008 and 2013). She coached 22 All-Americans with several going on to compete on the LPGA Tour, where the California native played in the 1980s after her own college career at San Jose State and before turning to coaching. A member of the Women's Golf Coaches Association Hall of Fame, Gaston was excited about the young, talented Trojan squad she had assembled for the 2018-'19 season.
But then she got a call that changed everything.
"I was at the U.S. Women's Open in Birmingham, and my cellphone rang late on a Friday," she recalled. It was a search firm representing Texas A&M. The school decided not to renew the contract of its women's golf coach, Trelle McCombs, and was wondering if Gaston might have an interest in the vacant post.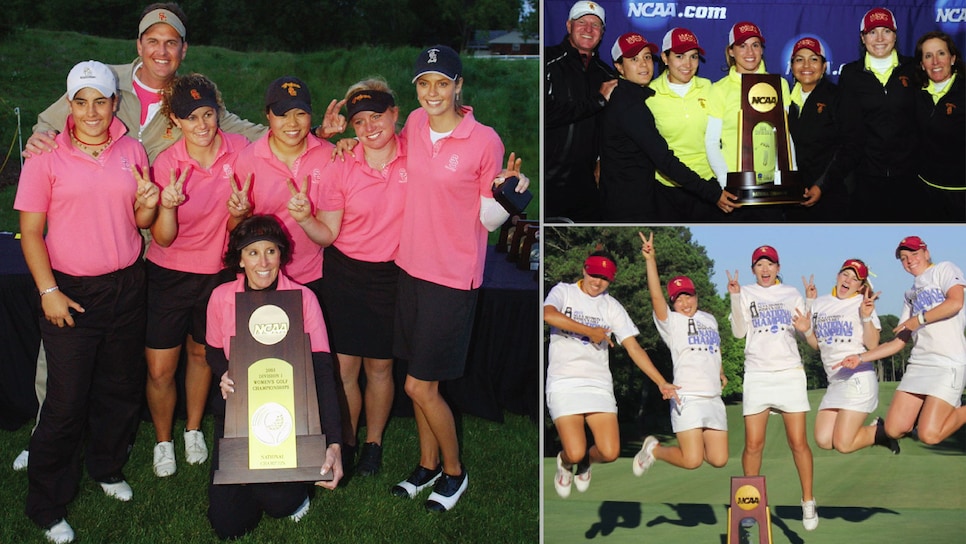 Gaston told them they first needed to get permission from her athletic director to talk, which bought her some time to think. "I wasn't trying to move," she said, "but I thought you know why not have a look. I've never looked."
Indeed, despite being among the most accomplished coaches in her profession—in the last 13 years USC had finished no worse than fifth at NCAAs—only once had she been approached by another school about an opening. It was in 2007 and, coincidentally, it was Texas A&M. Gaston wasn't interested then, and the Aggies eventually hired McCombs.
This time, Gaston decided to take the visit to campus. While there, she saw the school's main course, The Traditions, where her USC team had competed at NCAA Regionals in 2006 and the NCAA Championship in 2011. She saw the school's state-of-the-art practice facility and its other home course, Miramont Country Club (USC did not have its own dedicated school course, something Gaston envied at other programs). She saw the college-town setting.
Most important, she saw a future, one she really had never dreamed of. "I think everybody probably thought I'd finish my career at USC," Gaston said, "and quite honestly, that's really what I thought I'd be doing as well."
Now, a voice inside her was saying something different. Part of her interest rose, she admits, from vanity. For years she had been recruiting teenage girls to come play for the Trojans. Now she was the one being recruited. "It felt good to be wanted," she said.
A bigger inspiration proved the challenge that A&M was presenting. Could she do it again? Could she, at age 60, rebuild another college golf program? The Aggies had finished second-to-last at the SEC Championship the previous spring and had failed to qualify for nationals for a third straight season.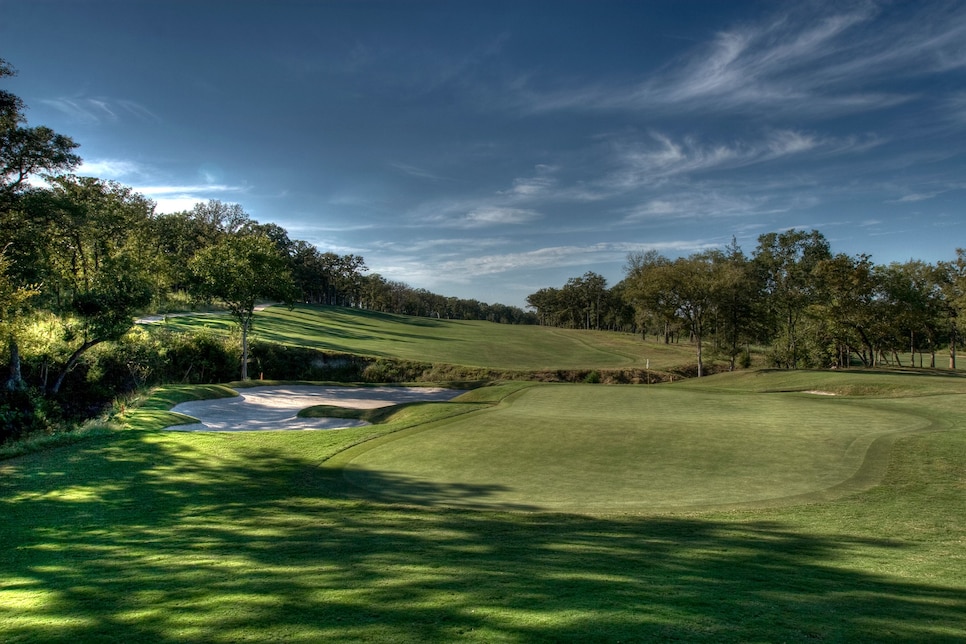 The more Gaston thought about it, the more the opportunity intrigued her. A year removed from being treated for uterine cancer, her health was good. For a week she mulled it over, talking to close friends and a few coaching colleagues. Among them was Melissa Luellen, the women's coach at Auburn who faced a similar crossroads three years earlier. Luellen had been at Arizona State for 13 years, winning an NCAA team title in 2009, but decided to leave the known of Tempe for the unknown of Auburn.
Gaston hit the ground running, calling her new players to introduce herself, hiring an assistant coach (former Aggie Katerina Bruner) and going to a half dozen tournaments to start recruiting. In between trips back and forth to College Station, she has experienced the usual awkward moments of being in a new place; Gaston is still getting used to wearing Maroon and admits to not knowing all the words yet to the Aggies fight song. "I'm a freshman, like any other newbie," she said.
Since school began three weeks ago, Gaston has been accessing where her team is and what it has to do in the short term to get better. She is setting few expectations on her players beyond the overarching goal of qualifying for the NCAA Championship.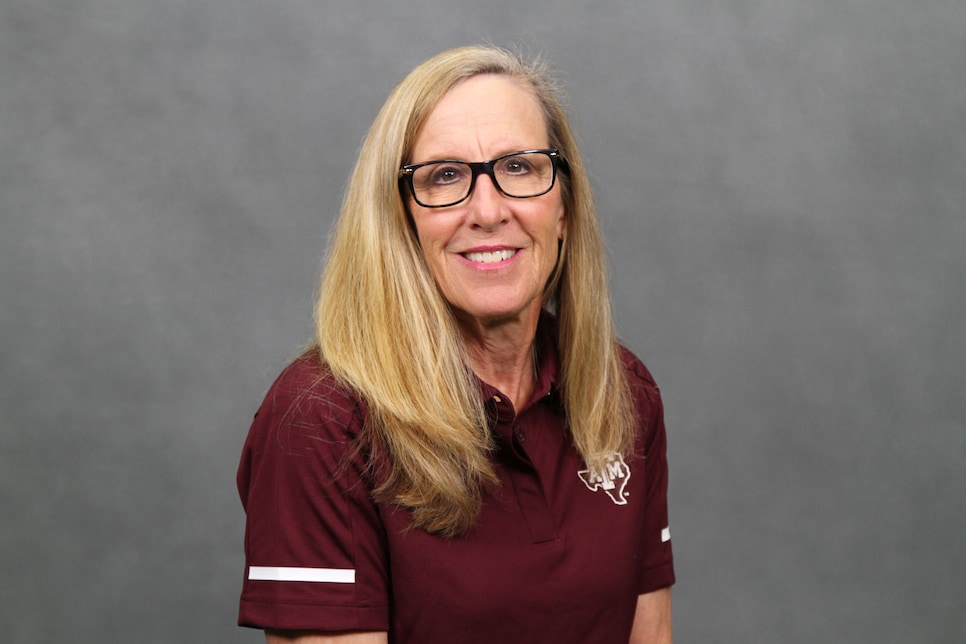 While working to prepare for the Aggies' opening tournament this weekend, the East & West Match Play in Ann Arbor, Mich., Gaston says the job is not quite as frenetic as she might have expected, or feared. A few things have helped with that, not the least of which being the shorter commute. "I think I'm saving 10 to 12 hours a week," she said.
And what is she doing with that time? Staying longer at the practice facility, yes, but also reading and relaxing. "I've been consciously slowing the lifestyle down," Gaston said. "It's one of the things that made this move appealing."
Luellen warns that at some point the euphoria of being at a new place will wear off and the reality of the work that lies ahead will sink in. "There will be times when she will say to herself What have I done? What did I do to myself?" Luellen said, expressing that it took her two years before finally feeling at home at Auburn.
Gaston knows this, that going from sunny Southern California to steamy College Station will have its good times and its bad. Yet that was its appeal.
"I'm reinvigorated about coaching and really helping players," she said. "Instead of thinking I'm almost done, it's like, 'Hey, I'm just getting started.' "
In the meantime, she draws energy from the idea that her decision to try the unknown could potentially impact others in her profession.
"I hope this is an encouragement for more women to know this can happen to you, too," Gaston said. "You work hard at what you do, you too can deserve great opportunities that may take you places you never thought you might go. And why not? Why not take that on and take that chance?"
A chance that many in the college golf world are curious to see play out this season.