News
Why amateur John Pak's solid U.S. Open showing could come in handy next summer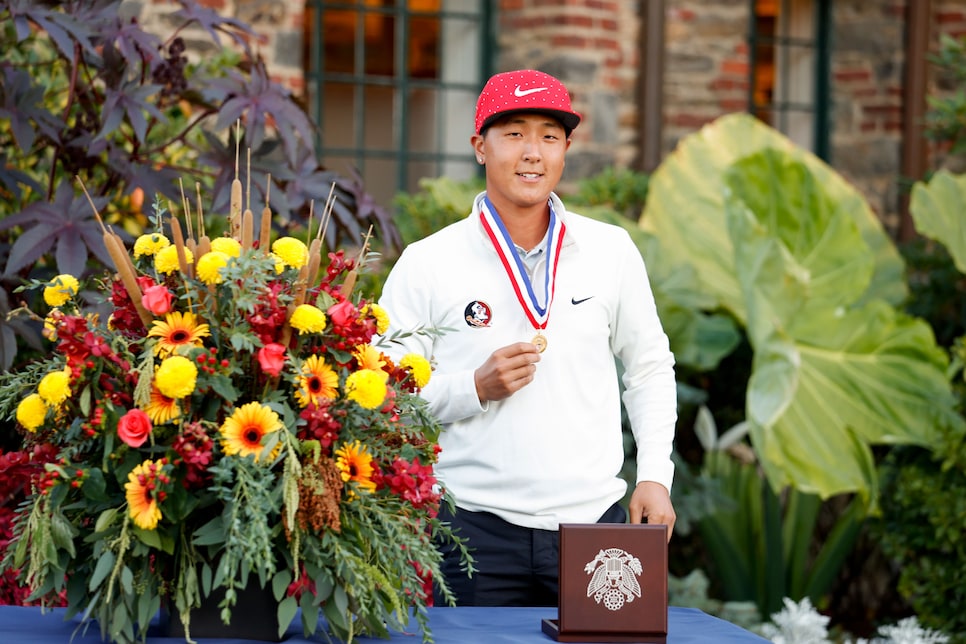 Low amateur John Pak poses with his medal during the final round at the 2020 U.S. Open.
John Mummert
John Pak wasn't thinking about next summer when he was working his way around Winged Foot on Sunday, more caught up in the present than the future. The 21-year-old senior at Florida State was focused simply on trying to end the week at the U.S. Open on a positive note.
Yet while the finish was a bit bumpy, bogeys on his final four holes leaving him with a four-under 74, a T-51 showing when no other amateur made the cut could prove pivotal in nine months time. The performance helped Pak stake a firmer hold on the top spot in the latest PGA Tour University rankings released on Wednesday.
As part of the PGA Tour's initiative launched this fall to reward college players who stay in school through their senior years, Pak could earn immediate membership on the Korn Ferry Tour if he were to remain in the top five of the ranking after next spring's NCAA Championship. Finish sixth through 15th and he'd earn status on the PGA Tour's developmental tours in Canada, China or Latin America.
The ranking accounts for performances in Division I college events and any official PGA Tour tournaments, including the majors. Pak, winner of seven individual titles with the Seminoles, was first in the initial listing that came out in July.
The chance to earn points at Winged Foot was a big deal for Pak considering that he won't play in any college events this fall. As an ACC school, Florida State has followed the conference edict and canceled all its fall tournaments for the 2020-'21 college season due to the COVID-19 pandemic. The hope is that the Seminoles can start their spring season, Pak the top man in their lineup.
"We start early, as early as January, I believe, and we've got a really good team," Pak said. "I feel like we have a good shot at winning the national championship this year, so that's something I'm really looking forward to."
Pak's performance also likely wrapped up another chance to play for the U.S. in the Walker Cup, the match scheduled for May at Seminole Golf Club in Juno Beach, Fla. Pak went 3-0 for Team USA in its win over Great Britain & Ireland at Hoylake in September 2019.
Pak wasn't the only college senior to benefit from playing in the U.S. Open. Despite missing the cut at Winged Foot, Arizona State's Chun An Yu, Georgia's Davis Thompson Texas Tech's Sandy Scott and Vanderbilt's John Augenstein all earned points. Yu held on to his No. 2 spot, while Thompson moved to No. 3 (from 4), Scott to No. 4 (from 5) and Augenstein to No. 6 (from 9).