News
Who's helped and who's hurt the most if the BMW Championship is cut to a 54-hole event?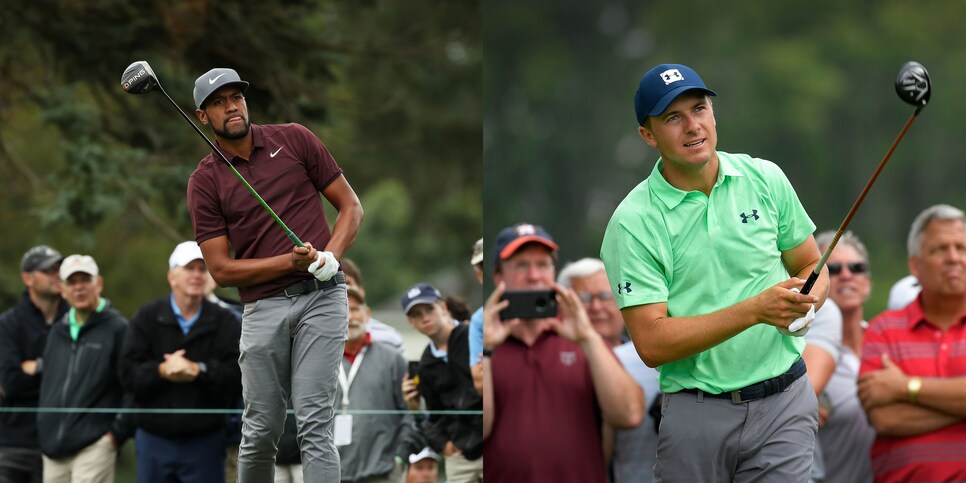 Optimism and Philadelphia sports don't generally hang out in the same neighborhood, and one little Super Bowl win ain't changing that. So while PGA Tour officials can talk a good game about there being a "window of opportunity" on Monday where they can squeeze in the final round of the BMW Championship postponed from Sunday, don't expect locals to buy it. Not when the forecast still calls for rain throughout the day.
Indeed, given the fact there have already been 12 hours of rain delays at Aronimink Golf Club in the last three days, and that not one hole was played on Sunday, there is reason to side with the Philadelphia cynics and believe Monday will be a washout, too. It's a scenario the tour certainly wouldn't want to see, knowing how many golfers are counting on playing 18 more holes for any number of reasons.
But if the worst does happen, and Saturday's results become official, who stands to be the most helped and the most harmed? Here's our breakdown: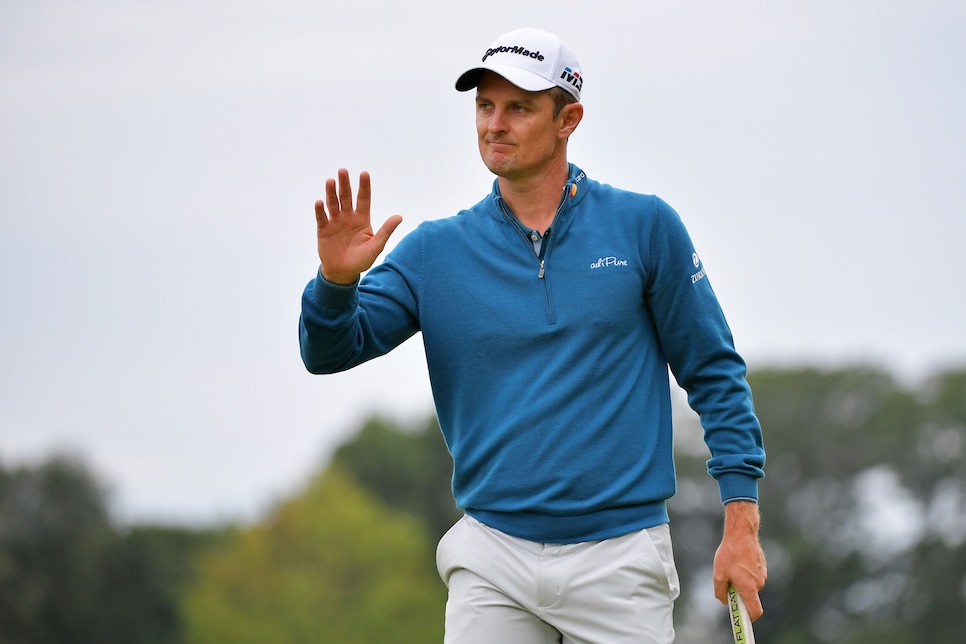 Drew Hallowell/Getty Images
The 38-year-old Englishman holds a one-stroke lead at 17 under par through the 54 holes, after rounds of 66-63-64. If play is cut short, he would be declared the BMW champion and enjoy all the spoils of victory: $1.62 million, second place in the FedEx Cup standings behind only Bryson DeChambeau, a 10th career tour win. Best of all comes another perk unique to him: A win lets him jump over Dustin Johnson and take over the No. 1 spot on the World Ranking for the first time in his career. If anybody is OK with another day of rain, it's Rose.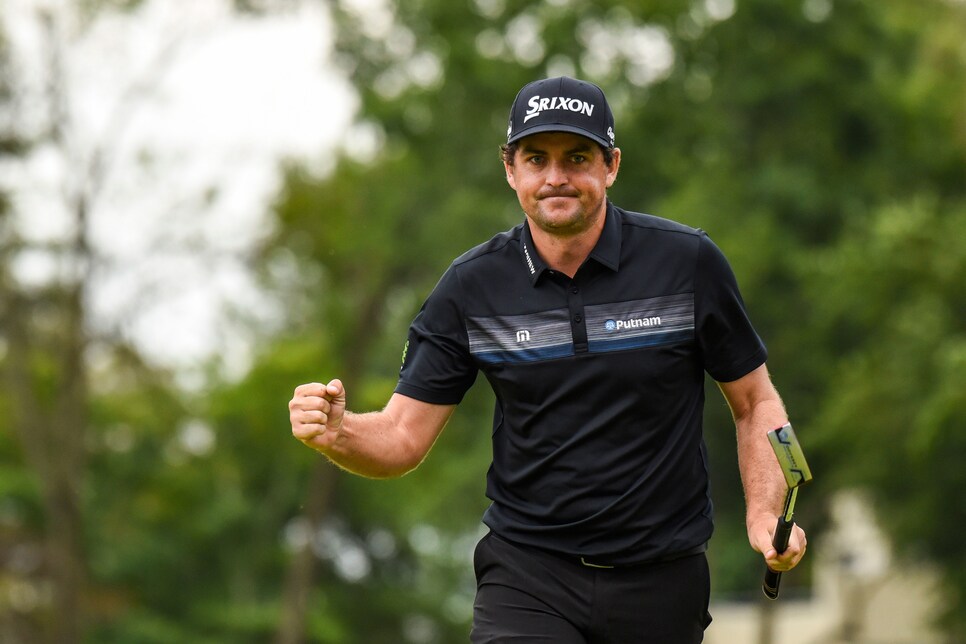 The former PGA Championship winner hasn't qualified to play in the Tour Championship since 2013, but when he rolled in a seven-foot par putt on the 18th hole, there was a little fist pump hinting that he might have known it might have been enough to end the streak. It wrapped up a Saturday 66 after opening with a 66-64, that put him in solo sixth place in the tournament. More importantly it moved him to No. 30 in the projected FedEx Cup points list after starting the week in 52nd place, meaning he would wrap up the last spot going to East Lake. The way Bradley has been playing of late—seven straight starts without missing a cut—hints that he would be confident enough to get the job done on Monday, but he's got his spot cliched without taking another shot.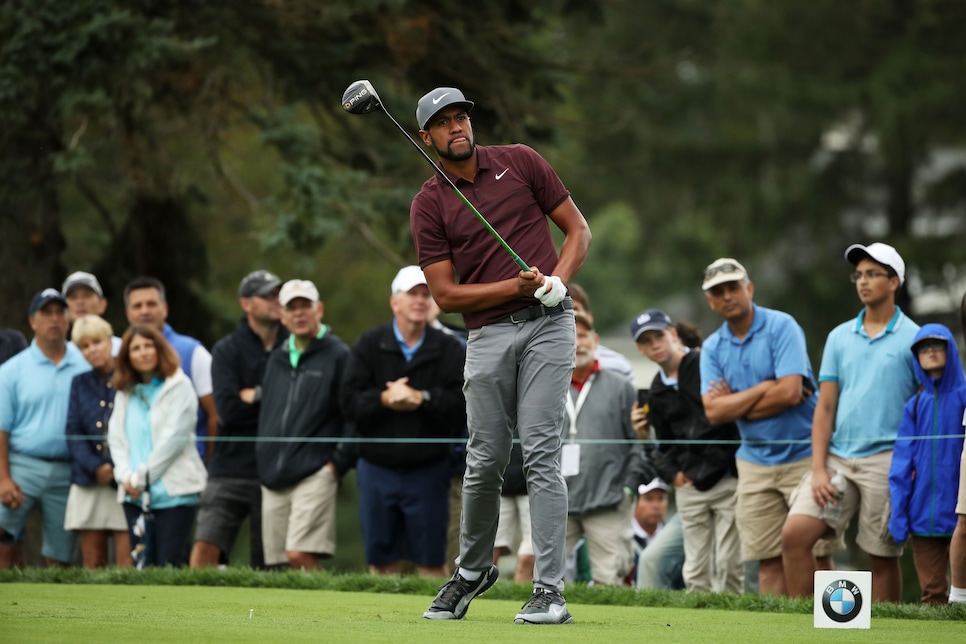 Gregory Shamus/Getty Images
When the 28-year-old didn't hear his name called as Jim Furyk announced three of his four Ryder Cup captain's picks last week, most people told Finau not to fret. The assumption was that he would be the fourth and final man chosen as he appeared the clear front runner to the rest of the contenders. But then Xander Schauffele stepped up with rounds of 63-64-67 to get within one stroke of the lead at the BMW and tinker with the conventional wisdom. To Finau's credit, he has shot rounds of 68-64-67 to sit tied for 15th. It should be enough so long as Schauffele didn't win this week's event, and if they scrap the final round, that's the scenario that will play out.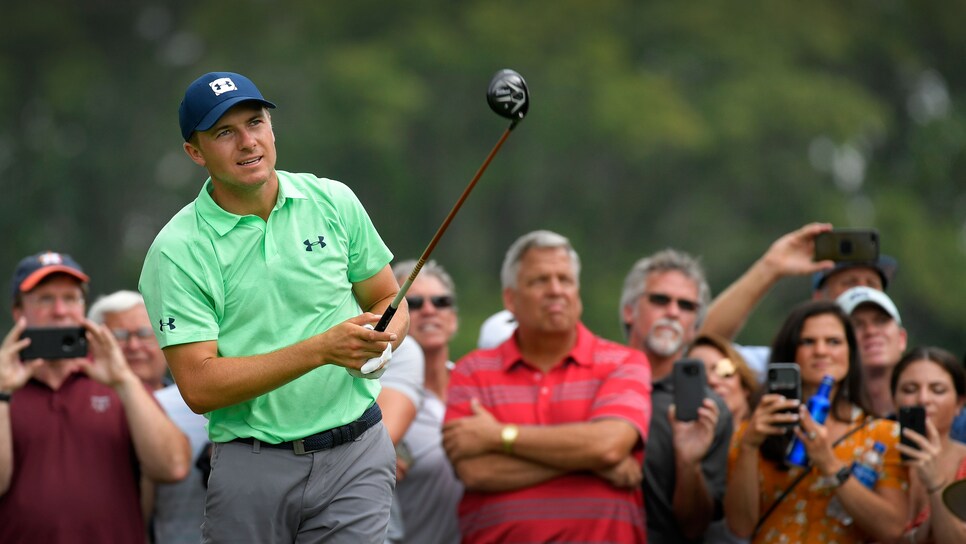 In contrast to Bradley, Spieth started the week inside the top 30 in the FedEx Cup rankings, but his so-so play at Aronimink (67-71-66) has dropped him to No. 31 in the projected ranking. The 25-year-old has reached the Tour Championship all five years since he turned pro, so missing East Lake would be a strange turn of events. It also would mean he would not satisfy the tour's policy on the minimum number of events a regular member is expected to play if he doesn't play in an event during the season that he hasn't played the previous four years. Exactly what kind of headache that would create for 2019 is unclear. Still, if there's anybody who wants the sun to come out on Monday, it's Spieth.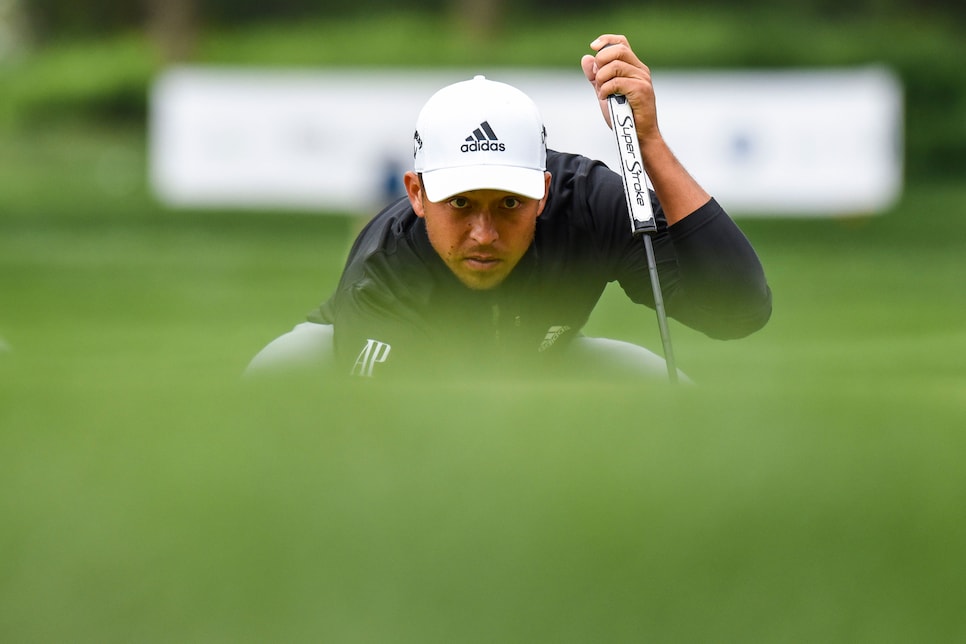 OK, so Schauffele would be a close second. While sitting T-2 through 54 holes is the kind of finish that should impress Furyk and perhaps make him think twice about taking Finau for the final Ryder Cup spot, a victory is probably what's really needed to get the job done. Schauffele's consolation? If they didn't play another hole right now, he'd move from 41st in the FedEx Cup standings to 12th and get the chance to try to defend his Tour Championship title from a year ago.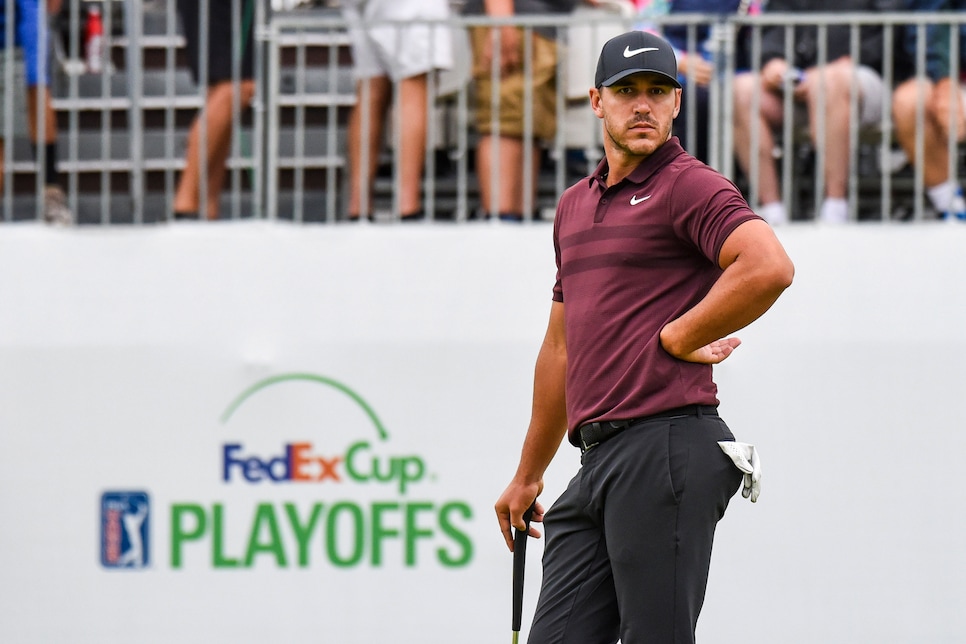 Having won two major championship this summer, Koepka is like a lock to win PGA Tour player-of-the-year honors. But those two titles still leave him sixth in the FedEx Cup points standings. It's not a bad spot to be heading into the Tour Championship, but if Koepka could play a few more holes at the BMW and move into the top five in the FedEx Cup points standings, it's worth the trouble. All players in the top five upon arriving at East Lake in two weeks control their own destiny in that they will win the FedEx Cup title with a victory in the Tour Championship. If Koepka stays in sixth place, he'll still have a great shot at the season-long honor if he wins at East Lake, but it's not the guarantee it would be in the top five.