News
Who will replace NBC's Johnny Miller when he retires?
We offer up a few candidates including one notable flyer (Phil Mickelson, anyone?)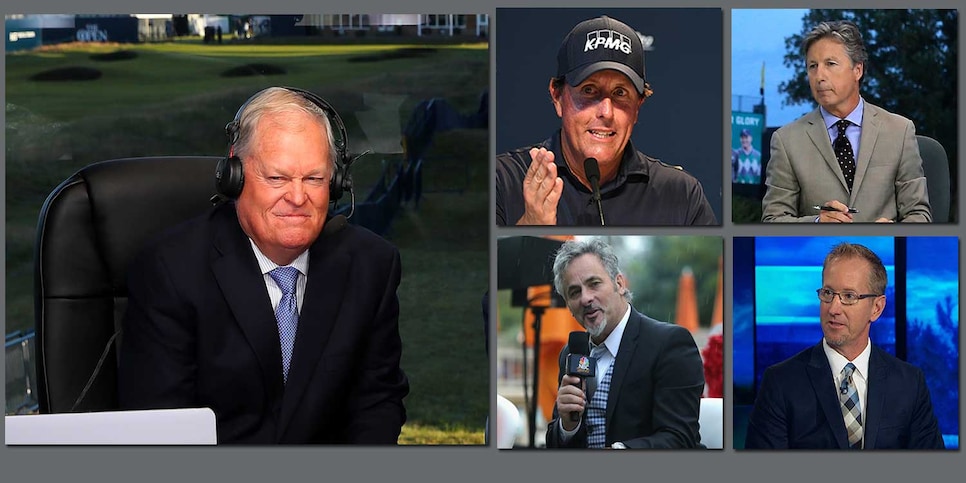 Johnny Miller's currency as NBC's golf analyst for nearly 30 years is that he is largely unfiltered, that whatever he is thinking he is saying, and it was evident from the outset. It began with the thought heard 'round the golf world.
"This is absolutely the easiest shot to choke I've ever seen in my life," Miller said as Peter Jacobsen faced a challenging second shot to the 18th green on the 72nd hole of the 1990 Bob Hope Chrysler Classic, with the tournament on the line.
The Dreaded "C" Word, he called it in his memoir, "I Call the Shots." From the backlash ("You'd think I'd exposed warts on Miss America," he wrote), one might have surmised he was in violation of the FCC's Obscenity, Decency and Profanity clause.
Love him or hate him, Miller, 71, set a high and entertaining bar, and should he decide to retire after the Ryder Cup, as he has hinted he might do, his will be a tough act to follow.
The question then becomes, by whom will he be followed? Let the speculation begin.
Several names immediately come to mind and are familiar to golf viewers, and in no particular order include David Feherty, Brandel Chamblee, Frank Nobilo, David Duval, Geoff Ogilvy, Justin Leonard, Colin Montgomerie and even Paul Azinger, currently with Fox Sports.
Arguments could be made either for or against each of them, depending on who is doing the arguing, but this much seems certain: There is no obvious choice.
So we turned to an authority on televising golf, Terry Jastrow, who emphatically insists there is an obvious choice.
"The preemptive No. 1 answer to it, which is the home run, I'd launch an all-out assault on Phil Mickelson," Terry Jastrow said.
We did not see that coming.
A protege of sports and news television legend Roone Arledge, Jastrow is a winner of seven Emmys and produced or directed more than 60 major championships for ABC Sports, including the 1990 U.S. Amateur that Mickelson won.
Jastrow disclosed that he has a friendship with Mickelson and his wife Amy (he produced and directed an instructional video for Mickelson, as he has done for other notables), but that does not disqualify him from making an interesting case.
"I learned so much about television sports from the altar of Roone Arledge," Jastrow said. "He was a big advocate of the personality of the announcer. It wasn't just the context with regard to their expertise of the event, but how fun he was. He hired Dave Marr, who was at Winged Foot where Roone played. Marr was a good friend of Frank Gifford's."
Gifford was among Arledge's closest friends, and Marr often joined them for dinners at Jimmy Weston's or Toots Shor's in New York City. "And he found out what a great personality [Marr] was. For different reasons, the same with Bob Rosburg. He was a ball.
"We used to bring Phil to the booth with Jack Whitaker and Dave Marr. You know he's hugely intelligent, very articulate. Been there, done that. But nobody is more fun to have a four-hour dinner with, a four-hour dinner and two bottles of wine with, than Phil."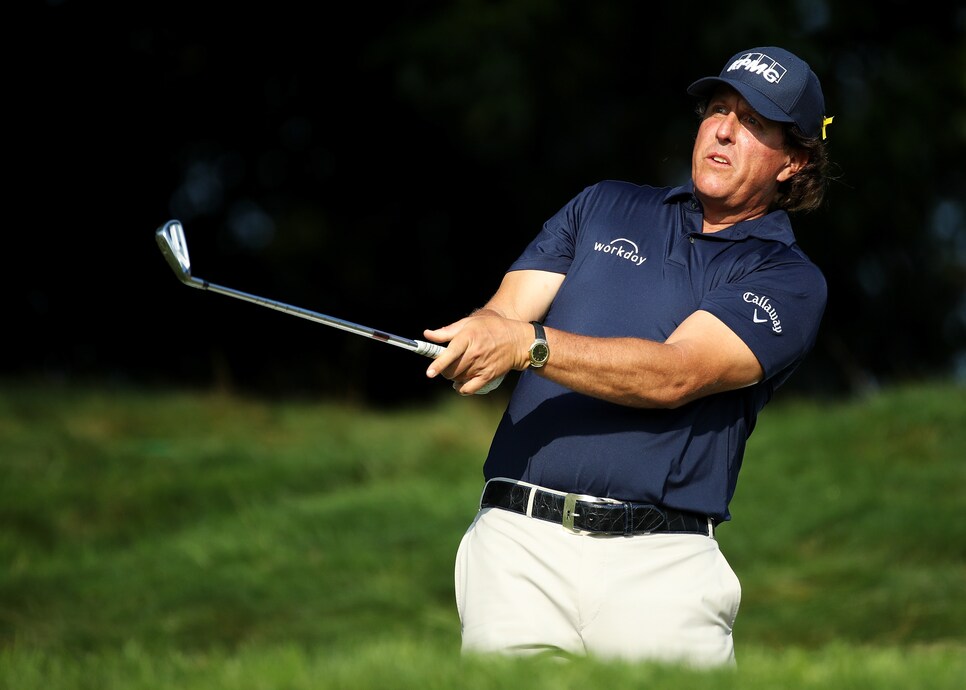 Mickelson, however, remains competitive, even at 47—he won the WGC-Mexico Championship earlier this year and made the U.S. Ryder Cup team. He is determined to continue competing, largely in pursuit of the elusive U.S. Open victory.
"I'd go to Steve Loy [Mickelson's agent] and make a preemptive bid for Phil," Jastrow said. "He's likely to be less available just now, but more available over time. I don't know how interested he's going to be in the PGA Tour Champions. But I would go to Steve Loy and say, 'We want to be Phil's television home for the rest of his life in golf.' I'd give him as much work as I could now and over time he'd be playing less and you'd be getting more.
"You've got to get out ahead of it. Otherwise you've got to line up with six other guys [trying to hire him]. Phil's trying to win the next U.S. Open, but you've got to go in and get him for the future. When we hired Nicklaus, we did it on this basis. Look, play all you want, but when you're done come be with us."
Nicklaus worked U.S. Open telecasts from 1986 through 1994 and PGA Championships from 1986 through 1990 for Jastrow and ABC.
Another point working in Mickelson's favor: He's a major champion. It is not necessarily a requirement, Jastrow said, "but it's a de facto responsibility that you have major championship winners talking about major championships. You're not going to have a .120 hitter on talking about how the greatest hitters hit."
Historically major champions have gotten the 18th hole analyst's chair, whatever the network. CBS, for instance, has gone from Ken Venturi to Lanny Wadkins to Nick Faldo, while NBC had Lee Trevino before Miller took over. Paul Azinger was the lead analyst with ABC and ESPN, before moving over to Fox to replace Greg Norman.
For those keeping score, that's eight claret Jugs, four U.S. Opens, four PGA Championships and three green jackets among them.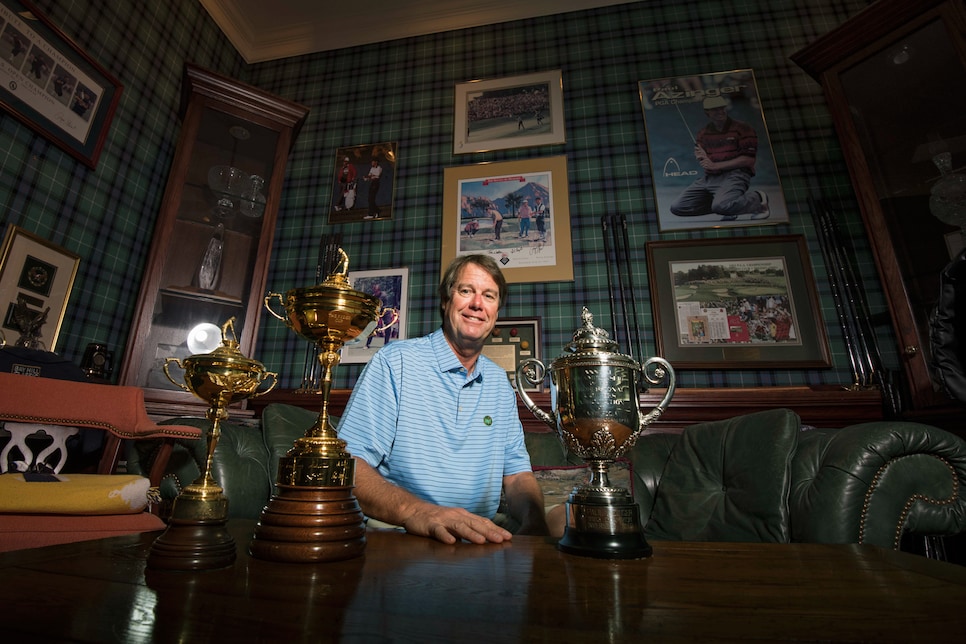 It is unknown what the hierarchy at NBC/Golf Channel is thinking, should Miller retire. Understandably, executives there won't comment. And it's possible Miller could be persuaded to come back for another year, maybe with a reduced schedule.
Some consider Azinger the best tournament analyst working today. Yet he works only a handful of USGA events for Fox and might welcome the broader audience he once had at ABC. One unknown and a potential obstacle is whether his contract is an exclusive with Fox. Then again, contracts can be bought out.
Chamblee, meanwhile, does not have a major championship, but he has become the preeminent studio analyst for Golf Channel. Studious and opinionated, he, like Miller, is wholly unafraid of the backlash for offering unpopular opinions. In this business, a thick skin helps.
There's no major on Nobilo's resume, either, and he also works tournaments for CBS, but he is an astute analyst for Golf Channel and an occasional sparring partner for Chamblee, entertainingly so.
Feherty has only a major sense of humor, but he is smart and witty and likely would flourish on a larger stage. Montgomerie is a World Golf Hall of Famer, though without a major, and, as one player noted, can be just as unwittingly polarizing as Miller has been. Kudos to him for that.
Duval, a British Open winner and once ranked No. 1 in the world, has the playing chops and has joined Golf Channel's first team of studio analysts. Leonard, too, has a claret jug and a stellar playing record and has shown a knack for working tournament broadcasts. Ogilvy is as perceptive and thoughtful as anyone in golf, but he is only 41, presumably still interested in playing, and is moving his family to Australia.
It is all speculative, of course, but if you're going to speculate, go big. And no one in this conversation is bigger than Phil Mickelson.