The Loop
Where have you gone, Tiger Woods?
Troubleshooting Tiger Woods isn't necessarily easy, but in the wake of his latest setback it warrants an effort. He has a blown head gasket and is in need of a psychological mechanic.
Woods once possessed the strongest mind in sports, willing the ball into the hole from everywhere and shredding misguided optimists, especially on Sundays. Tiger owned Sundays, but these days they're in foreclosure.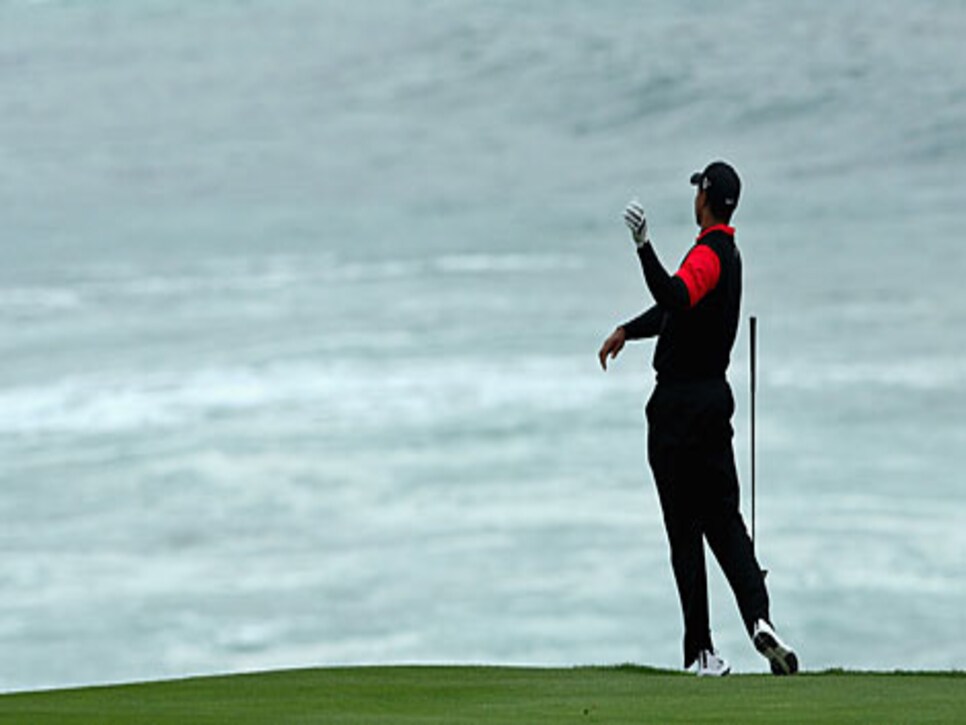 Photo by Jeff Gross/Getty Images
On the Pebble Beach Golf Links on which a substantial part of his legacy was carved, Woods was witness to a mirror image of himself, circa 2000 -- a left-hander, fearless and confident, working the ball around the course and holing acres of putts while burying the field.
Worse for Woods was that he assumed the role in which he once routinely cast others -- the hapless, beaten-down victim. His arch rival Phil Mickelson applied early pressure on Sunday and Woods deflated.
It was a Hall of Fame performance by an inductee in waiting, Mickelson shooting a bogey-free eight-under par 64 to win the AT&T Pebble Beach National Pro-Am by two strokes. It was his 40th career victory and, at the age of 41, a timely one for a player who was given cause for concern by his own performance over the three previous weeks.
"It feels just amazing," Mickelson said afterward. "I felt like my game was there, and I come out the first couple weeks and shot a few horrendous scores and it made me question it. The way I played these last 18 holes really means a lot."
Woods, meanwhile, is still searching for answers to his own questions, more than two years since his last PGA Tour victory. He began play in third place and seemingly on the cusp of a breakthrough, but ended it 11 shots in arrears of his playing partner, shooting a 75 and finishing in a tie for 15th.
Pre-scandal, it would reflexively have been attributed to the rogue bad day in a sea of brilliant ones. But this was the second straight tournament that he was unable to conjure the Sunday magic that gave him an aura of invincibility. Two weeks earlier, at the HSBC Abu Dhabi Champions, Woods shared the 54-hole lead with Robert Rock, who beat him by two.
"He hasn't been stacking confidence on top of confidence," CBS Sports' Nick Faldo noted on Sunday.
For Woods, of course, it's all about the majors. Still, it would seem incumbent upon him to have expectations built from something other than hope should he expect to win at Augusta National in two months. Three good rounds and one poor one in the confidence game represent three steps forward and four back.
Woods used to find a way to win, even on an off day. He arguably is the greatest grinder in history, the wayward shot seldom an impediment to making par. Or better. But it was not apparent on Sunday, save for the 12th hole when he holed a bunker shot for birdie.
It would seem unlikely that Woods would ever be unnerved by an opponent, but is there another explanation? Mickelson was five-under par on his first six holes to erase the six-shot advantage leader Charlie Wi had on him and to open a comfortable cushion on his nemesis, Woods.
Tiger followed inexplicably with three successive bogeys to close the front nine. He bogeyed two in a row midway through the back nine and painfully concluded his tournament with a three-putt par on 18.
"Very incredibly unusual today, what we saw," Faldo said.
"Don't even know what to say," his old coach, Hank Haney, wrote on Twitter.
Mickelson's wife Amy, there to greet him as he came off the 18th green, knew what to say.
"What a round," she said, embracing the winner. "Are you kidding me?"
She was talking about Mickelson's round, of course, but she could have been talking about Woods' round, too. A 75 on Sunday at Pebble Beach for Tiger Woods?