News
What's the big deal about winning the Web.com Tour Championship? Just ask Jonathan Byrd
Patience pays off for the 39-year-old veteran, who battled doubts about whether he'd ever get back to the PGA Tour
Photo By: Michael Cohen/Getty Images
Jonathan Byrd didn't go back to work this week. For the first time in two seasons, he didn't have to. Instead of flying to California for today's opening tournament of the 2017-'18 PGA Tour season, Byrd celebrated his victory in the Web.com Tour Championship with family and friends at his home on St. Simon's Island, Ga.
"I just haven't had that choice in a while," Byrd said on the eve of the Safeway Open in Napa on whether to pass up a PGA Tour start or not, having lost his card two years ago after 15 years on tour. "It was the right decision for us. We've seen so many people around town, and so many people are excited for us, it was kind of nice to just take it all in."
The rebirth of Byrd's career is a popular one. Zach Johnson was in near tears when he talked to Byrd on Facetime Monday night from Napa, congratulating his friend after his victory that afternoon. Zach's wife, Kim, had 25 of Byrd's closest friends on the island congregated on her porch for a victory party.
"So many people were happy for us. So many people were praying for us," Byrd said. "It made us realize what good friends we have. It was fun to be home, to celebrate with them."
"Golf was starting to beat me up. To be honest, I was starting to wonder, you know, how long I wanted to do this?" —Jonathan Byrd
At 39, Byrd felt "so far out of the loop" on the Web.com Tour, competing against players in their early 20s, who never take a week off, for less money. That was quite a challenge for a five-time PGA Tour winner who amassed more than $18 million before a wrist injury suffered while snowboarding in January 2012 led to a medical extension and ultimately a loss of his playing privileges on the big tour.
He spent just two years without a PGA Tour card, but it seemed like longer, right to the end of the weather-delayed Web.com Tour Championship. Byrd finished 55th on the regular-season money list and missed back-to-back cuts in the two Web.com Finals events leading up to the finale at Atlantic Beach (Fla.) C.C. He needed something big to happen in Florida to change his fortunes. He got it with his 24-under-par performance, which locked up his PGA Tour card for the new season, with wife Amanda, and children Jackson, 11, Caroline, 8, and Kate, 5, in attendance.
"I doubted it," Byrd said. "Golf was starting to beat me up. To be honest, I was starting to wonder, you know, how long I wanted to do this?"
Byrd admitted you get spoiled on the PGA Tour, and wondered if that good life had come to an end. He talked about it being gut check when you're on that stage and then fall off it. In the middle of these mind games, Byrd was going through a swing change with a new instructor, John Tillery.
"To be honest with you," Tillery said after Byrd's victory, "he's one of those guys I almost have to watch how much I give him. He's a perfectionist who's very analytical. He sometimes gets too golf-swing oriented on the golf course. That's something I've been talking to him about this week. He's done better."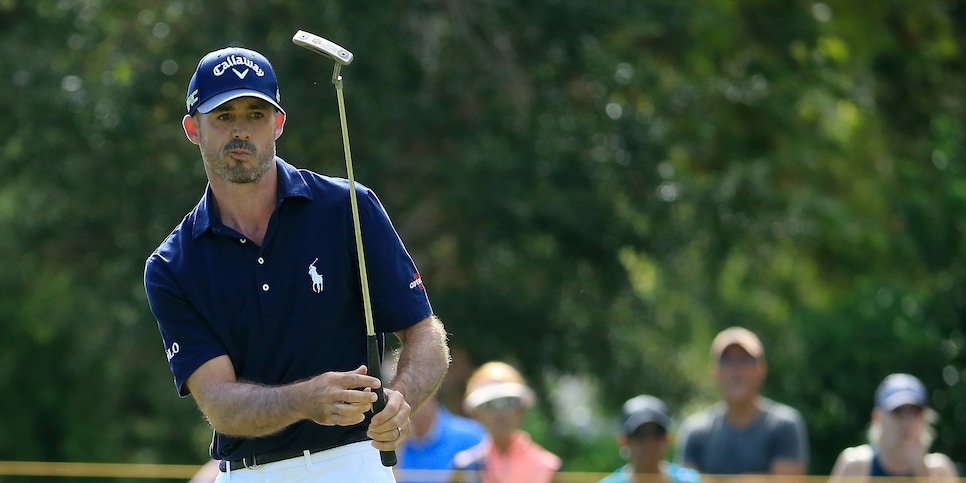 Michael Cohen/Getty Images
Byrd's swing impressed Kevin Kisner, who works with Tillery and saw Byrd playing during practice round at The Greenbrier Classic in July. "Man, are you good!" Kisner said. "What are you doing on the Web?"
The next week, playing on a past champion's exemption in the John Deere Classic, Byrd out of nowhere finished in a tie for fifth with Johnson, Presidents Cup captain Steve Stricker and a member of Stricker's team, Daniel Berger, just three strokes back of winner Bryson DeChambeau. It was only a tease.
"I appreciate what they do on the Web.com Tour," Byrd said. "I appreciated the opportunity, the place to play. I just didn't know how long I could play being away from my family and not playing well. I wondered if I've got what it takes."
Down in the dumps as he prepared for the Web.com Tour Finals, he talked to his wife and his mother about his first victory in the 2002 Buick Challenge that led to winning PGA Tour Rookie of the Year honors. They reminisced too about his victory a decade ago at the John Deere, his playoff hole-in-one that won him the Las Vegas title in 2010, and his last win, in the 2011 season-opening Hyundai Tournament of Champions. Amanda told Jonathan don't go to Atlantic Beach unless you think you can win.
Byrd also had conversations with Milt Lowder, a sport psychologist credited with changing the mental approach of the Clemson football program that won the national championship in 2016. A Tiger alum, Byrd told me some of the phrases football head coach Dabo Swinney uses—like the dreams had to be greater than the team's memories—come from Lowder.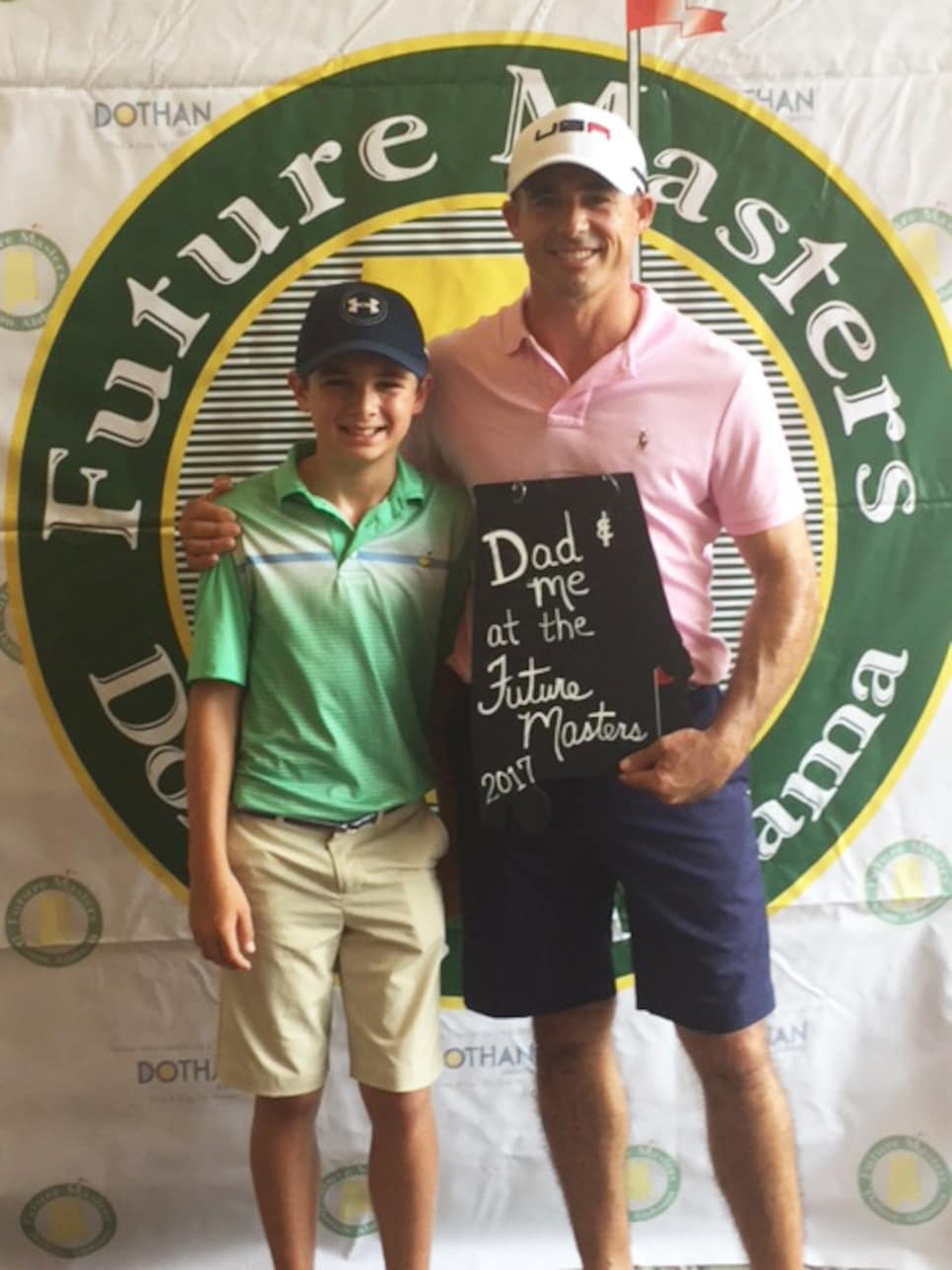 Courtesy of Jonathan Byrd
"It's so powerful what kind of mindset you carry from week to week," Byrd said. "What kind of negative thoughts kind of get you and you start believing. You never know when the [winning] weeks were coming and then it happened, for whatever reason. Maybe it's just golf. You never know its coming."
With the luxury of taking a month off, will that winning feeling occur to Byrd when he returns to play four straight starting with the Sanderson Farms in Mississippi on Oct. 23 and ending with the RSM Classic in his backyard at Sea Island Golf Club? It should, depending on his practice partner. Most of the next four weeks will be spent playing against his son, who has a swing that Byrd calls, "McIlroy good," and who recently got his father to order a set of new irons based on breaking 70 (by shooting 67) from the ladies tees at The Retreat on Sea Island.
"These kids don't have the scars we have," Byrd said. "Watching my son swing, I realize he's not thinking about it. He's just playing. When I move on past this, I want to start playing like these guys are playing. It's such a great reminder. He can't wait to hit it. He jumps in there and hits it, cause he's not thinking. I believe I can get back to that point."
Judging by the text message Byrd sent to Tillery on Monday night, maybe he's there already.
The message said quite simply, "Heck Yeah!"