News
What you missed: Spieth's finish, Li's star turn and Murray's redemption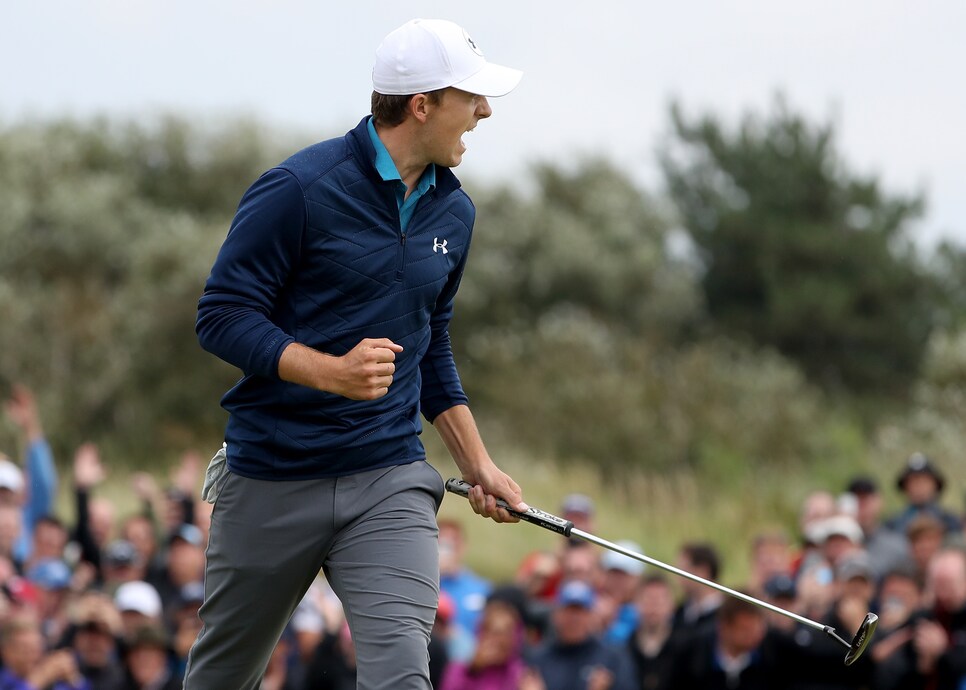 Welcome to the Dew Sweeper, your one-stop shop to catch up on the weekend action from the golf world. From the professional tours, trending news, social media headlines and upcoming events, here's every golf-related thing you need to know for the morning of July 24.
It appeared it was happening again. He even admitted as much after the round. But, after a forgettable front nine and one of the worst drives you'll ever see from a professional, Jordan Spieth not only righted the ship: he charged his vessel forward with a fervor only seen in fairy tales. The 23-year-old, down one to Matt Kuchar after 13 holes, proceeded to trek the next four in five under -- which included a near ace and instant-classic eagle -- to retake the lead and grab the claret jug at the 2017 Open Championship.
While the dazzling ending left observers awestruck, Spieth himself was remarkably candid regarding his struggles to start the round.
"I was questioning why I couldn't just perform the shots that I was before. And sometimes you just can't really figure it out or put your finger on it," Spieth said. "And that was really tough to swallow. And that kind of stuff goes into your head. I mean, we walked for two minutes, three minutes in between shots. And you can't just go blank. You wish you could, but thoughts creep in."
That sound you hear is millions of cursed golfers nodding their heads in "Amen." Of course, unlike his hacking brethren, Spieth's ability to bounce back from such troubles is why he's the second-youngest to win three legs of the Grand Slam, and you're watching from home.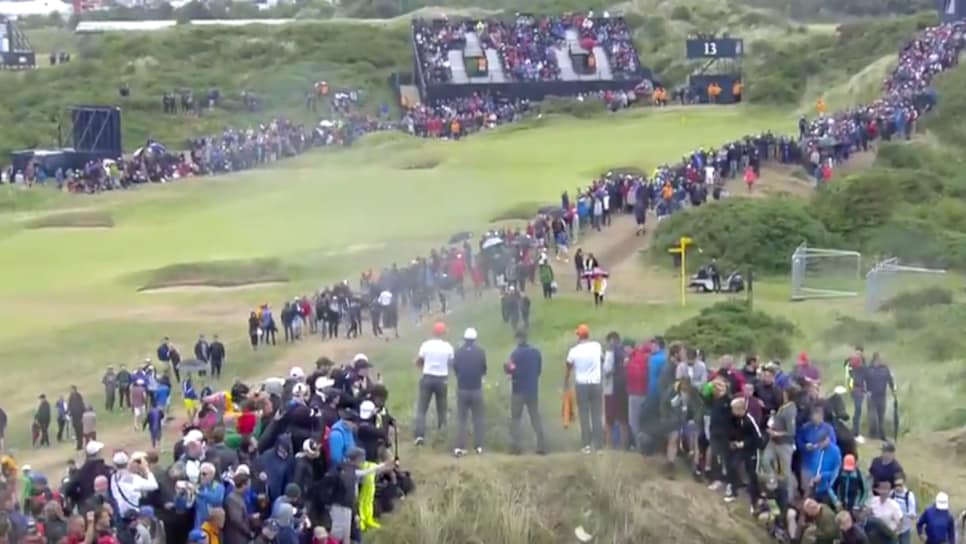 Adventures on the 13th hole
If you missed Sunday's Open coverage, you might think the aforementioned awful drive is exaggerated. We assure you, the shot -- and the ensuing spectacle -- lived up to the hyperbole.
On Royal Birkdale's 13th hole, Spieth pushed one so far right it landed in Amsterdam.
Chaos ensued. After a search party located the ball and deciding to take an unplayable, Spieth and caddie Michael Greller spent 20 minutes deciding where to drop from a "line of sight" ruling, traversing Birkdale's dunes, driving range and equipment trucks. It was a sight to behold.
But perhaps the most amazing part of the adventure was Spieth putting his approach just short of a greenside bunker, proceeding to get up-and-down for a ho-hum bogey. It dropped him one shot behind Kuchar, yet the five was arguably bigger than any birdie or eagle of the day. And it sure as hell was something no one will ever forget.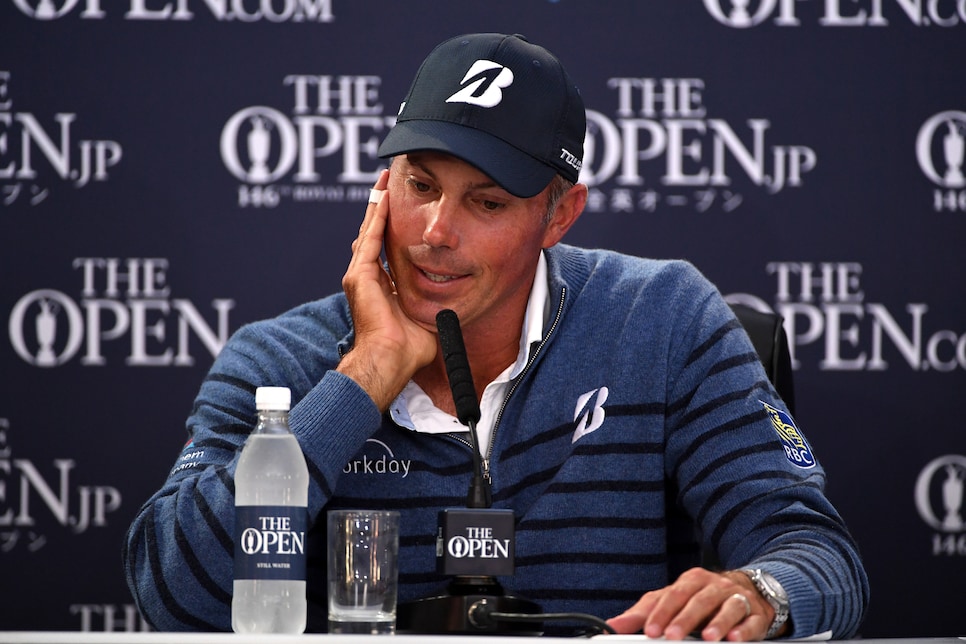 While the sports world applauded the winning efforts of Spieth, the sad reality to that result is someone had to come up short. In this case, it was Kuchar, one of the most well-liked and respected personalities in the game.
Though Kuchar had his own opening struggles, the 39-year-old -- who started the day three strokes behind Spieth -- managed to take the lead heading into the 14th. And it's not that Kuch was merely the recipient of Spieth's subpar play: Kuchar had four birdies on the day. Alas, he came out on the business end of Spieth's historic finish, and afterwards, he seemed resigned that it may be his last chance at glory.
"You work so hard to get to this position and to have a chance to make history and win a championship. You don't get that many opportunities. And to be this close, to taste it with five holes to go, it's a hard one to sit back and take."
We can't imagine the ache Kuchar's fighting. But his play was commendable, and he should leave Southport with his head held high.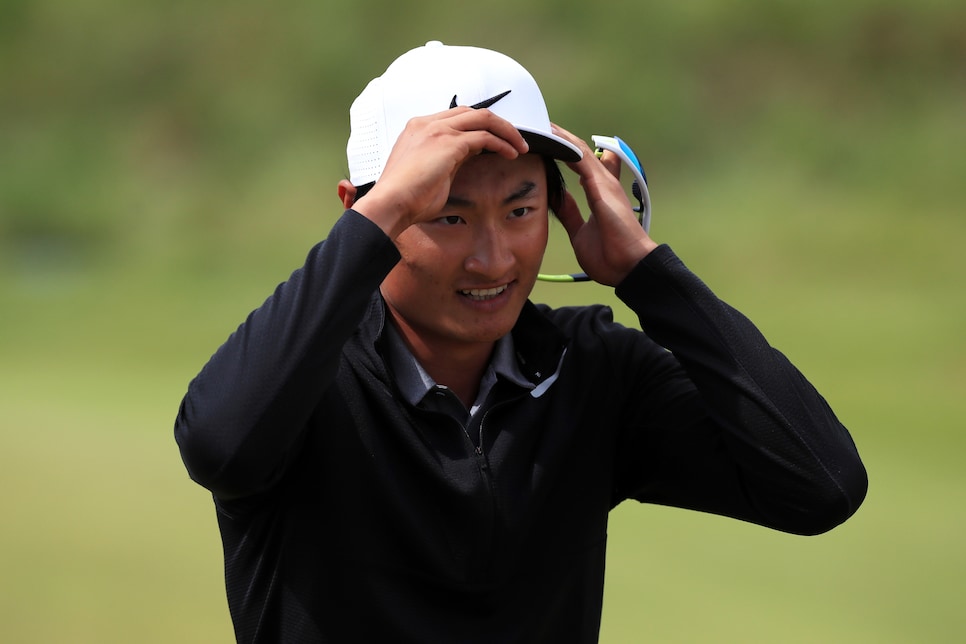 Until this week, Li Haotong was best known for his mom jumping into a lake to retrieve a putter he threw in anger. That's no longer the case after his final-round 63 at Royal Birkdale. He finished his day before the final pairing teed off, yet, with just six holes to play, Li found himself warming up on the driving range, as his stellar performance -- coupled with the trials of Spieth and Kuchar -- created the astonishing scenario of a playoff. While Spieth's finish soon turned the lights out on that theoretical, that it was even in play is a testament to Li's performance.
"For some reason since hole No. 8, I started holing everything," said Li, ranked No. 107 in the world. "I can't explain it."
Better yet, his third-place finish earns the 21-year-old a trip to next year's Masters.
"Wow," Li replied when told of the Augusta trip. "That's a nice gift."
That may be the clubhouse leader for understatement of the year.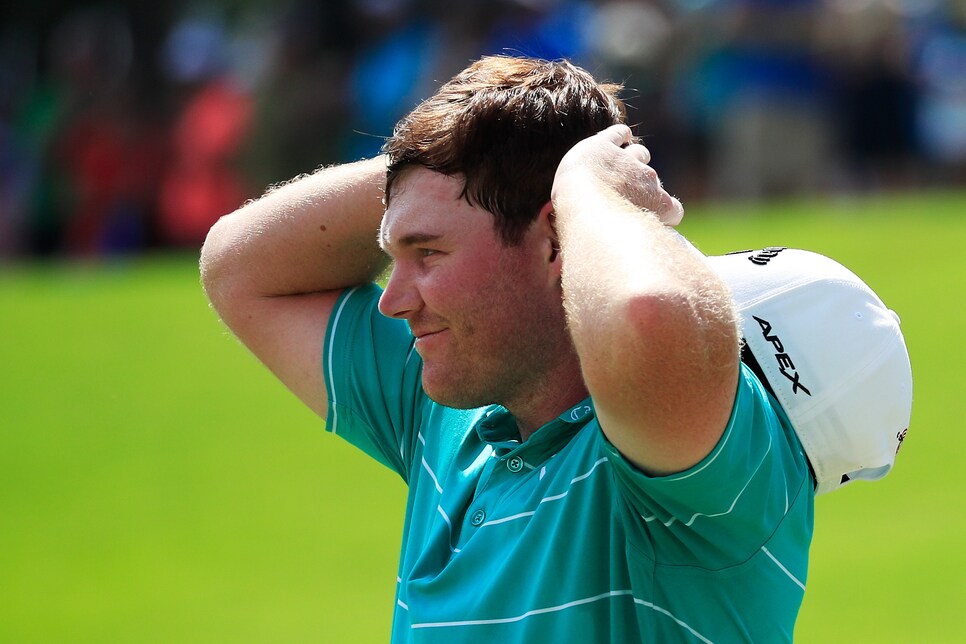 Murray makes headlines for right reasons
If you know the name "Grayson Murray," it's unlikely for anything he's achieved inside the ropes. The rookie has found controversy at multiple turns this season: calling out Bryson DeChambeau, ridiculing the OWGR system, voicing his displeasure with other players' social media accounts, parting ways mid-round with his caddie. But Murray reminded the golf world that he's got game, too, winning the PGA Tour's Barbasol Championship in Opelika, Ala.
Because of its alternate status, Murray does not earn an invite to the Masters, yet did secure his tour card for two more years, along with grabbing invitations to the PGA Championship and Tournament of Champions. More importantly, following a year of less-than-flattering storylines, Murray was able to spin his own positive narrative. With this newfound residency, here's hoping the aforementioned bumps in Murray's road stay in the past.