What We Can Learn When Celebrities & Athletes Go Head-To-Head At Lake Tahoe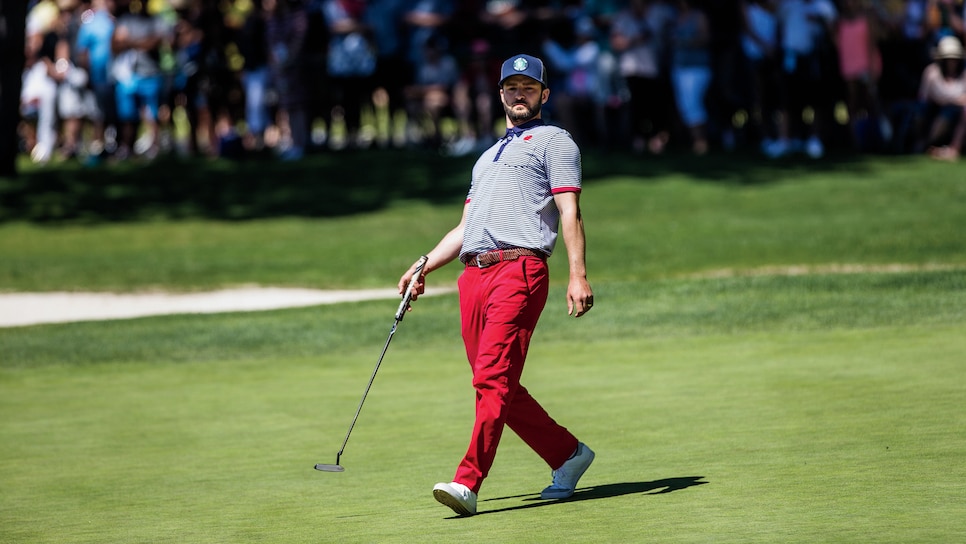 Maybe there's just no use talking to PGA Tour players about pressure. Their skills exist on an entirely different plateau, and their weekly exposure to seven-figure paychecks and audiences has inured them from experiencing anything like what we mortals feel teeing it up in a club championship. Then again, what's the point of asking cousin Bob—who's a very nice player—for competitive advice when in the grand scheme he's just another loser, too. If you want to learn something valuable about tournament golf, there's really only one place to go: Lake Tahoe in July.
Besides perfect weather, you'll find the American Century Championship at Edgewood Tahoe Golf Course, now heading into its 28th year. It's the second leg of what are essentially the three majors of celebrity golf. The AT&T Pebble Beach Pro-Am in February is the oldest; the Alfred Dunhill Links Championship in October finishes on the Old Course at St. Andrews. These two events feature celebs (as well as a few rich guys you've never heard of) as an amateur sideshow, the net teammates of pros competing for money and ranking points per usual. What's unique about Tahoe is, the celebs are the show. Mostly athletes with a few entertainers sprinkled in, everyone competes as an individual without the warm blanket of handicap strokes. The $600,000 purse, rabid galleries, and nosy TV crews are there exclusively for them, these people who don't play golf for a living.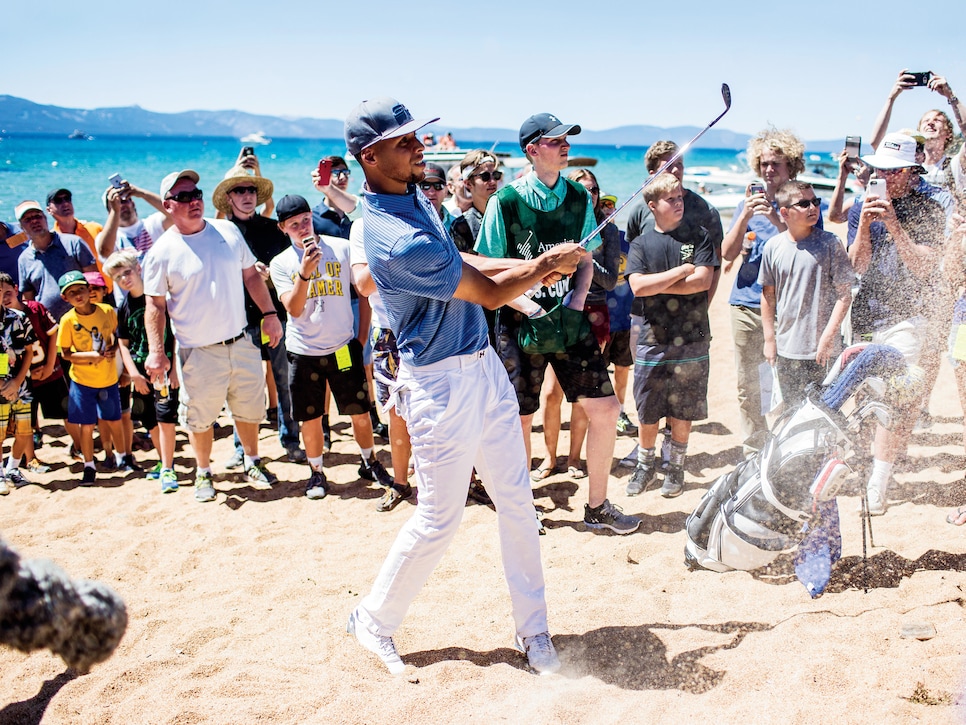 So what you have is a field uniquely qualified to consider the stress of tournament golf. These humans have performed on sports' largest stages: Super Bowls, World Series, NBA Finals, Wimbledon, Stanley Cup playoffs, the Daytona 500 and so forth. They know what it is to move a ball, or steering wheel, with serious implications. Add to this, they are the only average golfers ever put in the unimaginable, as one might imagine, situation of hitting golf shots on television for real dough. Their handicaps are in the standard country-club range of plus-2 to 20-plus.
Former pitcher Mark Mulder, a two-time All-Star for the Oakland Athletics, has won Tahoe the past two years. In 2015, "when I hit the green on 18 and knew that unless someone in my group made an eagle putt, I was pretty much going to win this, I couldn't feel my body; I couldn't feel my hands," Mulder says. "I had a 30-foot putt for eagle, and I couldn't tell you if I was going to hit it five feet or 50 feet. Of course, I left it way short and three-jacked to victory."
"We all get nerves in tennis. They can come on at any point," says Mardy Fish, the runner-up at Tahoe in 2016. Fish is a rare story. In 2011, he was the seventh-best player in the world and the top American. But then he started suffering severe anxiety attacks, which persisted after surgery to treat a rare cardiac arrhythmia. He bid goodbye to pro tennis at the 2015 U.S. Open, at just 33. In front of a New York crowd with the prospect of death at least partly in its assembled mind (Fish described his health as "ostensibly fine"), he went out by losing a five-setter in the second round to eventual quarterfinalist Feliciano Lopez. (As in golf, some players sound awesome by name alone.)
"In tennis," Fish says, "I could hit my way out of nervousness by being aggressive. In golf, I don't usually have the game to do that."
Fish is as seasoned a tournament golfer as one can find at Lake Tahoe. During that time dealing with medical stuff—you know, the occasional mood swings that can go along with wondering if your heart is going to jump out of your chest—Fish's golf game got sharp. Playing out of Bel-Air Country Club in Los Angeles, the plus-1 handicap entered mini-tour events and cashed a couple checks. For fun, he even tried Web.com qualifying. "I'm definitely not a real pro, but for me, nothing is more fun than competitive golf," Fish says. "Playing for $125,000 [the winner's share at Tahoe], which is a lot of money, I feel it. Maybe a little more excitement than nerves, because I feel like I'm one of the guys who can win. ... Mostly, it's humbling being around guys who are your heroes and then getting to beat them."
A MIX OF EGO AND TREPIDATION
Each year there are a dozen or so celebrities who are bona-fide scratch golfers, and so really, the competition is among them. The sports books know better than to take handicaps at face value, and they do their homework. Historically, retirees have dominated. In 2014, former Super Bowl MVP Mark Rypien edged former hockey player Jeremy Roenick and LPGA Hall of Famer Annika Sorenstam, who was listed at even money to win. The only non-professional athlete to win is actor Jack Wagner, who has done so twice. Pitcher Rick Rhoden has won eight times and hockey player Dan Quinn five times, but those guys have been dusted off the invitation list to make room for active stars like the NBA's Stephen Curry, who was listed at 5-to-1 to win in 2016, and the NHL's Joe Pavelski, who was 10-to-1. Players routinely place bets on themselves and others.
"It's amazing. In the beginning we didn't have enough players," says NBA legend Charles Barkley. "Now we got everybody calling up wanting in." Barkley didn't make a single par in his most recent 54 holes, but his iconic status and continued presence in broadcasting secure his spot. "I suck at golf. I know that, and I have to live with it. But there's no better place to suck than Tahoe," Barkley says.
Just because a celeb has no reasonable chance for the big title doesn't mean pride is thrown out the door. Impossibly, the collective ego is maybe double what you find at a PGA Tour event. These athletes reached the pinnacle of their sports and don't like looking crummy. As with all middle- and higher-handicappers, there are important moral victories to be had.
"I'd really like to finish better than 22nd, because that's where I've finished three straight years," says former pitcher Derek Lowe.
"I want to finish with a positive number because last year I finished in the negative, and my wife told me I couldn't do that," says New York Jets quarterback Ryan Fitzpatrick. The format is a modified Stableford where golfers accrue points for pars, birdies and eagles but lose points for double bogeys. The switch from pure stroke play occurred in 2003 to improve pace of play and mitigate nerves, somewhat. As actor John O'Hurley (a.k.a. J. Peterman on "Seinfeld") says about the days of pure stroke, "People couldn't hold wine glasses at the player meeting because their hands were shaking."
"I just got to beat Steph," says basketball great Dell Curry, who taught his son to sink more than three-pointers. (Pop would ultimately achieve his goal by one point.)
"I can't finish DFL, which I guess means I'll have to beat Charles," says Larry the Cable Guy, a prediction which proves exactly right.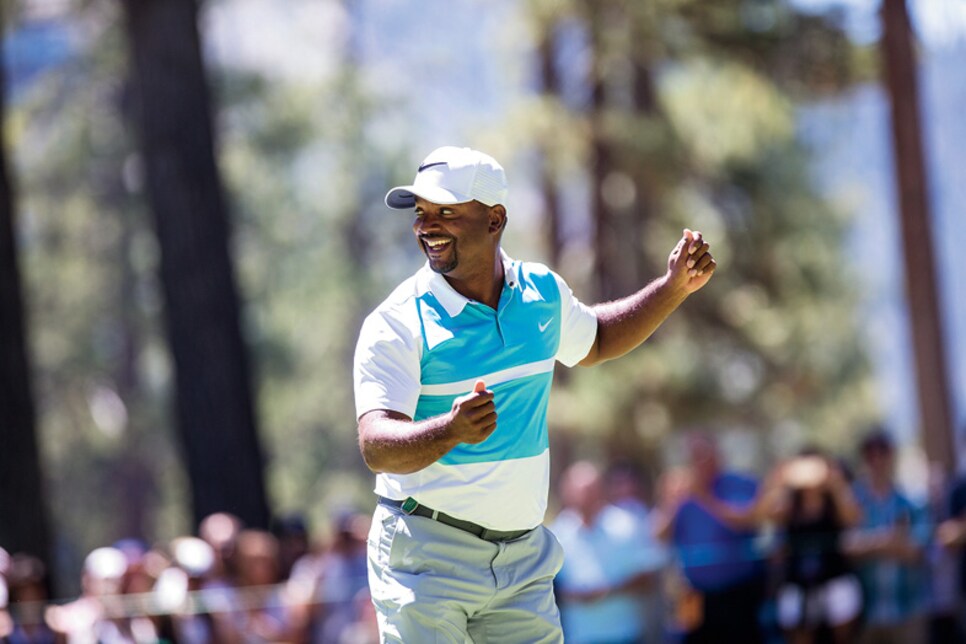 PARTY FAVORS
At the players' meeting, a closed bar and banquet room on the 16th floor of Harrah's (we're in Nevada, but it's literally a pitch shot to the California border), the testosterone is so thick you could stir it into a double-gin martini and totally mask the taste. The exclusively blond and female bartenders are busy filling orders, though some athletes in training are holding waters. The ceiling seems low even though it isn't, and getting around the room is like walking through a forest. Every once in a while you encounter an elfin figure like yourself, such as NASCAR driver Brian Vickers, or Wagner, who by the way, is wearing a tight sleeveless performance shirt, like he just came from the hotel gym. Marshall Faulk, Jerome Bettis and Joe Carter are blinged out in prime-time shirts and slacks. Typical: Hollywood guys want to be athletes, and athletes want to be Hollywood.
"Here!" actor Brian Baumgartner (a.k.a. Kevin from "The Office") says in an impression of innocence when retired Olympic soccer star Abby Wambach's name is called at roll. (Abby isn't present at the meeting.) There are a record five women in the field, and the ones at the meeting deserve credit for withstanding the locker-room banter. When it's decried that former pro Blair O'Neal and female long-driver Heather LeMaster will play from forward tee markers, an over-served former quarterback yells, "What tees is Caitlyn Jenner playing?"
At the lectern is Jon Miller, the president of programming at NBC Sports, for whom organizing and broadcasting this event has been a pet project since its inception. And that's J-O-N Miller, spelled out around the office to avoid confusion with John D. Miller, NBC Olympics chief marketing officer and of course their legendary broadcaster, Johnny Miller. It's with a mix of pride and astonishment that J-O-N takes in this audience assorted without rhyme or reason to sport or era, Sterling Sharpe seated next to Andre Iguodala next to David Wells in comically undersize chairs, but J-O-N knows how to overcome emotion and booms his voice to corral the unruly crowd to silence. There are three guys, like hockey player Mike Eruzione of 1980 Miracle on Ice Olympic fame, who have heard J-O-N run every meeting for 27 years.
'Oscar De La Hoya once cold-topped his first tee shot here, and MJ says, "Oscar, you can beat anybody's ass here; what you got to be nervous about?" Because that's what golf does.' —Dell Curry
After the welcome, the first order of business is security. To most, the variable expanse of a golf course and the proximity of fans are less comfortable than the heavily screened order they know from stadiums. This year there are new and improved "safe zones" on the grounds where a player can be reasonably assured a fan isn't going to suddenly reach out to grope his or her face.
Which, by the way, is just the unpleasant act to be experienced by Justin Timberlake in his second year playing. JT is the last to arrive to the meeting, and what an entrance he makes. Walking in with his caddie, Kevin Ruder, and pal Alfonso Ribeiro, Timberlake cups his hands and good-naturedly boos Miller, then leads his group to a balcony. "Justin loves to have the needle out," Miller says. "He's already close friends with several of the athletes, and he really embodies what this event is about. In addition to being one of the most talented entertainers on the planet, he's an authentic and passionate golfer. At some point he's going to win this or come really close."
Because JT has a private concert booked in Orlando the next evening, he's being permitted to tee off in the first round at 6:30 a.m., with the next time at 8. An important lesson about tournament golf: There will always be those who receive special accommodations from the committee, and you simply have to get over this and move on.
Dell Curry, seated beside his MVP son, hasn't played since 1998. When Miller introduces him as one of the all-time best shooters, Timberlake issues a correcting shout of "Second-best!" to much laughter.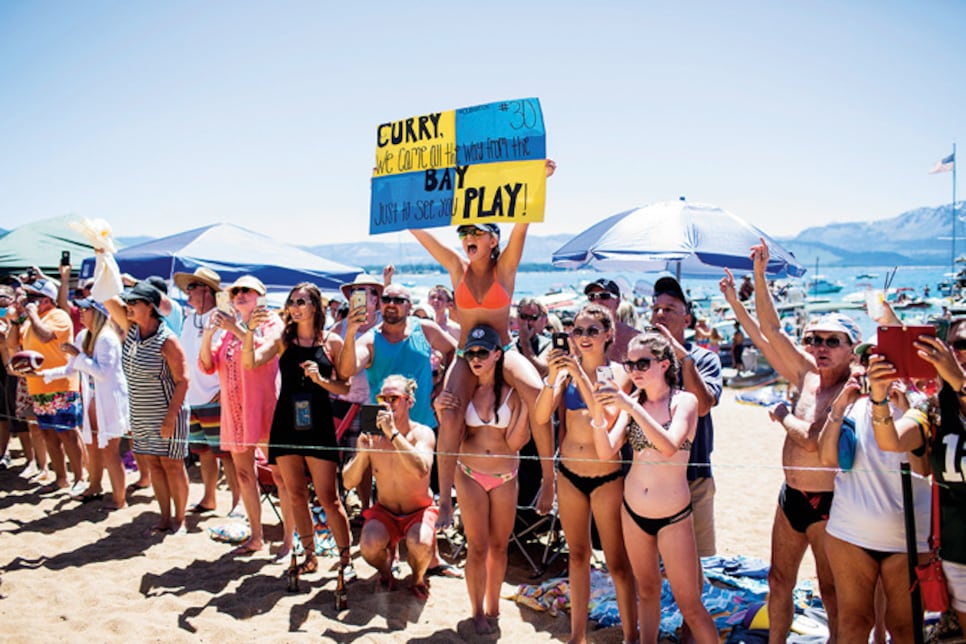 RULES ARE RULES
Mostly, the meeting is about rules violations. The same officials who administer PGA Tour events weekly are here because with stakes so high, any funny business would be actually quite sad. Former Dallas Cowboys running back Emmitt Smith is reminded there is to be no working out kinks on the practice putting green between nines. Everyone must carefully check and sign their scorecard upon completion of play, not just wander off to the cocktail party and assume somebody else will take care of it (looking at you, Larry the Cable Guy). If you wish to forego prize money to remain an amateur, you must make that official before the start of the first round. Eight people will elect to remain amateur, including former Chicago Bear Brian Urlacher, who will finish T-8.
If there's common wisdom among the veterans, it's to pace oneself. Even for active pro athletes, five or six rounds can be taxing. The move is to take a cart for the pro-am and practice rounds to stay fresh for the 54 holes when walking with a caddie is required.
Certain mistakes become clear only because of the caliber of person making them. At home, your hack brother-in-law beating balls like he's cramming for a final exam barely draws your attention, but seeing football Hall of Famer Steve Young doing the same is a revelation. If you're not prepared, you can't make it up in a few minutes. Raising your blood pressure will only make it worse.
"I've never managed to find a routine for golf," says former Buffalo Bills quarterback Doug Flutie, flustered, who wants nothing more than to practice putting but is being swarmed by autograph and media requests. "In my career, I focused on the process without getting overwhelmed by the big picture. I knew what I did on Monday, Tuesday, Wednesday, all the way through game day to get ready."
"Routine is huge," agrees Stephen Curry. "I get to the stadium a set time before each game, and I have the things I do. That takes care of the nerves. . . . In the final seconds of a game, 18,000 people in the stands, I'm going to feel tons of adrenaline, and I get creativity from that adrenaline. I'm probably not good enough to do that with golf, except for maybe sometimes."
"Michael Jordan told me, 'You're going to be nervous,' " Dell Curry says. "Oscar De La Hoya once cold-topped his first tee shot here, and MJ says, 'Oscar, you can beat anybody's ass here; what you got to be nervous about?' Because that's what golf does."
Derek Lowe has a 130-mile-per-hour swing speed, and the Tahoe galleries, typically more sports fans than golf fans, are ignorant of what's an adequately wide berth. "In baseball I could just go out there and find my rhythm because pitching is all big muscles, the chest and legs," Lowe says. "With golf there are so many small muscles, and the tendency is to get quick with them as you tinker. I've asked people how to do this and have never heard one good answer."
The default best answer, then, belongs to the guy who has won two in a row. "This is how I fill my competitive void," Mulder says. "It's surreal the collection of names and faces you see here, and it's so cool to go up against guys who dominated in their sports. Somehow I've gone from feeling determined to feeling relaxed. It's not outside pressure that's going to get me, it's the pressure I put on myself from how badly I want it. My key is to not try to do too much."
Not do too much. Curious advice from a professional athlete, a group whose totality of sacrifice and commitment to a single pursuit we can't fathom. So we revere.