News
*What if Tiger Woods never came along?* Phil Mickelson and Ernie Els give VERY different answers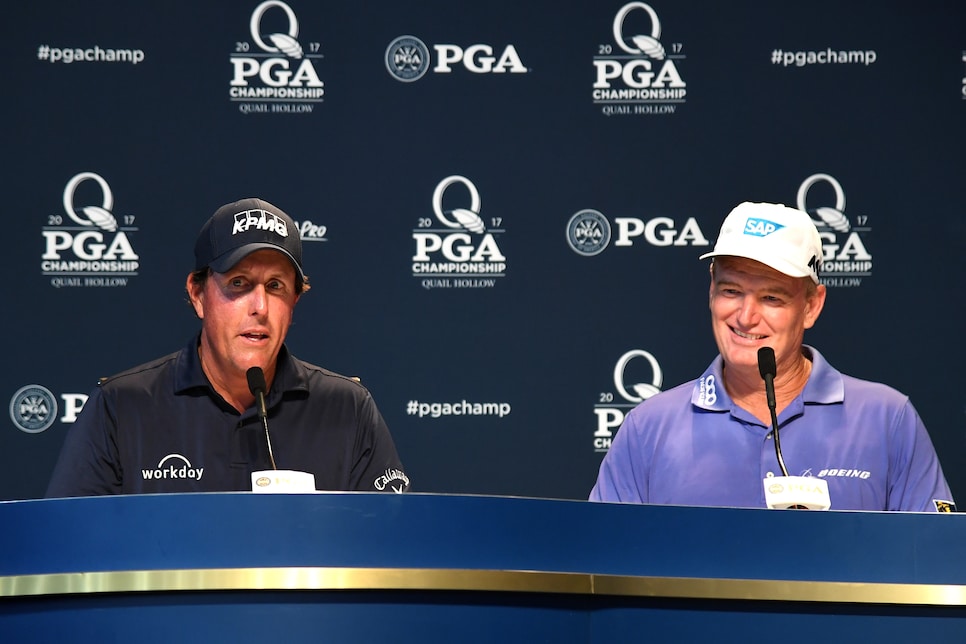 The prevailing thought has always been that golfers of this era like Phil Mickelson and Ernie had the misfortune of playing at the same time as Tiger Woods. That the 79-time PGA Tour winner and 14-time major champ gobbled up more than his fair share of trophies, leaving his contemporaries to battle out for the leftovers. But Mickelson -- as he so often does -- thinks about the situation differently.
At his pre-tournament press conference for this week's PGA Championship, Mickelson was asked how different his career would have played out had Tiger taken up another sport. And specifically, the five-time major champ was asked how many more majors he would have won in a Tiger-less era. Here was Mickelson's thoughtful and somewhat unexpected response:
"I feel as though had Tiger not come around, I don't feel I would have pushed myself to achieve what I ended up achieving, because he forced everybody to get the best out of themselves," said Mickelson, who did a joint presser with Ernie Els because both are playing in their 100th career major championship this week at Quail Hollow. "He forced everybody to work a little bit harder. He forced everybody to look at fitness as a big part of the game of golf, and I think that's actually helped me with longevity, working with my trainer, Sean Cochran, for 14 years now, trying to stay flexible and so forth to elongate the career. And I feel like that's been a big part of it and he was a big influence on that. So I don't think I would have had the same level of success had he not come around."
Watch Phil's answer here:
Els, a four-time major champ, however, had a slightly different take.
"I won a couple early on, so I was kind of -- I was ready to win quite a few, if you know what I mean. And then when Tiger came in '97, and him winning the Masters in the way he did, you know, that kind of threw me off a little bit. I thought I was really one of the top players, which I was, but that was a pretty special display of golf.
"I had quite a few run-ins with him in majors. It wasn't really very close, but I finished second to him many times. Personally, I could have obviously won a couple more, but as Phil says, this guy was so special, he's so special, and he absolutely changed the game. He got us to really elevate our games, brought so much more attention to the sport, and obviously a lot more dollars to play for. So we've got to thank him.
"But, you know, I could have had a couple more, definitely, without him around," Els said with a smile.
That sounds about right. Els finished second to Woods at majors twice, both in 2000 at the U.S. Open and the British Open. Mickelson's lone runner-up to Woods at a major came at the 2002 U.S. Open at Bethpage Black. But to Mickelson's point about longevity, there's no reason to think he won't tee it up again at Bethpage Black in two years when the PGA Championship returns there while making its move to May. Meanwhile, When -- or if -- Woods will return to pro golf remains the sport's biggest question.