News
PGA Championship 2017: Ernie Els and Phil Mickelson are sharing a major milestone at Quail Hollow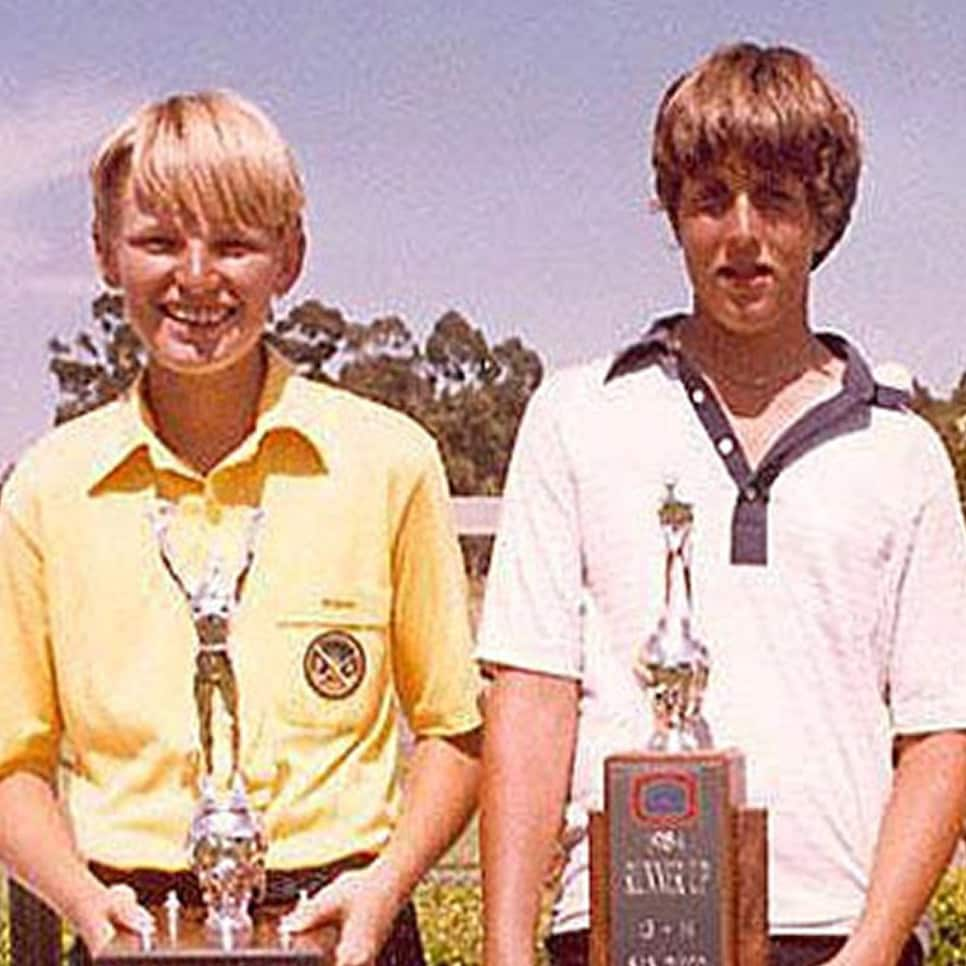 CHARLOTTE — They took turns waxing nostalgic about the old days, their initial encounter on the golf course coming 33 years ago. Ernie Els had made his first trip to the U.S. from his home in South Africa, then bested Phil Mickelson at the 1984 Junior World Championship in California. Little did they know it was the first of many, many times they'd be competing against one another in their future Hall of Fame careers.
"I remember a shot you hit in the final round on No. 3," Mickelson said to Els at a joint press conference on Tuesday at Quail Hollow Club. "It was a par 5, and you had it about 20 yards short of the green, and you hit this little skipping, spinning wedge shot that checked up about a foot from the hole. That's when I knew you were going to be a good player, because I had not seen anybody else at 14 hit that shot."
Shown a picture of the duo from that day, Mickelson quipped: "It doesn't seem that long ago from those days, but it sure looks like a long time ago."
Three-plus-decades later, the two will share another bit of history this week at Quail Hollow as they each will be competing in their 100th major championship, becoming the 13th and 14th players to achieve the milestone. To mark the occasion, the PGA of America had a celebratory cake made in their honor.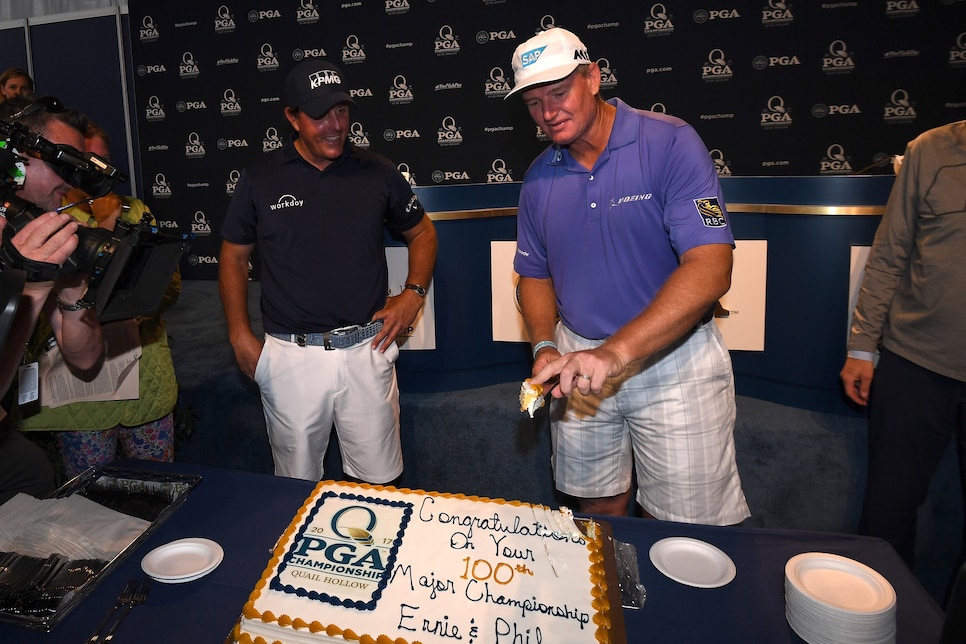 Els' major road began as an amateur at the 1989 Open Championship at Royal Troon, after making a birdie on the final hole of qualifying to earn his spot. He'd miss the cut with his brother on the bag, but walked away after playing practice rounds with the likes of Nick Price, Mark McNulty and Tony Johnstone with a better sense of his future.
"I felt like, I wouldn't say I belonged, but I could play as a professional golfer," said Els, who turned pro later that year.
Mickelson's first major was the 1990 U.S. Open at Medinah. He recalled Hale Irwin's winning score of eight under par and how, at one point, on Sunday he got to three or four under. "I actually felt like if I made a few more birdies, I might have a chance," Mickelson said. "And of course I followed it up with a few bogeys, and that was that."
Els managed to pick off the first of his four major titles at age 24, winning in a playoff at Oakmont in 1994. Naturally it boosted his confidence and freed him up to believe he was ready to be one of the best players in the world. Conversely, Mickelson was confident early on, thanks in part to winning a PGA Tour event as an amateur in 1991. But he needed time before he finally captured the first of his five majors, the 2004 Masters, at age 34.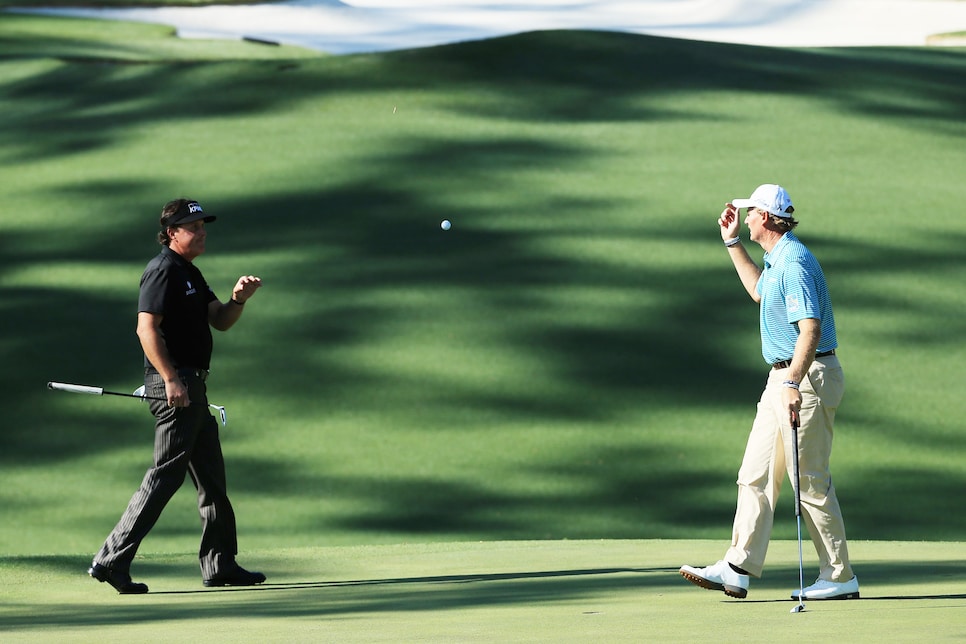 David Cannon/Getty Images
Asked about whether they felt they might have won more majors had Tiger Woods not been in their way during their primes, the pair had divergent perspectives.
"I feel as though had Tiger not come around, I don't feel I would have pushed myself to achieve what I ended up achieving," Mickelson said, "because he forced everybody to get the best out of themselves."
"I'm a little different from Phil. I won a couple early on, so I was kind of—I was ready to win quite a few, if you know what I mean," Els said. "And then when Tiger came in '97, and him winning the Masters the way he did, that kind of threw me off a little bit."
Though they're both now 47, Els and Phil say they continue to enjoy pushing themselves in the hopes of winning one more major. Mickelson, of course, hopes it will be a U.S. Open crown to complete the career Grand Slam. Els is just hoping to rekindle the old spark.
"You know, it might be hard to believe for you guys that at 47, I've still got the hunger for it," Els said, "but I really do."
100 MAJORS CLUB
Jack Nicklaus, 164
Gary Player, 150
Tom Watson, 145
Arnold Palmer, 142
Raymond Floyd, 127
Sam Snead, 119
Ben Crenshaw, 118
Gene Sarazen, 112
Tom Kite, 109
Mark O'Meara, 109
Bernhard Langer, 105
Nick Faldo, 100