Instruction
5 things I learned watching Rose Zhang and other pros at the Mizuho Americas Open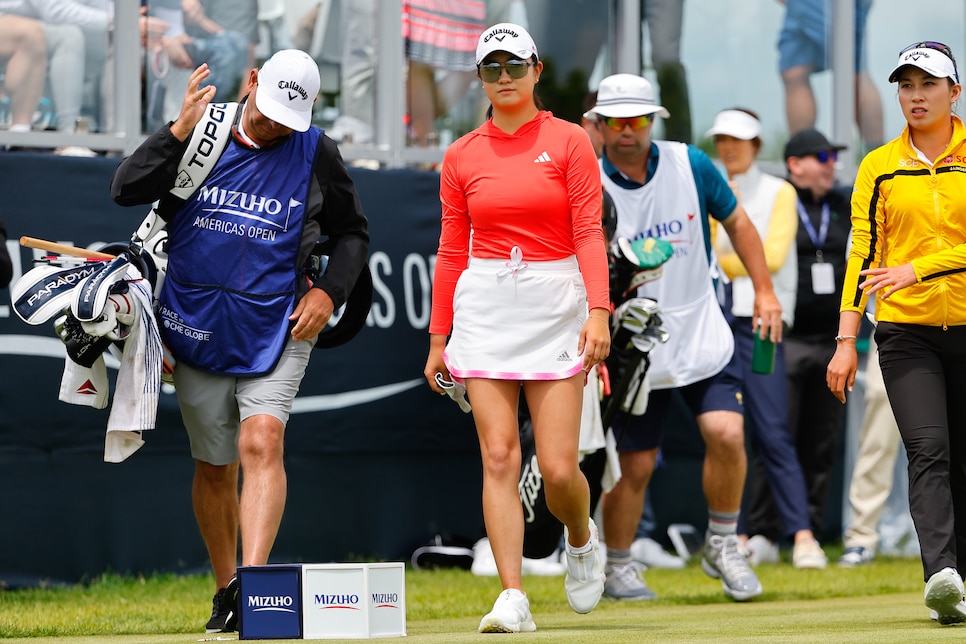 Last Tuesday, I was lucky enough to get a last-minute call to play in the 2023 Mizuho Pro-Am at Liberty National on Wednesday. Each group was paired with two LPGA players—which meant I got to learn twice as much from the two pros we were paired with, Gemma Dryburgh and Cristie Kerr.
Not only was this round enlightening for a golf nerd like me, but I was also able to spend some time following different players over last few days to see how they prepared for the tournament.
Selfishly, I took some notes so I could better prepare for any matches I have coming up this season, but I figured I'd share the wealth in case you had a few events in the future.
Find out my five takeaways from the weekend and how to adjust your range routine to practice like the pros.
1. Don't skip these key areas when warming up
Every player that I watched over the last few days showed up to the range with some sort of stretching or mobility routine. In fact, most of them bring additional equipment for this exact reason. While none of their warm-ups are the same, I noticed that almost every player spent more time on three main areas: the shoulders, upper back and hips.
I saw a lot of players using their clubs or exercise bars to open their shoulders and slowly increase their mobility. They also utilized exercise bands to fire key muscles.
One exercise that I saw more than any other was band pull aparts. This move is a two-for-one as it ignites the back and shoulder muscles.
Players were also using exercise bands to work on their hip mobility. I saw many of the pros doing the moves from the video below.
2. Be intentional with every range ball
If you watch tour players at any event, you'll notice that they don't just hit balls to hit balls. They use it as an opportunity to loosen up and gauge their game. You won't see the pros hit a single ball without first deciding on a distance and target.
Why are these two things so key?
When it comes to distance it's important to remember that tour players are constantly traveling and playing courses in different climates. Things like altitude, temperature, wind and even how dry the course conditions are are all things that can affect how far the ball travels. It's important for tour players to calibrate their distances every time they get to a new course, and most of them do this using a launch monitor—or a rangefinder in a pinch.
While you might not be traveling to different climates, it's still a good idea to get to know your distances so you can have more confidence out on the course. To do this, hit various shots (half swing, three-quarter swing, full swing) with different clubs to flags on the range and use your range finder to see how far each ball travels. The results might surprise you!
I realize that this might be a lot of information to try and memorize, so it's never a bad idea to take notes in your phone, so you can come back to it during your round.
As for target practice, tour pros use this as a way to find patterns in their ball flight and practice manipulating the ball. This can often look like players practicing key shots to prepare for tough course conditions or intense weather. Gemma Dryburgh, for example, said that she used part of her time on the range to practice knockdown shots as Liberty National is a notoriously windy course.
The sooner you start aiming at targets on the range, the better you'll be able to predict what your ball flight is going to look like on the course.
Most of the pros also take time after they hit to fully digest their previous shot. On average, players took between 30-60 seconds after to analyze their last ball and some even talked with their caddie about the outcome.
Taking a few extra seconds in between shots will help you practice with more intention and practice with a mindset that's similar to the one you have when playing.
3. Alignment rods are crucial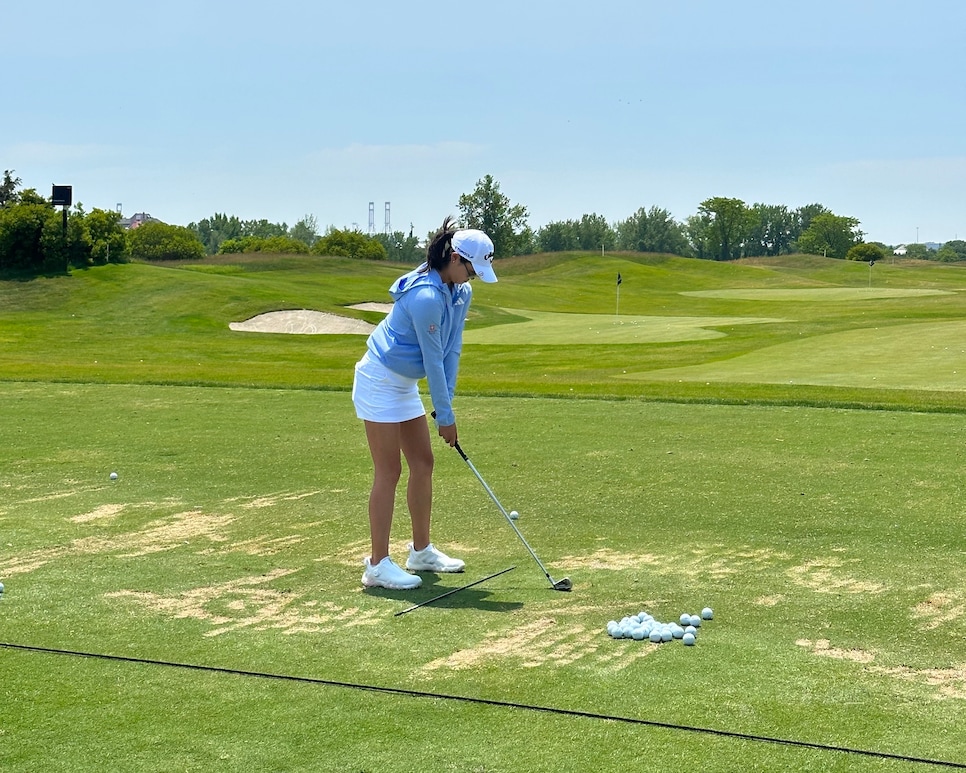 Every player that I watched used alignment rods for the majority of their time hitting on the range. Most of the tour players that I observed were using the sticks on their toe line to help them position their body properly every time.
Not only does this save time so they don't have to reset every time they hit, but it also helps them to develop a feel for what it looks like when their body is positioned correctly. Many players will train their eyes to see what it looks like down-the-line when they're aimed at their target.
Which can be a big benefit to amateurs, as alignment and aim are something that a majority of high handicappers struggle with. This is because they don't understand that their body shouldn't aim at their target. It might sound crazy, but when you look at a player like Rose Zhang, 2023 Mizuho Champion, you'll notice that her body line is parallel to her clubface.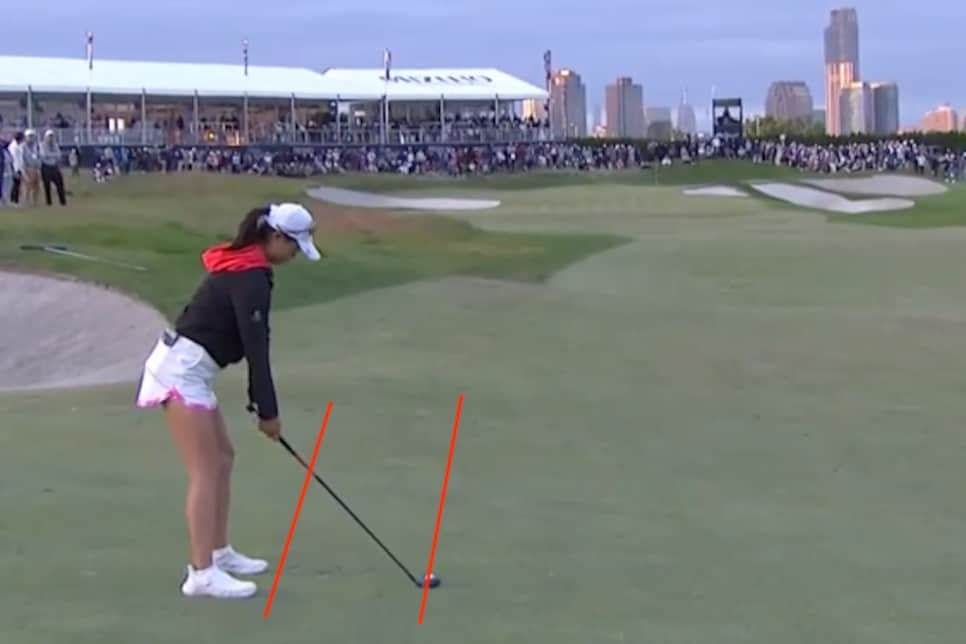 It's a common mistake that many golfers make, luckily it's easy to correct.
To utilize alignment rods correctly at your next practice session, find a spot about five-to-ten yards to the left of your target, for righties, and place your alignment rod in line with that spot. When you step in to hit a shot, be sure that both feet are the same distance away from the stick. It might feel weird at first, but this will correctly set your body line and increase your accuracy over time.
Confidence out on the course usually yields better results than playing with uncertainty. One of the easiest ways to build confidence is to develop a couple of stock chip shots that you can rely on in a pinch.
After playing alongside some of the best golfers in the world, and watching them over the weekend there are three short game shots that I think every golfer would benefit from mastering.
The first is a bunker shot. In theory, bunker shots should be easy, as you're usually able to replicate the on-course conditions when you practice, and your lie will rarely change.
Second, is a bump-and-run. All too often, amateurs will try to hit a high lofted wedge shot from a tight lie, even when there's no trouble in front of them. Low-running shots are easy to control, making it less likely that you'll double chip, which is often the cause of big numbers. They also react to the green like a putt, increasing your chances of making the follow up putt.
The last shot is a lofted, spinny chip. During our round, Dryburgh hit her "little nipper" when we had very little green to work with. Although, they require a bit of extra practice, these shots are a must-have when you find yourself behind a bunker, or needing to stop the ball quickly.
5. Spend more time on the practice green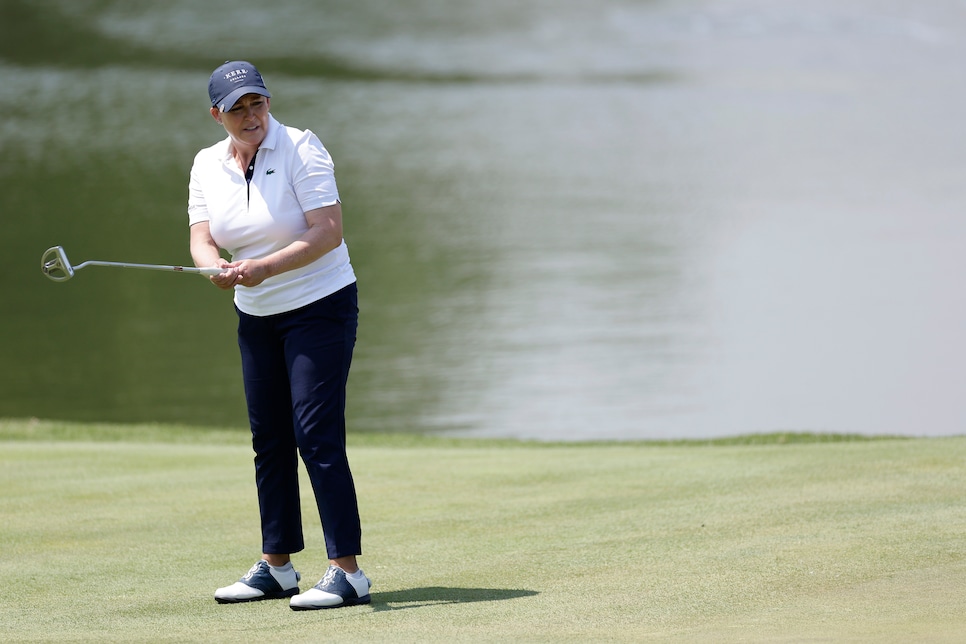 Being the golf nerd that I am, I took note of how much time players were spending on the range versus on the putting green. During a few of the practice round days, I even timed a few players. Rose Zhang, the 2023 Mizuho Champion, being one of them. During Zhang's warm-up, I noted that she spent about double the amount of time putting as she did hitting on the range.
While playing with Cristie Kerr, I noticed that after our group cleared the green she took an extra three-to-five minutes looking at the undulations on every green and hitting putts to different spots on the green to see how the ball reacted to the slope.
And in a recent episode of Golf Mostly, a podcast hosted by Michelle Wie and Hally Leadbetter, David Leadbetter, Wie's long-time swing coach asked her what she would change about her career.
"I would probably putt a lot more than hit balls," Wie says, "I think when I was younger, I would hit balls 80 percent of the time and maybe hit putts for 30 minutes."
Hitting more putts will increase your feel for the speed and slope of the green. And some of the best drills for this are the most simple.
The first drill that I saw over half of the field using was a greta lag putting drill. Players would find a putt that was anywhere between 20-30 feet and place a tee about one-to-two feet behind the hole. Then, they would lag putt to the hole, leaving every putt inside the distance between the hole and the tee.
This is a great drill for anyone that tends to leave putts short or helping players to visualize "putting through the hole", giving every putt a chance to drop.
The second drill that I saw was a variation of the gate drill.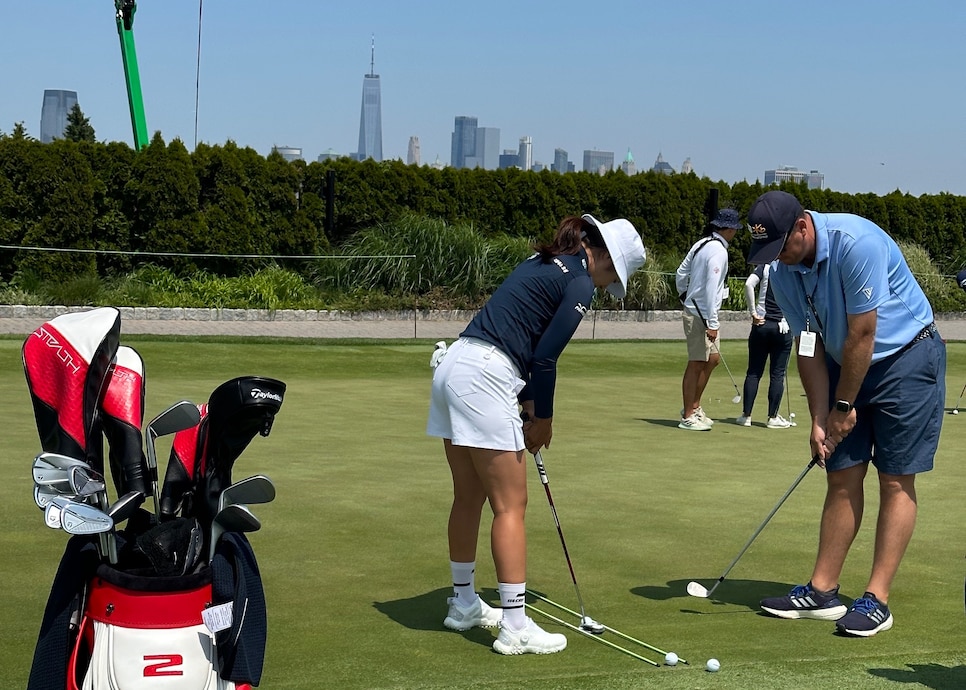 Some players used tees, others used aligment rods or even string. But the goal remained the same. To have a square face as the putterhead swings through impact.
To do this drill, place two tees or alignment rods on either side of your putter. Hit a few putts, avoiding the tees or alignment sticks. This will train you to keep your putterface square through impact, ensuring that all of your putts start on line.