News
What golf CEOs point to as reason for optimism during pandemic
How has the coronavirus affected the golf-equipment business? The leading golf companies explain.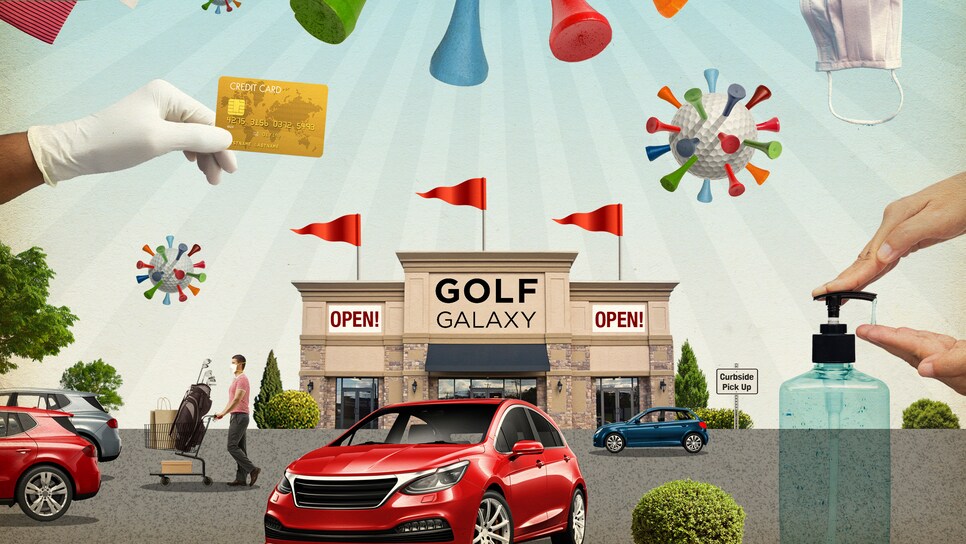 While golf is still a ways from normal, the feeling of normalcy brought to us by a return to our beloved game cannot be understated. Golf is now being played in all 50 states, and tee sheets are filling up as demand increases. New players in the form of juniors and adults who have either never played or rarely played also are on the uptick. Still, challenges remain.
Golf Digest spoke with three leaders from some of the game's largest equipment manufacturers: TaylorMade CEO David Abeles, Ping president John K. Solheim and Bridgestone president Dan Murphy, as well as garnering comments from Acushnet CEO David Maher and Callaway CEO Chip Brewer from recent earnings calls, to get their thoughts on the impact of COVID-19 on the golf business, their businesses, and what golfers can expect in terms of product launches and whether discounts are coming for consumers.
Can you put into context how the coronavirus impacted your business, and how quickly was it bad?
Abeles: We realized quickly this was no longer going to be isolated to Asia or specifically China but was going to become a global pandemic. We took action and put together a COVID-19 internal task force. This was where we said it will be serious and will require serious decisions. We also knew it was going to be temporary. The question at the time was how to put a time value on temporary.
Brewer: Our focus shifted to being proactive to protect our business and its many constituencies. These actions included securing increased near-term liquidity, decreasing our operating expenses and capital expenditures by approximately 20 percent, aggressively decreasing inventory commitments to better match up with revised demand expectations and to minimize working capital needs and evaluating more long-term capital options. … Having said all this, we are seeing some encouraging signs.
Maher: Our Massachusetts ball plants [experienced] their longest shutdown since World War II.
Solheim: I was down in Cabo when they closed the border to Canada and everything quickly went from, "Our forecasts are doing well" to "I don't know if I'll be able to get back to the U.S." I got home and a couple days later we made the decision to shut down. We hadn't had time to consider how we manage when there's a pandemic going on, so we opted for safety. About 10 days later the executive order came down. The satisfaction was in how flexible we proved to be. To decide at 9 a.m. on a Friday that we weren't going to come back to work on Monday and get that communicated took some effort. For the first two weeks we paid everyone out of vacation and were able to make it work. To pull all that off in a matter of hours made me proud of the team.
The year was off to a great start. How do you re-establish that momentum?
Abeles: Now we're operating in a compressed window from the middle of May to the summer months to compound the momentum we had established before COVID-19. The early signs are that golfers are buying golf balls or buying equipment, and we're already starting to see positive comps with our customers. We remain optimistic we're going to have a strong last six or seven months of the year, but you can't substitute 10 or 12 weeks of missing time and critical selling months in golf.
Murphy: We were only shut down for three weeks, which is better than most. We started up again on April 27, obviously with a lot of adjustments. Amazon shifted their focus to essential products and de-emphasized golf so while a number of other online outlets did well in recent months, we didn't see as much from them as they focused on food and medicine. But once May hit, Amazon just killed it. Consumers are changing their behaviors during this period. They're much more comfortable buying online.
Solheim: The unfortunate thing for golf retail and our business is that all this hit right as our big shipping season was starting and big selling season in the spring. A lot of people tend to go get their new gear right after the Masters, and we didn't have that this year. Now the question becomes how much of that pent-up demand is going to be waiting there, or how much will people pass on buying golf equipment this year. A lot of that is dependent on the overall economy and personal circumstances. Are people still working? Do they have income to spend on golf clubs? There are a ton of variables we're trying to get our heads around.
How has the retail environment changed?
Abeles: We will conduct more fittings over the course of the next 90 days than we would have done in the same period of time last year. The behaviors in terms of engagement have changed from a health and safety practices standpoint, but the actual engagement itself in terms of what we're trying to accomplish really hasn't changed, which is how do we get our products in the hands of golfers. We also feel the golf season will extend itself for two reasons. One, those of us that are avid golfers will want to play well into the fall months weather permitting. The other is with this PGA Tour schedule and certainly with the major championships, the season is going to keep golf front and center well beyond the late summer months.
Solheim: For us, 2019 was a great year and 2020 was looking like another big year. We had some big product launches planned for later in the year, but we've been calling an audible. We closed down for six weeks and now we're re-opened. I've been encouraged, though. I thought May 1, when a lot of stay-at-home orders expired, we would see a spike in sales. We didn't at first, but more recently we've seen some good interest, including custom-fitted orders, re-fill orders and future orders. Overall most retailers I have spoken to think there is a sense of some pent-up demand that we will have a slightly bigger June than forecast. But no one is thinking, "How do we catch up?" It's been more, "How do we get back to business?" The retailers have so many regulations and policies they're going to have to employ. It won't be business as usual.
How did you maintain a connection with consumers?
Abeles: The area we got most excited about was how do we ensure we stay in front of golfers in a way that inspires them. For two months we pulled back on promotional efforts around our product because you couldn't buy products. I don't think the consumer mind-set, given what we were all facing, was about buying the next great driver, because early on, largely you weren't playing. We pivoted to a content strategy driven by our athletes to engage golfers to keep them inspired about their love for the game as we shared our love for the game. And, of course, there was our involvement with TaylorMade Driving Relief, which was terrific.
Murphy: Our online ball-fitting tool has exploded during this. The V-Fit has experienced a huge increase. Tripled our volume on it. We saw a dramatic spike in April when we were hammering it on social media. We targeted the enthusiast, and they responded. We also used social media to a great degree. People are on their phones a lot during this time. With that in mind we put out a lot of content with Tiger, Bryson, Freddie and it worked. Strategically social media is important during coronavirus because it doesn't cost much. When you have to cut spending, including advertising budgets, it gave us a chance to stay relevant in a space where the consumer was still active.
Solheim: Our remote fitting worked very well. We had fitters at home wondering what they could do, and we thought we could provide this service to our customers. We don't sell direct, but have always done a lot of fittings, so in many ways it was an extension of what we always do. It allowed us to offer fittings, but in a new environment. As we're starting to be able to get to our green-grass accounts, appointment-only fitting days have done very well.
How has the buying cycle for this year changed?
Maher: At the moment, fair to say some of our launches will go off as planned, others may be pushed into next year, and some might be pushed into a later window in the second half.
Murphy: We predicted gloom and doom in our forecasts for April, May and June. In April we beat that by a little bit. But in May we doubled that forecast. We're seeing the market and our brand come back more rapidly than we expected. We're hearing from the major buyers that golf balls are coming back quicker and there is pent-up demand. We had a little luck in that we got our big launch out in the market before corona hit.
Solheim: It's made us re-think them. Stuff that we had planned for this year we decided to wait on until the market becomes a little more stable.
Are the discounts coming?
Abeles: Certain companies not achieving their financial objectives, we may see some enhanced promotional activity in the marketplace. I'm hopeful the greatest brands will retain their value, and I'm confident TaylorMade will. If there is promotional activity, I feel it will be a byproduct of inventory imbalances or brands that didn't get out of the gates the way they expected to prior to COVID-19. That's not TaylorMade.
Brewer: Our decisions on promotions will be made as the situations develop. I'm not expecting the golf equipment business to be especially promotional. Although, it will be more promotional than it would be in a normal year because there will be excess inventory for some period of time out there.
Maher: We are preparing for [discounting by others]. It's too soon to say at this point, [but] we've seen some activity in footwear. We've seen golf ball manufacturers, ourselves included, extend their spring ball promotions, and that was largely a function of missing a month of retail traffic. At this stage, with golf retail really just coming back, it's too soon to say, but we do expect to see some promotional activity throughout the year.
Solheim: I hope not. I hope everyone learned their lesson from the last time we went down that path. It's a lose-lose. With that said, I do see some discounting likely to happen. You had retailers with their full inventory ready to go, and they didn't have a spring selling season. Prices have been trending higher the last few years, and I don't see that trend happening this year. But I'm hoping we avoid the super deals and the two-for-ones and that sort of stuff.
Could this end up bringing more people to the game?
Abeles: Golf is coming back. I really believe this is a great opportunity for our industry and this sport to take two steps forward. Not to incrementally build on its popularity, but to exponentially grow the game.
Brewer: There's a lot of interest in playing, and this could actually be good for the game of golf. … It's a great game in general, but it's an even better game in the world where we now exist especially in comparison to your other options.
Murphy: Is it some sort of weird luck for golf? Is this the kind of unexpected boost where people go to golf because it's a safe space? Could be. The question is, are we getting in May what we didn't get in April—or is this a trend of increased participation and activity that will be better in the long term. What we all wanted for 20 years is for people to simply give golf a try, and now we have that. But how we do capitalize on it?
Solheim: I think there is some hidden opportunity. I live on a golf course and it's never been so busy. Many people were told to work from home, and for many that also meant get some golf in. I spoke with my pro who said this time of year you'd see about 45 people playing. Today it was 144. He said he has members who haven't played in years that have played 60 rounds so far. It's great for juniors, too, because most youth sports have been canceled. I'm encouraged by signs like this. In some ways golf courses were the one safe haven where people could go. A lot of people who never played before might have started to. The trick is how do we capture them beyond now.