News
What explains Dustin Johnson's rise to No. 1? A little bit of everything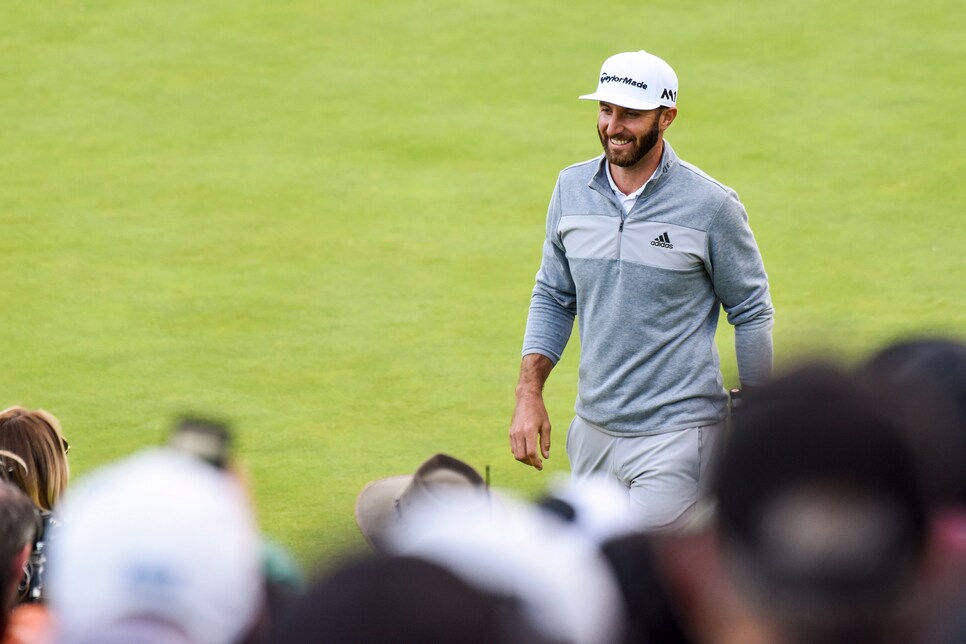 Dustin Johnson is home in Jupiter this week, resting up after his latest victory, working out to get ready for his next tournament, celebrating his third week as No. 1 golfer in the world, and taking care of corporate business by becoming brand ambassador for luxury Swiss watchmaker.
During a reception held Wednesday night at Trump National Jupiter, Johnson said he bought five of the Hublot timepieces before signing the deal. The time to splurge seemed appropriate, because this certainly looks and feels like Dustin Johnson's time.
Swing coach Butch Harmon told me at the start of the season that Johnson would be No. 1 come the Masters. Turns out he was only off by nearly two months. Johnson reached the pinnacle of the game after winning the Genesis Open at Riviera Country Club outside Los Angeles on Feb. 19.
"He took care of that early," Harmon says.
Four weeks before the Masters, Johnson now holds a 200-plus-point lead over former No. 1 Jason Day. With Day nursing injury and illness, Rory McIlroy coming back from a stress fracture to his rib, and Jordan Spieth running hot and cold since his win at Pebble Beach, Johnson leaves the impression he could be No. 1 for a while.
"I think Dustin's the type of player that could have some staying power," Harmon says. "He believes in himself so much now with the way he's playing. And he's got this unflappable attitude on the course. Nothing bothers him. He puts it behind him good or bad, relishes the fact he got to No. 1, and he wants to stay there."
No. 1 is something Johnson first mentioned to performance coach Joey Diovisalvi warming up on the floor of Joey D's gym in Jupiter in late 2015. Some of Johnson's endorsement contracts would be coming up for renewal. He had lost the U.S. Open at Chambers Bay that summer, the latest in a string of major-championship stumbles, by three-putting the 72nd hole after hitting two near perfect shots that put him in place to finally break through.
"I had never seen him that crushed," Diovisalvi says. "From last summer to now there is a newfound confidence. He literally said to me, 'I want to win a major, and I want to be No. 1 in the world, and I'll do whatever it takes.' "
Diovisalvi and Harmon believe it was more than just commitment that has made the difference. There was the experience gained, hidden by scar tissue, from blowing majors at Pebble Beach, Royal St. George's, Whistling Straits and Chambers Bay.
Harmon also noted a change in Johnson after he and his fiancé, Paulina Gretzky, had their son, Tatum, in 2015. "I really think having that little boy gave him a new sense of responsibility," Harmon says. "He loves that little boy." The couple is expecting a second boy later this year.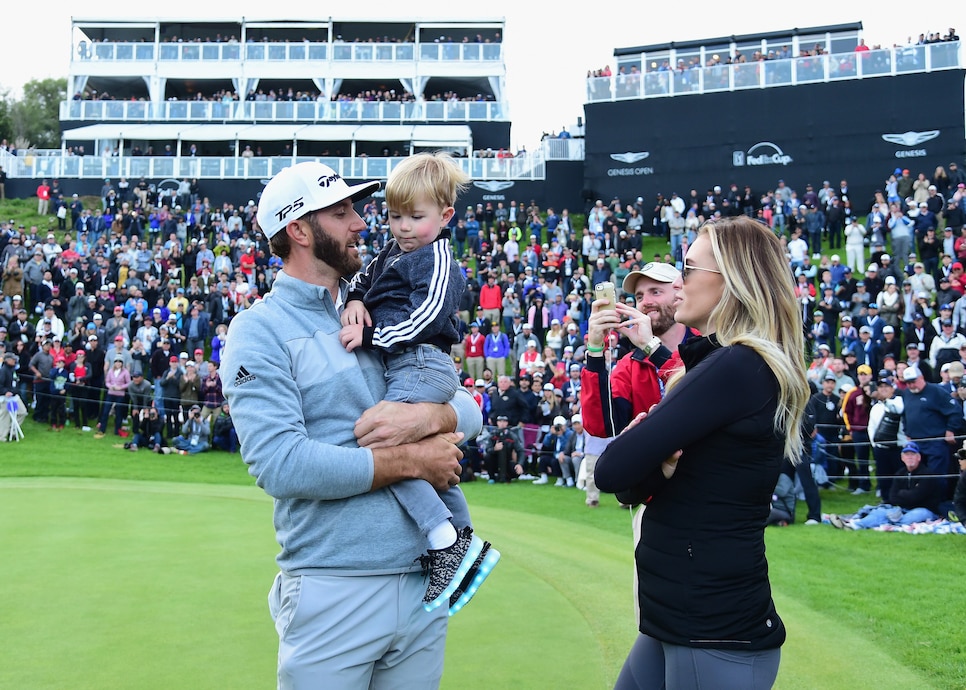 On the course, Johnson's game went from good to great when Harmon sold D.J. on the ball flight that won 18 majors for Jack Nicklaus, a controllable fade off the tee. "I've been trying to explain it for years that he didn't have to cut across it," Harmon explains. "He just had to set up left, swing the club back in line of his feet, and instead of curving it, he'd just slide it from left-to-right."   Another turning point occurred at Riviera in 2016. After winning the pro-am with Paulina's mother, Janet Jones, Johnson walked her and his family up to the clubhouse. But instead of joining them for lunch, Johnson went back down to the range with two TaylorMade technicians and the TrackMan rep. For an hour, Johnson hit balls in a steady rain, before eventually telling his manager, David Winkle, to make arrangements for a purchase.   In the early days with his new toy, Johnson didn't quite know how to utilize TrackMan to its fullest. But when Harmon's son, Claude, dialed in D.J. during subsequent practice sessions at The Floridian, he had Johnson hitting approach shots from 50-to-125 yards to an average of 16 feet, 4 inches, a 14-percent improvement from his tour average of 19 feet.
RELATED: Paulina Gretzky shows off her swing, credits DJ   All of that effort in the gym and on the course crystalized at last year's U.S. Open at Oakmont, and continued with a burst into the FedEx Cup Playoffs before concluding with Johnson earning PGA Tour Player of the Year. He came out even stronger in 2017, with five top-six finishes in six starts. "[You] start to realize how talented they are, and that it's repeatable," says Diovisalvi of Johnson's mind-set. "What I see differently now is that I think he actually understands his ability."
While in Los Angeles for the Genesis Open, Johnson and Diovisalvi discovered Soul Cycle, a spin class that Joey D described as Lance Armstrong meets hot yoga. They would go there at night after a 90-minute workout in the morning, after golf all day at Riviera, including 36 holes on Sunday.
In Mexico, instead of pulling driver in high altitude and blasting away, Johnson played Chapultepec with discipline and a 2-iron. His one-stroke victory over England's Tommy Fleetwood is even more amazing when you consider his horrendous putting performance from inside 10 feet, missing of those 16 putts on the week.   If there was any doubt about him wanting it, and not letting success go to his head, it's the sight of D.J. in Joey D's studio at 8 a.m. the morning after winning in Mexico. That workout is just another sign of Johnson wanting not just to get to No. 1, but to own the space the way McIlroy (95 weeks), Day (51 weeks) and Spieth (26 weeks) have in the recent past. That includes peaking for the Masters with two wins and maybe more before he gets to Augusta.
  "It's why I play the game," Johnson said after winning in Mexico. "It's why I'm here."