The Loop
What could have possibly prompted Patrice Evra to kick a fan in the face while wearing cleats?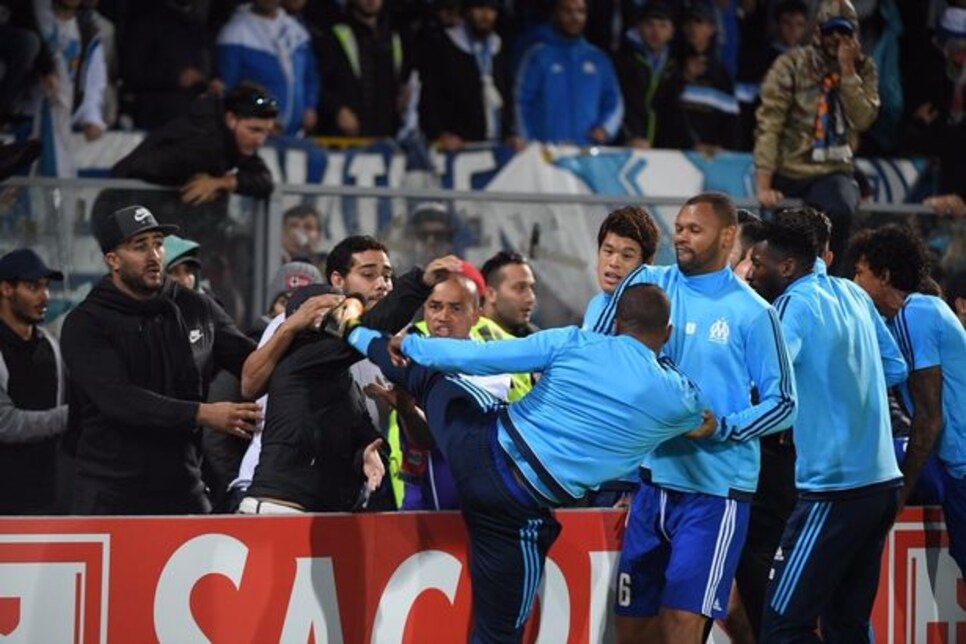 On Thursday afternoon, former Premier League-winning Manchester United defender and veteran French international Patrice Evra lost his damn mind. While warming up for a Europa League tie between his current club Marseille and Portugese side Guimaraes, disgruntled Marseille fans broke through a pitch-side barrier and confronted the left back. A verbal scrum between players and fans ensued, and in a moment of pure, hot-blooded stupidity, the 36-year-old Evra—who has a bit of a mean streak by trade—swung his left boot above his head, kung-fu kicking a fan RIGHT. IN. THE. FACE.
The match referee promptly red carded Evra, making him the first player in Europa League history to be sent off BEFORE the game even started. It was a bad look for Evra, of course, but the real question is what could have possibly driven one of the most experienced players in Europe to snap like a German Shepherd backed into a corner? If true, rumors that the fans were specifically targeting Evra for a recent string of poor performances—and that racial abuse was hurled in his direction—certainly go a long way in explaining the vicious outburst.
Then again, soccer has seen this once before, and the numbers didn't quite add up that time either.
On January 25th, 1999, another Manchester United star, Eric Cantona, was red carded for kicking out at Crystal Palace defender Richard Shaw. On his way toward the tunnel, Cantona was confronted by a supporter named Mathew Simmons, who had rushed down 11 rows just to call Cantona's mother a "French whore." Cantona, like Evra, went feral, leaping the advertising boards and hitting Simmons in the chest with a flying Street Fighter kick in a single, breathtaking display of weaponized athleticism. Cantona was suspended for eight months and sentenced to two weeks in prison for his assault (which he later successfully appealed). He was eventually welcomed back to Manchester, winning two more Premier League titles with the Red Devils, but the question remains: Why was that comment—of all the vitriol spat at Cantona over the course of his career—the one to light the fuse?
It's fair to ask the same about Zinedine Zidane—one of the greatest players of all time—and his infamous World Cup Final headbutt, and it's certainly fair to ask the same of Evra. If the answer is well and truly racism, then you won't hear us complain too much about, err, stomping it out. Anything short of that, however, and Evra could (and should) be watching the games from the couch for a long, long time.