Equipment
What can average golfers learn from PGA Tour stars when it comes to switching putters?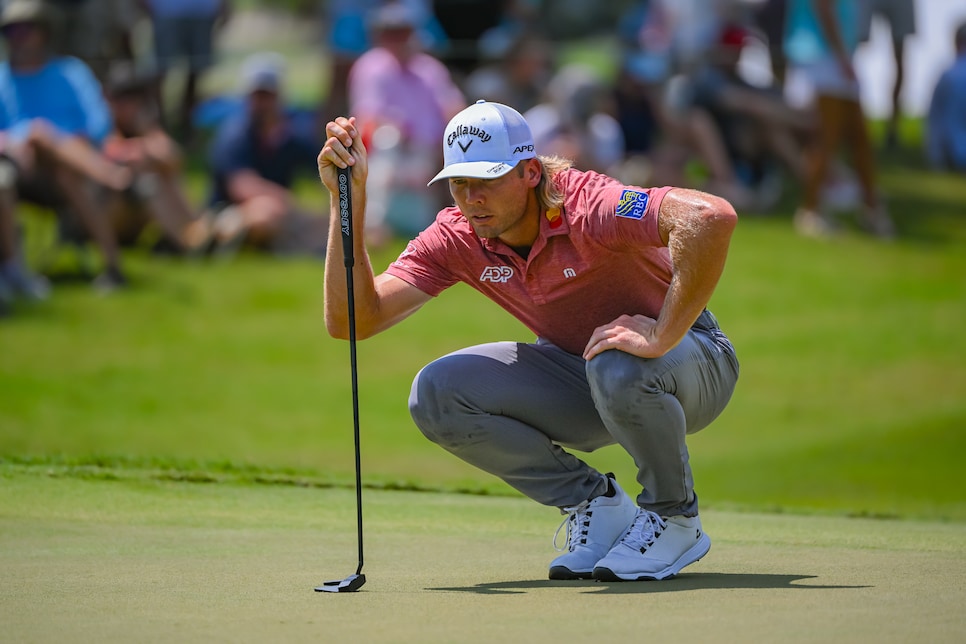 Sam Burns has lost count of how many times he's been presented with a new putter to potentially switch to since turning pro. In his first six years on tour, it's much easier to keep track of how many times he actually made a permanent change—because it never happened.
As the old saying goes, "If it ain't broke, don't fix it." And that was certainly the case for Burns, who has already racked up five career PGA Tour wins, largely on his putting prowess. Two of those victories (the 2022 Valspar Championship and 2022 Charles Schwab Invitational) came on long walk-off playoff birdie putts, and the LSU product has finished in the top 10 on tour in strokes gained putting the past three seasons.
Clearly, Burns didn't need to take out his trusty Odyssey O-Works 7S Black. Nor did he want to. "I'm sure they probably thought I was the last person that would ever switch," Burns says. But the company's new Ai-One model quickly caught his attention when he rolled a few ahead of the Tour Championship in August.
"It really stood out," Burns said Wednesday at Odyssey's Ai-One launch event in Frisco, Texas. "Especially at East Lake where the greens are so good and I was hitting lag putts and all of them seemed to kind of look the same and were coming off the exact same whether I mis-hit it or not.
"So it kind of just made sense to perform the way I thought it could on the practice green and then took it on the golf course and it seemed really consistent."
Of course, it took more than a few practice putts to make that kind of a move. When Odyssey reps came to Burns with the Ai-One, they also came armed with plenty of data. Through countless hours of testing, the company claims that even mis-hits will finish up to 21 percent closer to the hole.
"For us, we're not trying to make drastic improvements," said Burns, who kept the same fang head look with his new mallet. "Just little, little things here and there. To have that little bit of improvement and have the confidence with it was really important."
But reigning Masters champ and presumptive PGA Tour Player of the Year Jon Rahm says the new technology, an AI-designed insert with something the engineers call a non-intuitive variable face thickness topology, could lead to drastic gains on the green. A guy who just won the green jacket wouldn't make such a change otherwise. Like many top tour pros, Rahm isn't into tinkering around on the range or the practice green, especially when things are working.
"If what they're saying is true, which we all hope, that 20 percent improvement is going to be big for all of us," said Rahm, who first tested the putter at the Tour Championship before putting it in play at the BMW PGA Championship the following month. "You don't need to hit the perfect line every single time. You don't need the perfect entry point into the hole every single time. And when you have perfect speed, it's going to maximize your opportunity to be able to make that putt. And now when you get farther away from the hole, it's obviously going to give yourself the best chance to have a two-putt or make the putt."
Rahm's point is that with better speed, he'll have more second putts within three feet, a range pros literally make 99.5 percent of the time. And early results, specifically his putting during Europe's Ryder Cup win, have him excited heading into next season.
There was no money on the line in Rome, but to provide more motivation to make the change, Odyssey reps also showed some pros how much money three-putting cost them this past season (Rahm, for instance, lost $2.1 million on three-putts alone). Still, it's tough to convince great putters to make a change.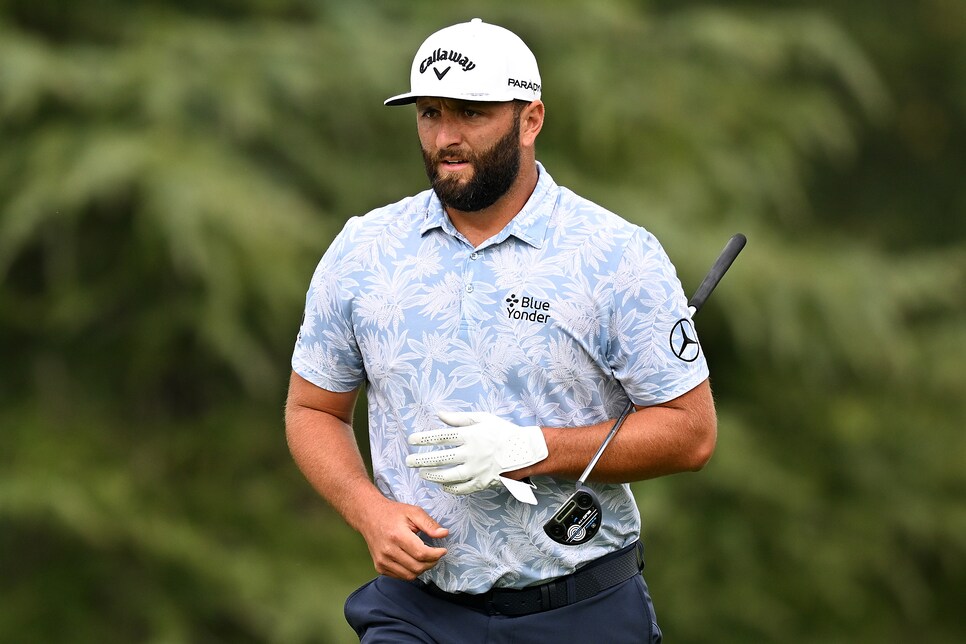 "I think in general, it's hard to get something out, especially something that they've trusted," says Michael Vrksa, Callaway's director of custom fitting and player performance. "They hit a shot at Augusta. They've hit a shot at the U. S. Open. . . . but fairway woods in particular get really sticky, and putters are really, really sticky. So you have to prove it to them."
That proving process can take a while, and involves a lot of research and testing, often through the use of sophisticated putting launch monitors like SAM Putt Lab or Quintic. To eliminate as many variables as possible, Vrska says tour pros are given new putters with the same length and weight (down to the gram) of their old ones. There's also plenty of player feedback and consultation with different player's coaches. With millions of dollars on the line every week, you want everyone on the same page before making a big change.
Xander Schauffele, for instance, has been weighing the switch to the Ai-One model for months.
"I don't like switching too often, but if it's better, I will switch," Schauffele said. "Like you said, I was top five in putting this year. So the boys at Callaway are telling me 'Why not be number one?' That's the sell on the AI for me. So I'm gonna go home. Once I'm done unwinding, I'll get a lot of reps in with my putting coach there. And we'll get after it."
Obviously, it's a lot different for average golfers, whose livelihood doesn't depend on what putter is in their bags. And who don't have quite the same wealth of data directing their decisions. Not to mention the time to spend all those hours on a practice green. But there are things they can do to make the process of changing more effective, starting with getting custom fit.
"It's much easier to get on course stats than ever before so if you have on-course data, please share that with your fitter," Vrksa says. "That's really important. You're going to find out, maybe you actually are pretty good from five feet in and maybe it is a distance control problem, or maybe, your lag putting is pretty good and, and you're terrible from five feet. As a fitter, if you're terrible from five feet, we're going to look at alignment first."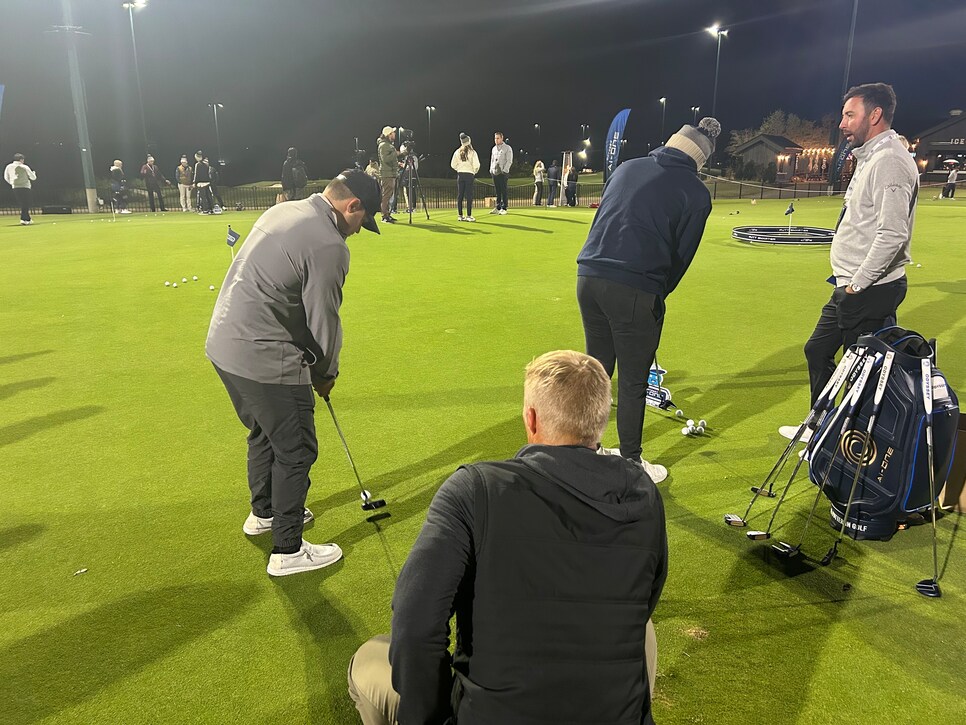 Odyssey's Johnny Thompson helps fit someone for a putter during the company's Ai-ONE launch event.
Even if you don't keep detailed data when you play, Vrksa says even taking a mental inventory of your past few rounds and where you lost strokes can be very helpful. And that sometimes a small suggestion from a fitter—like trying a different putter grip or adjusting your posture—can make a big difference.
The bottom line? Even if the numbers or results are telling you one thing, the putter still has to feel good to you. And like with the PGA Tour stars, making a switch should never be hastily done. So Vrska stresses that golfers should come to a fitting with as much info as possible—and without a defeated mentality.
"The whole, "I'm a terrible putter" attitude isn't helpful," Vrksa says. "Everybody has a place to improve. Talk about that. Even tour pros. Some of them are better from short. Some are better from long. Get into that. Tell the fitter where they can focus on helping."
Sam Burns knows he's not a terrible putter. In fact, he knows he's one of the best in the world, which is why switching putters has proven difficult. Heck, how many times did Tiger Woods try to switch before always coming back to his legendary Scotty Cameron?
But Burns has also seen statistical proof that his new model will make him better. And in a sport where the margins are so slim, any bit of better can make the difference between adding to his PGA Tour win total and making it back onto Team USA next time. That doesn't mean, however, that the old putter that helped him achieve those things is too far away.
"It's at the house in my little golf closet," Burns said. "I think I'll have to hold onto that one . . . Just in case."