News
What Bryson DeChambeau can do to right a rocky rookie year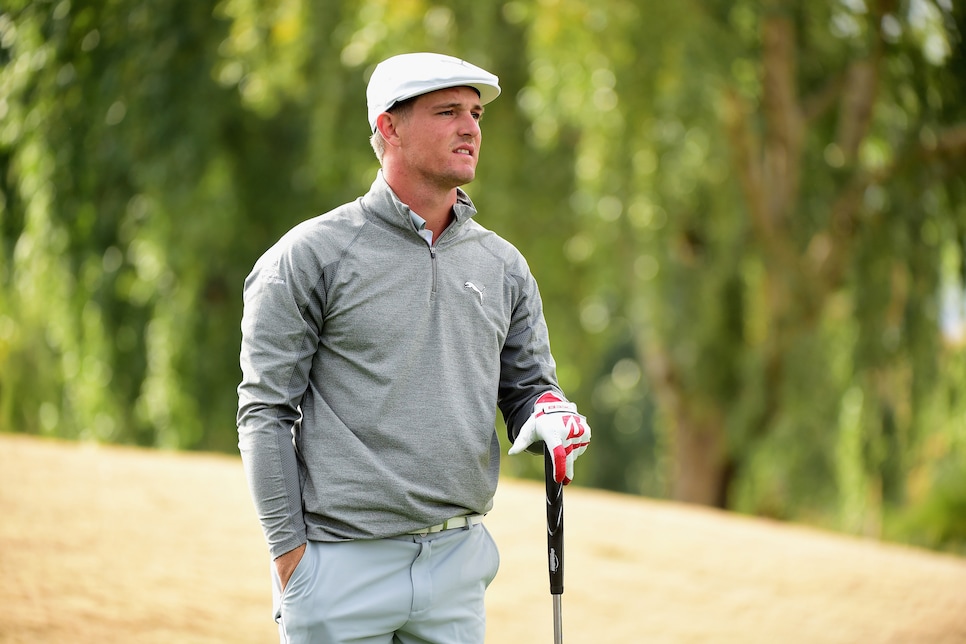 It's been a difficult rookie season so far on the PGA Tour for Bryson DeChambeau. The 2015 U.S. Amateur and NCAA champion is carrying a burden of high expectations. Not only as a player with historic amateur credentials, but even more as a self-described innovator who confidently asserts that he wants to revolutionize the game.   In his 11 months as a professional, the 23-year-old hasn't met them. DeChambeau came into the Valspar Championship having made just three cuts in his first 10 starts on the 2016-'17 season. He finished T-27 at Innisbrook Resort outside Tampa, his best performance of the year, which allowed to climb to a still-disappointing 161st on the FedEx points list.
"Yeah, there's been a lot of things that have been happening lately," he said after opening with a 67 on the difficult Copperhead course. "And I'm finally getting back to playing some good golf and executing some shots under the gun. And that's one thing that I've been looking for this whole year, and it just hasn't happened."
There are plenty of possible reasons why. A difficult transition from DeChambeau's old clubs—a specially made, same-length set of irons—to a new club company that had to match the same exacting specifications for the only such set in big-time professional golf. Some overscheduling, exacerbated by DeChambeau's desire to do marketing for his new endorsers. A distracting and confusing imbroglio with the USGA in which the putter he was using for his unique face-on putting style was originally deemed non-conforming and ended with DeChambeau switching to a conventional head with a 44-inch shaft that's braced against his left forearm.
And perhaps most important, the player who is known for his scientific approach—but possesses a high strung, artistic temperament—has been feeling a lot of stress to live up to the hype. It was evident at Valspar, where DeChambeau played well on the first nines of each of his last three rounds, but dropped down the leader board each day with shaky second nines that added up to a cumulative nine over par.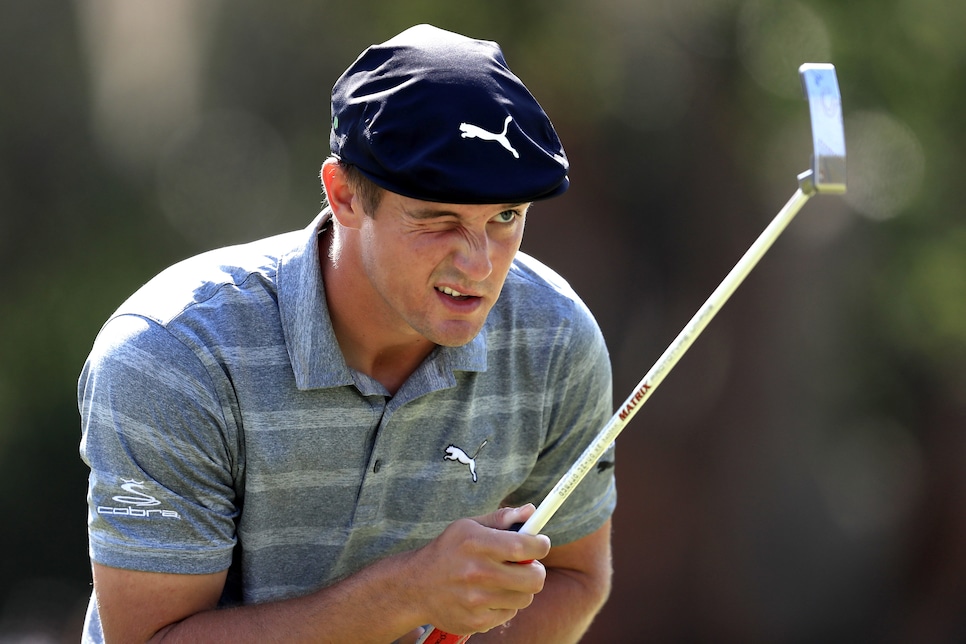 DeChambeau was justifiably a hot ticket when he turned professional last April. Coming off his first Masters—the photogenic 6-foot-1, 185-pounder was in contention on the weekend before finishing T-21—the native of Clovis, Calif., finished T-4 in his professional debut at Hilton Head.
After that start, it looked like DeChambeau would earn enough in his six sponsor's exemptions to secure his PGA Tour card. But other than a T-15 at the U.S. Open, he couldn't keep up the pace. Only after DeChambeau got a second crack by qualifying for the Web.com Tour Final Series, then winning one of its three events, the DAP Championship, did he land on the tour he appeared destined for.
As the new season has unfolded, DeChambeau, whose commercial for Microsoft Cloud is entitled "Changing the Future of Golf" (a commercial last year for Bridgestone was called "Greatness Has a New Name"), has been seen by many of his peers as an unproven eccentric who can be the target of derision. When he withdrew after 28 holes at last month's Genesis Open, where he had received a sponsor's exception, rank-and-file players such as John Peterson and Colt Knost let their disapproval be known on Twitter.
"It's been tough for almost a full year now, and especially tough the last few months," says Mike Schy, DeChambeau's long-time instructor. "I think he is learning. I think he's maturing. I think a lot of it has been a surprise to him. I think it was harder than he anticipated."
DeChambeau's struggles have started with his strengths. Schy has always validated his charge's "Golfing Machine"-founded swing ideas with ball-striking statistics that reflected a very straight (and moderately long) driver who hit a lot of greens. But on the PGA Tour, DeChambeau's tee-to-green game has been mediocre at best. He currently ranks 113th in driving accuracy and 145th in greens in regulation.
Schy points to the transition to the new clubs as a factor, but also says DeChambeau became enamored with hitting his driver farther. While his normal clubhead speed is a respectable 115 miles per hour, DeChambeau also has a "crank" swing that reaches 125 mph. "I can understand how watching DJ or Jason Day drive it could be seductive," Schy says. "But statistics didn't prove that just hitting it farther was going to be a true benefit if he was missing fairways. It took awhile for him to realize that to hit a lot of greens, he has to consistently drive it in the fairway."
DeChambeau's tendency to experiment with his technique got a bit carried away. "He tried some swing changes to try to minimize face rotation, but it caused him to start steering and was obviously not working," Schy said. "He loves to discover. That's his adventure. That's what he does. I'm OK with that, and he's stubborn, but I finally convinced him we had to get back to some basics."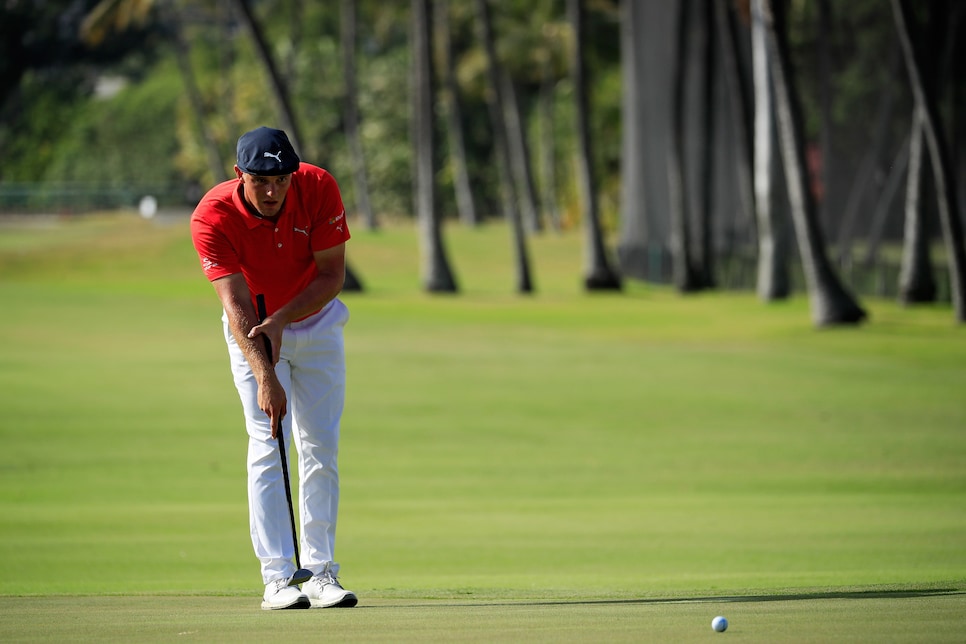 It was DeChambeau's attempt to begin putting with an innovative side-saddle style beginning in January in Hawaii (above) that has been his most emotional hurdle. He and Schy had worked on the style for more than two years and designed a special putter to go with it. The plan was right up DeChambeau's alley: creative, individual, perhaps even revolutionary. Besides, DeChambeau's biggest weakness is proving to be putting; he currently ranks 193rd on the PGA Tour in strokes gained on the greens.
But the USGA, citing Rule 4d, Appendix II, which states that a club must have either only one "striking face," or two such faces provided they are opposite each other and have the same characteristics, ruled the putter (not the putting style) non-conforming. Although DeChambeau over the next few altered the putter to make it conforming, his uncertainty about how the USGA would rule has caused him to at least temporarily abandon putting side saddle. Reaching his decision after missing the cut at the Honda Classic, DeChambeau lashed out at the USGA, calling it "not a good organization," but soon apologized.
That was the low point. Since then, Schy believes DeChambeau has been on an upswing. "Obviously there are a bunch of guys out there who just say, 'Man, this guy's a nut job,' " he said, "but Bryson has friends and supporters out here and he's getting comfortable.
What was really hard for DeChambeau when he played bad was feeling like he had let all his supporters down. He would take that on way too much. But he's gotten better about realizing that people will support him through the tough times, too."
DeChambeau's support system got stronger last week when his father, Jon, underwent a desperately needed kidney-transplant operation.
"He kind of fed off me when I won the NCAAs and U.S. Amateur, kind of kept him going along, wanting to see the Masters and everything like that," DeChambeau said of his father, whose kidneys failed in 2014. "Seeing him get a kidney finally, and now I don't have to worry about that, it's been a dream come true."
It also made a tough rookie year a little easier.