WGC-FedEx St. Jude Invitational
Polar opposites Bryson DeChambeau and Harris English have Sunday date in Memphis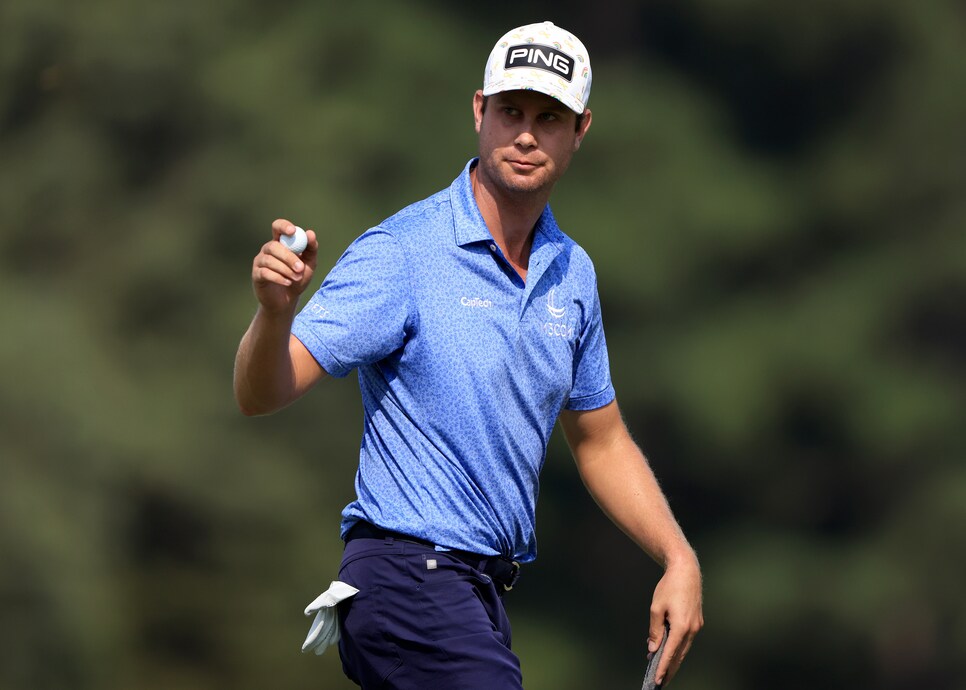 Harris English acknowledges the crowd on the 16th hole during the third round of the FedEx St Jude Invitational.
Sam Greenwood
MEMPHIS, Tenn. — To Bryson DeChambeau, controversy is like water to a fish—everywhere, all the time, and if he's ever away from it too long, you might start to wonder if he's still breathing. Harris English, on the other hand, could come out in his next tournament and do something wildly out of character, such as ... oh, maybe pour a gallon of gasoline on every green, or use a wiffleball bat as a driver ... and it's not a guarantee that anybody would notice.
That's the study in contrast presented in the final group of Sunday's final round at the WGC-FedEx St. Jude Invitational, where English holds a two-shot lead at 18 under as he looks to continue his torrid streak by winning the biggest event of his career, and perhaps move into first place in the FedExCup Playoff rankings while securing an automatic spot in the Ryder Cup.
It's the hottest player in the world against the most infamous, and chances are good that it will be both interesting and weird.
To be clear, this is far from a two-horse race. Cam Smith is tied with DeChambeau at 16 under, and at a course where a 62 or 63 is not just possible but likely inevitable, there are arguably 10 to 15 players still in the hunt, including Abraham Ancer at 14 under and Scottie Scheffler and Ian Poulter, both at 13. Still, the top line is the most interesting, and it looks like theirs to lose.
DeChambeau was the more spectacular player on Saturday, making five birdies on the back nine to post 63 and fight his way into the final group. He looked various shades of morose while doing it, and is currently being dogged by what feels like half a dozen different scandals, but his game didn't suffer.
English, on the other hand, started his round with seven straight pars, constantly stuck between clubs as his approaches left him more than 20 feet from the hole. He finally made one of the bombs on 8, a 23-footer, and his irons decided to come to play on nine, when his approach stopped two feet from the pin for a second straight birdie. His consistency kept him company on the back nine, but the ball-striking that has seen him win two tournaments this season, including the Travelers Championship in late June, set him up for three more birdies and a quiet 65.
The difference between the two players could be seen in their post-round pressers. English, clearly content, spoke about the process that carried him out of a two-year slump.
"I've spent too many years chasing my swing, trying to swing it like somebody else instead of just refining what I did," he said. "I don't think I have anything to prove. I play this game for me and to be competitive. I love competing, I love playing tournament golf. Ever since I was a kid, I felt like I played better in tournaments than I did practicing at home or in practice rounds. I guess it's when you turn on the lights, when you get going, I love playing with pressure."
When things began to go south for English, he responded by imitating the swings of players like Brooks Koepka and Rory McIlroy, which sent him into a spiral that didn't end until he was 369th in the world in 2019. It was only by learning to be himself and to accept his style of game that he found his way out of the abyss. He credits his coach Justin Parsons with guiding him to that place of self-recognition, and since he got there, he's been spectacular.
"When you struggle a little bit, it happens to everybody, you tend to search," he said, "and you get on this path of trying to change your swing because you think it's broken or something's wrong with it instead of just tweaking it here and there. That's the way golf is, and you're trying to always work back to center. … I think I went too far off the beaten path and lost a lot of confidence and really had no idea what I was doing."
That's over now, and on Sunday he can achieve several milestones in a single round.
DeChambeau declined to do a formal post-round press conference with writers, though he did some TV and radio interviews.
"It was beautiful to be able to score really well," he said. "I didn't feel like my ball-striking was perfect, but I got it around really well and I was very pleased with it."
It didn't get much deeper from there—he mentioned that he lost 10 pounds while suffering from COVID-19, and that he's had to dial back his driver in Memphis because it's not necessarily a course conducive to the tour's longest hitters, but beyond that it's not crystal clear why he's so frustrated with the media, or any other entity that has earned his ire.
The circus-like atmosphere that increasingly attends DeChambeau's rounds will be on full display Sunday, when larger crowds are expected at TPC Southwind, but English will be ready.
"I enjoy playing with Bryson," he said. "To me it's a lot like playing with Bubba Watson, I enjoy seeing what he does. It's fun. He's great for the game."
"I play golf to be in this position," he added. "I know I can do it."
Which brings us to Sunday, 1 p.m. Memphis time, when two very different people will tee off with the same exact goal in mind.