WGC-FedEx St. Jude Invitational
The long renaissance of Harris English continues with an opening round 62 in Memphis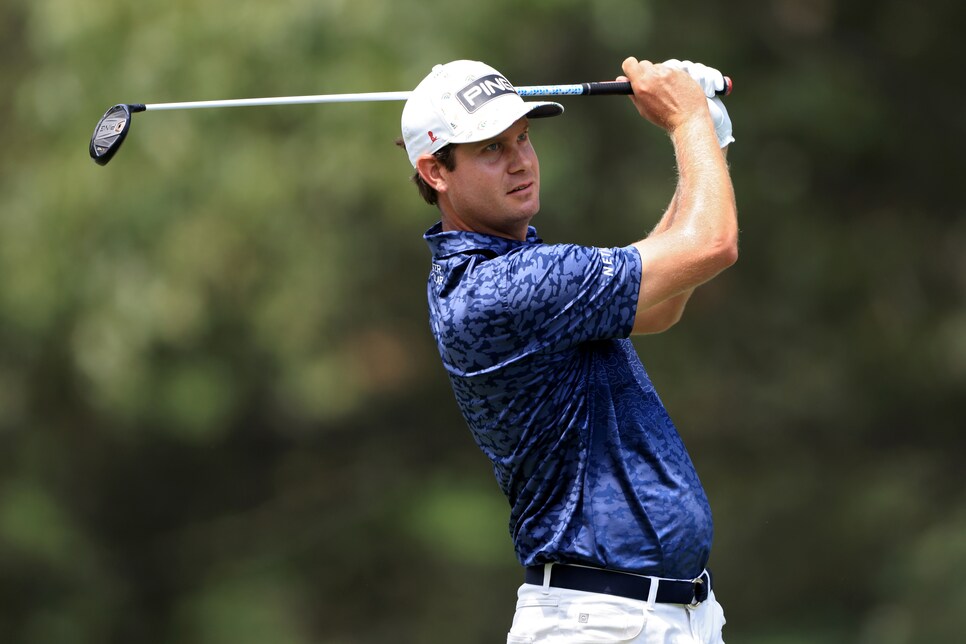 MEMPHIS, Tenn. — Standing in front of a microphone Thursday at Memphis, skinnier than he looks on TV, Harris English answered questions about his opening round 62 at the WGC-FedEx St. Jude invitational, and fielded one in particular about whether he's "underrated" in the world of professional golf. It's a good question, and not because it's a stumper—the answer is yes. To look at the world top 20, or the Ryder Cup U.S. rankings, or the FedExCup standings, is to see a who's-who of the game's biggest stars, as well as some of its biggest personalities. In every case, Harris English (ranked 14th, 9th, and 5th by those metrics, respectively) seems to be the odd man out. Part of it is the long slump he endured before finding this year's scintillating form, and part is his personality—he's quiet, with a slight drawl, and is humble just as a fact of nature. Nothing about him is showy...except, increasingly, his game.
No, the question was good because of the impending response. How does someone whose humility takes on the least self-congratulatory form answer a question about the very real fact that he's under-appreciated at his job? For someone like English, it's not a comfortable question, and he shifted on his feet as he contemplated how to respond.
"I don't mind being the underdog," he said finally. "There's so many good players on tour right now. Playing with two major champions this year, Hideki winning the Masters, Collin winning The Open, but it is what it is. I'm happy where my game's at right now. Just keep doing what I'm doing and wherever it may be, if I'm underrated, overrated, that doesn't matter to me."
The second half of that answer is about what you'd expect, with its mix of platitudes and side-stepping, but his first instinct was a bit more eyebrow-raising: he does consider himself an underdog.
And why wouldn't he? Coming out of the University of Georgia, people in the know tapped him as a future tour winner, but his most infamous moment in college was losing to Patrick Reed in the national championship match, and even when he won on tour—and won quickly, at the 2013 St. Jude Classic and the Mayakoba event that fall—it didn't provoke the same kind of seismic response that we saw from other rookies around that time or shortly after, including Reed and Jordan Spieth. He hung on after that strong start as a middling tour player, but like his former teammate Brendon Todd, his career took a huge dip starting in the summer of 2017. The slump lasted almost two years, grew worse when he compared himself unfavorably with shooting stars like Brooks Koepka and Rory McIlroy, and saw him fall as low as 369th in the World Rankin, before he began to find his form in the fall of 2019.
"I missed out on the [2019] Korn Ferry finals at Victoria National," he said on Thursday. "I was playing pretty well, in the top 10, had a chance to close it out. I didn't. I was very disappointed with how I finished, but I knew I was playing well. I knew that it was really close."
He went back to his coach, Justin Parsons, and they met up in Athens, Ga. to escape a hurricane sweeping through English' St. Simons Island home. He touched base with a few fellow Bulldogs, and they filled him with confidence that he was beginning to resemble his former self. The next week, he finished T-3 at the Greenbrier, and his trajectory since has been a straight line upward, complete with wins at the Tournament of Champions and the Travelers Championship this year that pushed him into the world top 20 for the first time.
The hot streak continued Thursday in Memphis, where English—who loves the small, flat greens, and has good memories of his victory here in 2013—birdied seven of his first nine holes, drained two birdie putts longer than 20 feet, and finished with a 62 despite a pair of bogeys early in the back nine. He's been working particularly on his putting speed, and though the greens in Memphis are faster than anything he practiced on recently, that work paid off.
"I really vie to be the most consistent player on tour," he said. "I don't like missing cuts. Obviously nobody likes playing bad, but I like that my game is suited for pretty much every golf course...I feel like now my bad round is around par, when it used to be my bad round was probably 75, 76 and I would shoot myself out of a tournament."
In the next month, English has everything to play for, from a shot at the Tour Championship to a spot on the Ryder Cup. That last goal has been on his mind, and though he's had informal conversations with U.S. captain Steve Stricker here and there, he's been cautious not to bother him, to become what he called a "pity pick." But at ninth in the standings, and with six captain picks available to Stricker, and with his tremendous form...well, his chances look very good.
"It's been on my mind for a while," he said. "I know I've got to continue to play golf. I want to make the team on my own. I don't want to be a pick. I don't want to have to be a pick."
That's English in a nutshell—not trusting anything he doesn't explicitly earn, for the simple fact that as one of the game's understated, underrated players, he's never been given anything he didn't earn.