News
WGC-Dell Match Play Live: Phil Mickelson cruises into Sweet 16; Jon Rahm beats Sergio Garcia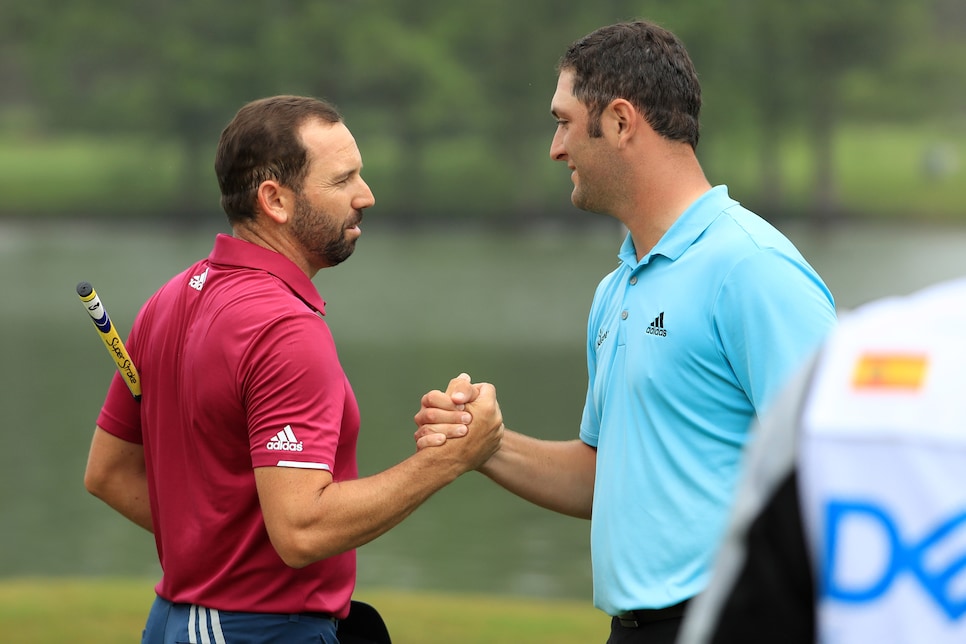 Day 3 of the 2017 WGC-Dell Match Play is here and finally, we're to the point of sending people packing after an eventful first two days. Unfortunately, due to the round-robin format, four of Friday's matches are meaningless, but there are plenty of good ones on tap, highlighted by the meetings of two undefeated pairs: Paul Casey vs. Charl Schwartzel and Sergio Garcia vs. Jon Rahm. There are also intriguing match-ups of young stars (Justin Thomas vs. Matthew Fitzpatrick) and Ryder Cup teammates (Dustin Johnson vs. Jimmy Walker). So sit back and enjoy while we bring you the latest scores, news and highlights from Austin Country Club.
3:16: Tyrrell Hatton gets eliminated in three-man playoff because of a rules violation. Since three players were involved, the sudden-death playoff was stroke play and players had to putt everything out. As Hatton went to tap-in a par putt, his ball moved. He told his playing partners, but then tapped in. He was assessed a two-stroke penalty since a local rule was in place saying that if that happened a player had to replace his ball to avoid a penalty. Ouch. "That's going to be the hardest 600-yard walk back to the clubhouse of his career," Golf Channel's Nick Faldo said.
2:47 PM: There's clutch, and then there's what Bill Haas just did. Watch this chip on the second hole of a sudden-death playoff to stay alive in his match against K.T. Kim.
Of course, hitting his approach shot into a hazard wasn't clutch.
2:46 PM: Kevin Na birdies the first playoff hole to defeat Matthew Fitzpatrick and win Group 6.
1:40 PM: In addition to the two upcoming two-man sudden-death playoffs, there will be two three-man sudden-death playoffs this afternoon. Lee Westwood, Marc Leishman and Pat Perez all finished with a 2-1record in Group 3 (Jason Day's group), and Tyrrell Hatton, Rafa Cabera Bello and Charles Howell III all finished at 2-1 in Group 10. Got all that?! Cabrera Bello finished third place in last year's event.
1:21 PM: Jon Rahm closes out Sergio Garcia in style by nearly holing his approach shot on the par-4 14th. The tap-in birdie gave him a 6-and-4 win and moved him into the Sweet 16 in his first appearance at the WGC-Dell Match Play. "I think every Spaniard loves match play," Rahm said after. Yeah, this guy could be a problem for Team USA at the Ryder Cup for years to come.
1:02 PM: Things are not looking good for Sergio Garcia. After losing the 12th hole to fall four down, Garcia tried to drive the green on the par-4 13th, and did this:
Rahm kept his golf ball dry to move to dormie with five holes to play.
12:35 PM: A come-from-behind win by Chris Wood against Kevin Na means we'll have (at least) a second playoff at the end of the day. Na will face off against Kevin Fitzpatrick, who he beat on Day 1, to determine who advances to the Sweet 16 from Group 6. Na looked like he would cruise into the weekend when he went four up through seven holes, but Wood, despite having nothing to play for after losing his first two matches, won seven of the next eight holes. Welcome to match play.
12:17 PM: Bill Haas defeats K.T. Kim 4 & 2. Both finish the round-robin portion with a 2-1 record, meaning they'll have a sudden-death playoff on the 1st hole (head-to-head is not the tiebreaker) that will start after the final match tees off. Match play drama! There are the potential for more of these playoffs, which is why tee times began earlier on Friday than they did the first two days.
11:55 AM: Phil Mickelson continues to dominate the competition at Austin Country Club. In a match in which he didn't drop a hole, Mickelson finishes off J.B. Holmes on the 13th hole for a 6-and-5 victory. The only bad news for the 3-0 Mickelson as he heads to the weekend is that he hasn't even seen holes 16-18 the first three days. If he wants to put together a scouting report, though, he's got the entire afternoon free now.
11:22 AM: Jon Rahm draws first blood on Sergio Garcia with a birdie on the par-4 3rd. He also wins the par-3 4th -- with a bogey. But Garcia responds with a birdie on No. 5 to get back to 1 down. It's a matchup of probable future Ryder Cup teammates, but today it's all about surviving. Garcia entered the day 1-0-1 and Rahm at 2-0, meaning the winner will advance from a loaded Group 7.
10:34 AM: The marquee match of the day, pitting countrymen Jon Rahm and Sergio Garcia, just teed off.
And it's already off to an interesting start. Look at Rahm's second shot -- whoops!
Still, Rahm scrambled to save par to halve the hole with Sergio -- and the Spaniards are all-square in their match through two holes.
9:53 AM: It's now a 3-up through three holes for Phil Mickelson -- who poured in a long birdie putt at the second hole, and after J.B. Holmes hit into a hazard from 130 yards out on the third hole -- finds himself with a commanding lead through the first three.
Here's the birdie putt on the second hole for Phil:
Holmes had an adventure trying to salvage the third hole. Here's where his second shot ended up: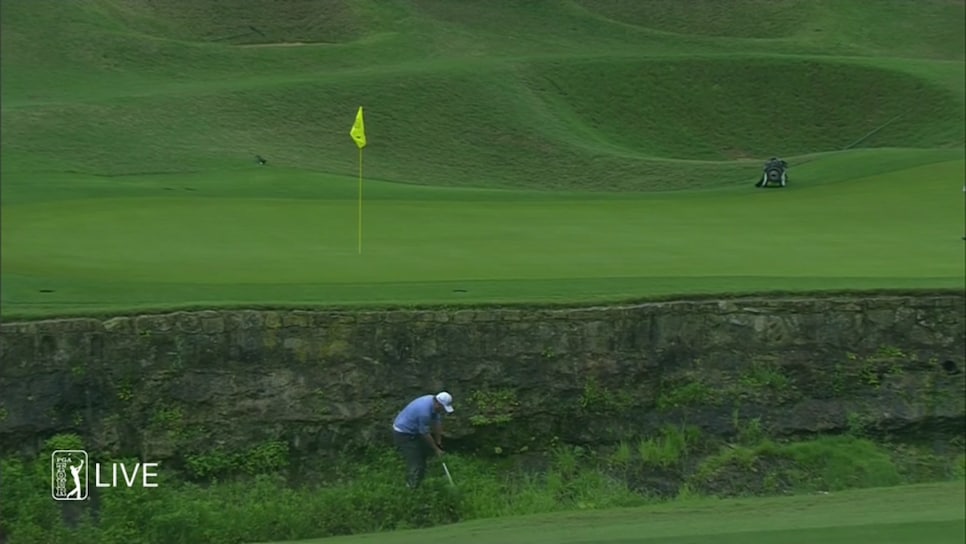 The next shot hit the rock wall in front of Holmes, then went backward. Kudos to J.B. for trying to hole his fourth shot then from the hazard.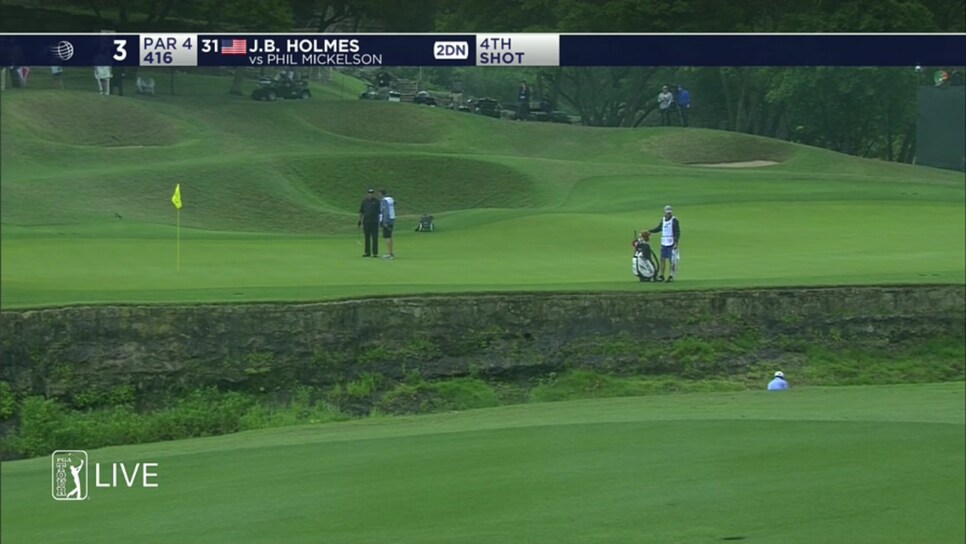 Then the biggest concern was J.B. would get out of the hazard safely.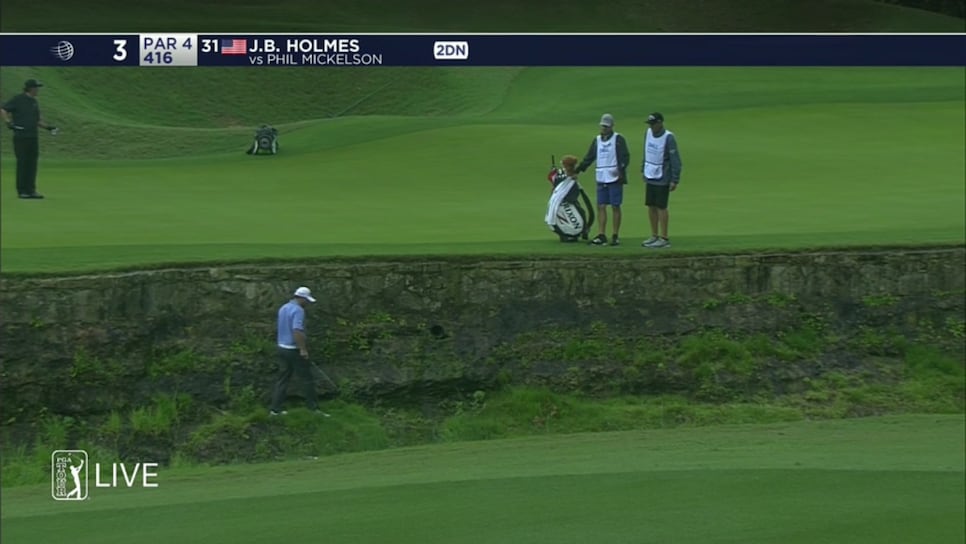 9:34 AM: Phil Mickelson wins his opening hole against J.B. Holmes with a par. At 2-0, Mickelson needs just a halve to move on. Even with a loss, he would at worst find himself in a sudden-death playoff at the end of the day to advance. Mickelson has only reached the weekend at this event once in his career, a quarterfinal appearance in 2004. But with dominant wins over Si Woo Kim and Daniel Berger the first two days (he hasn't been taken past the 15th hole), Lefty looks determined to change that.