WGC-Dell Match Play
Everything that makes Ian Poulter a match-play genius was on display in his 6-and-5 waxing of Rory McIlroy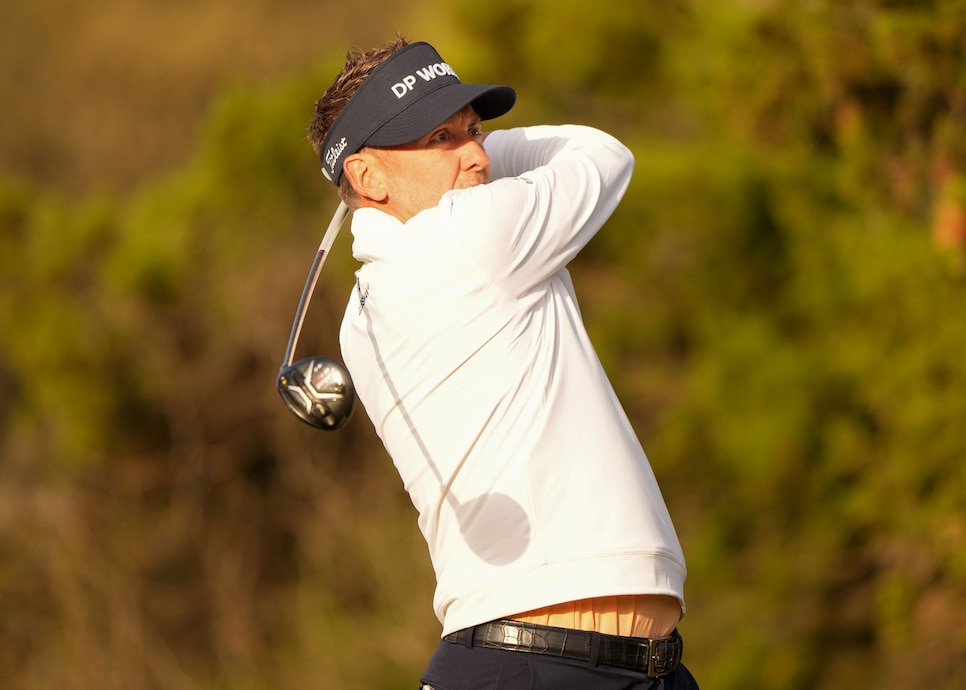 AUSTIN — There's a joy in watching somebody do what they're best at in life, and the joy is compounded when that person is the best in the world at what they're best at in life. The glaciers will melt, the seas will boil, and when it's time to draw one last breath of toxic dust before exiting to the limitless cosmos, I will still be grateful that I spent a small part of my time on Earth watching Ian Poulter, up close and personal, in match-play golf.
Too much? A bit overblown, for Day 1 of the WGC-Dell Match Play? Well, allow a bit of Wednesday bliss. Ian Poulter is 45 years old, a European Ryder Cup standout for almost two decades, and he just laid a beating on one of the biggest names in golf. The Englishman did it coming off of two straight missed cuts, and he did it after making this event only because others declined (he's 66th in the world). He has no recent form to speak of, really, and no business being as sharp as he looked at Austin Country Club Wednesday morning. None of it matters. At the Medinah Ryder Cup in 2012, following Poulter's Saturday heroics to keep Europe alive, the BBC commentator trotted out an old quote: "Cometh the hour, cometh the man." In this case, the hour is match-play golf, and you already know the man.
They were the first match off, early on a cool morning with tee times pushed up to beat the rain. It was pure sartorial contrast: Rory in all black, Poulter gleaming in a white shirt, white visor, white shoes, all of them brand new. The sun had just poked out above the Texas hills to the east, and Poulter moved along the first fairway like a ship on calm waters, cutting his way through the grass, arms folded against the cold, framed by the twisted, gleaming plateau oaks.
I was watching closely to see if there would be any chatter between the two friends and Ryder Cup teammates, any banter, any hint of friendliness. Should have known better; there was, of course, none. From the very first shot, Poulter strode ahead of his opponent, grim and ready, the kind of person who wouldn't let the word friendship enter his brain on a day like this. He said after the match that match play "keeps me turned on pretty quickly," and it showed from his first approach shot, a lovely dart to six feet that he converted for birdie and a 1-up lead.
On the second, the most attractive hole on the course that narrows to a gulch-like green, he kept the pressure on with a long approach to 18 feet, while McIlroy barely kept his tee shot from falling to the canyon on the left. Both made par as Poulter adhered to one of the simpler match-play maxims: Take an early lead, keep the honors off the tee and never relent. In fact, he had some paradoxical help in McIlroy's length—because he was miles back after every tee shot, it meant he got to his approach first every time. You'd never say length was a disadvantage in stroke play, but as it happened, the disparity gave Poulter the initiative on every shot, and forced McIlroy to constantly respond.
Of course, length is never really a disadvantage unless you can't capitalize on it, and on the third hole, Poulter noticed that even with very short distances to the green (or perhaps especially with short distances), McIlroy was having trouble controlling his spin. The softness of the surface was part of the issue, and McIlroy's longstanding difficulty with irons and wedges was another. But if McIlroy's distance off the tee ever scared Poulter—unlikely—that fear evaporated when he watched his opponent land his approach on three about 10 feet beyond the hole, and spin it 25 feet backward.
The pressure continued and began to bear fruit: A three-putt from Rory on four, then a shot literally into a private pool off the fairway on five, and Poulter went 3 up. The Englishman made his only real mistakes of the match on six, launching his third shot on the par 5 over the green, and when Rory birdied eight, Poulter's advantage was down to 1 up.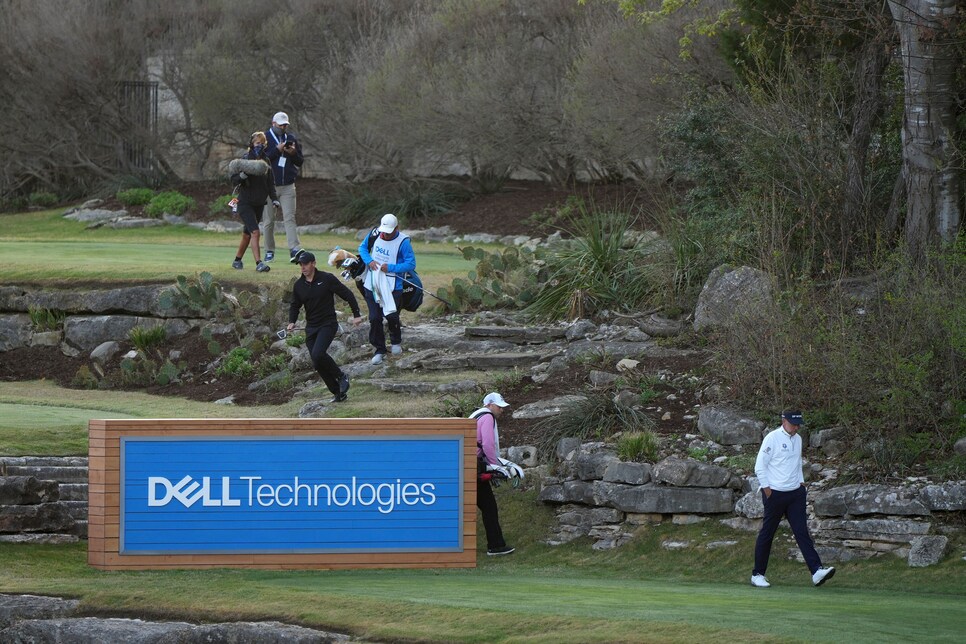 Poulter was all business Wednesday, despite playing a friend and Ryder Cup teammate in McIlroy.
Darren Carroll
Ian Poulter is a man of moments, and match play is a game of momentum, which goes some way to explaining why the two are so well-suited. "I kind of like the shit or bust attitude," he said after the match, "it gets the adrenaline going." Facing a momentum shift that threatened to turn a potential blowout into a dog fight, he found himself on the ninth hole facing a familiar situation: 40 yards behind McIlroy, holding a 7-iron to his opponent's wedge. In a quintessential Poulter moment, he took the seeming disadvantage and spun it into opportunity. His second shot stopped eight feet from the hole, and just as he suspected might happen, Rory again failed to dial in his wedge, winding up 40 feet away. A birdie putt later, the margin was back to 2 up at the turn.
"I think it was a good case of match play right there," Poulter said later. "The ebbs and flows that you have in a great match, that, if you get your ball in first, sometimes, it loads the pressure on your opponent and especially when you're in front like that, you can at times force him to make a mistake."
The judo move of using a player's length against him paid off, the pressure mounted, and rather than rise to the moment, Rory collapsed. A failure to get up-and-down with a simple chip on 10, a weak tee shot on the par-3 11th followed by a quintessential Poulter 16-foot downhill birdie—McIlroy expressed his dissatisfaction subtly, his mouth twisted to one side in what had become a trademark expression—and suddenly the margin was 4-up heading into the 12th.
Heading downhill on the par 5, with the rusted 360 bridge spanning the Colorado River and the white limestone cliffs in the background, you sensed that the moment had become desperate for McIlroy, and you can bet that if an onlooker knew, Poulter's antenna had picked it up far earlier. Nobody smells blood quite like Poulter, and a gorgeous, towering 4-iron to seven feet more or less ended the match. There was never a doubt that Poulter would make eagle, and being 5 down with six to play, against Ian Poulter, is the definition of impossible. McIlroy chipped his ball into the water on 13 to speed up the inevitable, and if he hadn't stared in disbelief for a long beat, hands on hips, you might have wondered if he did it on purpose just to end the nightmare.
McIlroy "declined" to speak with the media afterward, the way you might decline to answer the question "Does it hurt?" after you bang your shin on a chair. He left to lick his wounds after what can only be called a blitzkrieg, his chances of making the knockout rounds in serious doubt, while Poulter moves on to face Cameron Smith Thursday in a match that will likely decide the group winner. All of it proves a point we should have learned long ago: Even if you're one of the greatest golfers in the world, and even if you're a four-time major champion, you better not lose your hard edge against Ian Poulter in match play. It's difficult enough to keep things respectable, but if the relentless pressure breaks you down, then man, you're just grist for the mill.