pga tour
Getting passed over for Ryder Cup has Webb Simpson motivated for a repeat of his great 2020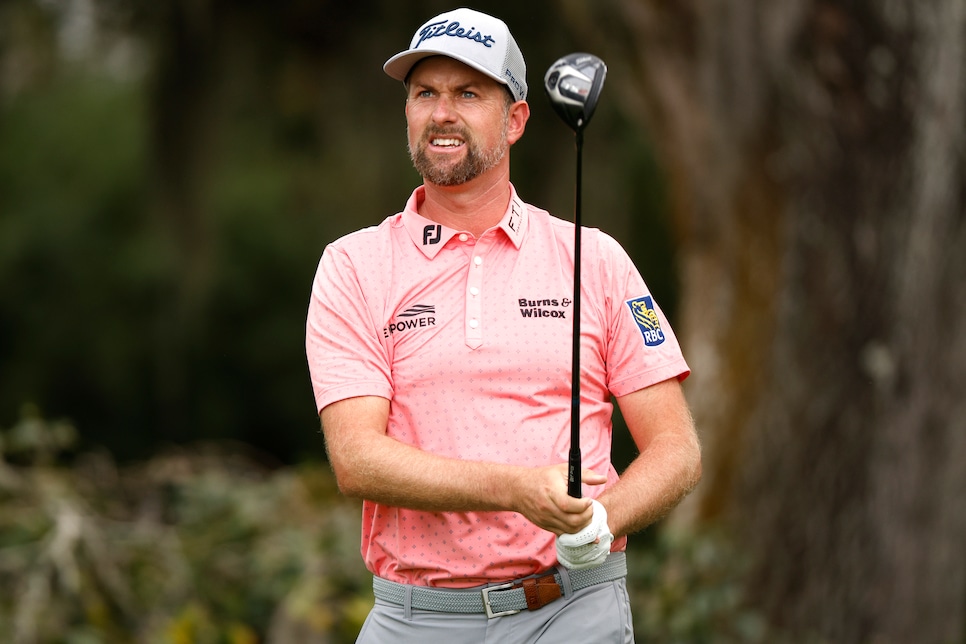 Webb Simpson honestly did not know how the 2021 Ryder Cup week was going to be for him. Badly wanting to play on his fourth U.S. team at Whistling Straits last September, and get his first American win, he'd made early noise at making the squad with two wins in 2020. But his game wobbled at times in 2021, and when Steve Stricker made his six captain's picks, Simpson was the man with his nose pressed to the glass, on the outside looking in.
He could have fumed. He was most certainly a little crushed, since, at 36 years old, the path to making another team event is ever narrowing. Simpson could have found anything else to do during Ryder Cup week. He does, after all, have five children to provide any number of gleeful distractions. But as the Friday of the biennial grudge match with Europe approached, he was unequivocally drawn to the drama.
"We got closer; it was Friday morning and it's all I wanted to do," Simpson recalled on Tuesday in Honolulu, where he starts his 2022 calendar year in the Sony Open. "So I watched for two hours. I needed to practice, but I'd pause [the TV] … and I would go practice for two hours, come back, watch it. I didn't miss a shot."
It was hard that Sunday, he admits, with his American brethren whipping Europe by a score of 19-9, but he couldn't help but feel their joy, too.
"I even got emotional watching it," Simpson said, "seeing the guys get emotional. And what an interview Rory [McIlroy] gave. Everybody, I felt like was giving great interviews. But it was really hard for me not to be there. Because I've experienced the joy of winning the Presidents Cup three times, but 0-for-3 in Ryder Cups."
Ah, yes, the Presidents Cup. Beyond the most current disappointment of not being in Wisconsin, Simpson has another signpost for motivation—and pressure. This year's Presidents Cup is being contested at Quail Hollow in Charlotte, where the North Carolina native is a member. The American captain is Davis Love III, for whom Simpson played in the 2012 Ryder Cup at Medinah.
"The question is, do I get to sleep in my own bed, or do I have to go downtown 20 minutes away from my house to sleep with my team?" Simpson pondered.
Simpson insists he couldn't be upset about the decisions Stricker made—particularly after the Americans' dominating win—though that rejection phone call from the captain was rough. He points to one of the guys who probably edged him out—Scottie Scheffler, a Ryder Cup rookie who earned 2½ points in the three matches he played.
"Stricker was after more … just a different player than me, which is fine," Simpson said. "… It didn't make me mad. Just made me want to work harder. Like I said, I have a dream of being a captain one day of a team, and I know I'm going to have that same situation. Every captain has to deal with telling a couple, two or three guys that they are not on it, that they were close. And get [to make] the good phone call of telling the guys that they made it, they are the pick. But I've got nothing but great feelings for Strick."
Simpson had a lot to overcome in 2021. He tested positive for COVID-19 in December 2020 and didn't get in much practice before the 2021 Sentry Tournament of Champions. He also got a bad flu prior to the U.S. Open and had to withdraw from the Wells Fargo at Quail Hollow with a scary neck injury.
All of it, he said, "crept into my golf game."
The neck injury was unsettling. Simpson was hitting balls on the range on Tuesday of Wells Fargo week when he felt an "weird" sensation in his neck. There wasn't a lot of pain, but by the evening he could barely turn his head. Treatment the next day didn't help, and Simpson was disappointed to have to withdraw from his hometown tournament.
An MRI revealed a slight bulge, but nothing that was going to keep Simpson out for long. Two weeks later at the PGA Championship, he said he felt good, but there was, understandably, a nagging concern about it.
"Any time I felt like a weird crick or stiffness, it definitely brought back some of those memories," Simpson said. "Again, we've done a lot of work on it to the point where I don't fear it coming back."
The good health has allowed him to focus on his game, and he's feeling good after he got a lesson from Butch Harmon at the Shriners in Las Vegas last October. They agreed he needed to shallow out his swing more, and the results were immediate—Simpson tied for 14th in the following week's CJ Cup and shot 66-66 on the weekend for a T-8 in the RSM Classic.
Simpson played 21 events last season and is looking at about the same this year. He's not the up-and-coming prospect he was when he captured the U.S. Open at Olympic Club in 2012, but he insists he's loving golf and has a good decade to still contend. After all, Stewart Cink has experienced a resurgence in his late 40s and Phil Mickelson won the PGA at 50.
"It seems like the guys in their 40s playing good golf becomes less and less every year," Simpson said. "But I feel like my best golf is ahead of me. I feel like I have such a great team that I still have plenty of things I want to do in this game. I want to win more majors. I want to be on more teams. It would be a dream to captain a team one day.
"But I feel like I'm 36. in my mind, I've got a good 10 years left. Stewart Cink is giving me a lot of hope."