News
Watching Stewart Cink's Payne Stewart Award speech is time well spent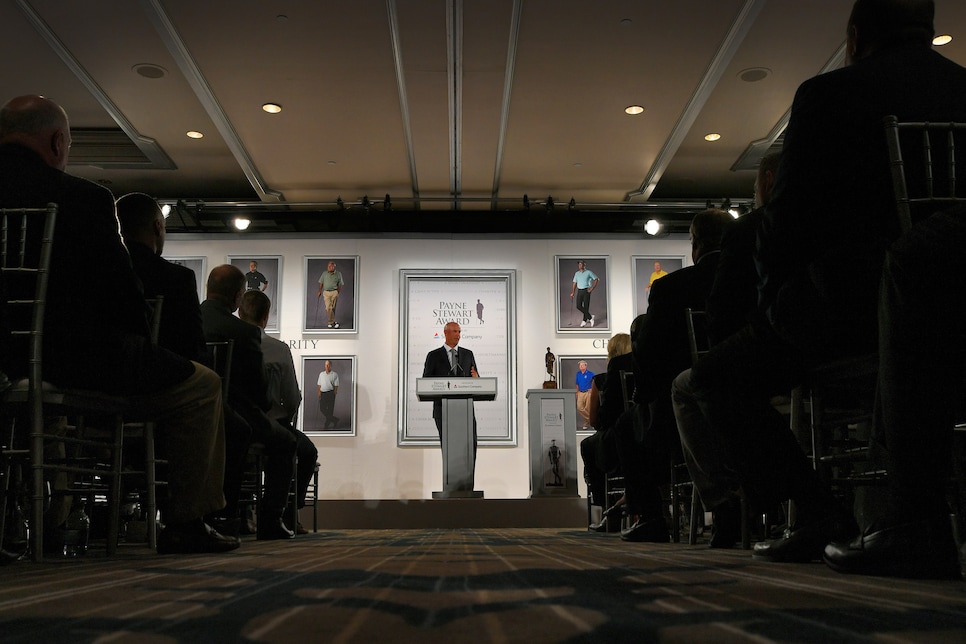 There's supposed to be no cheering in the press box, but I have an admitted bias: I'm a big fan of Stewart Cink. It started the first time I met him, when covering the now-defunct Funai Classic at Walt Disney World in October 2003. Upon completing his second round on a Friday morning, Cink flew from Orlando to his home in Duluth, Ga., so he could be at the grand opening of Spoiled Sport, a women's clothing boutique opened by his wife, Lisa, and two neighbors. "It was important for me to be there," said Cink, who returned to Florida at 12:30 a.m. Saturday and eventually finishing T-2.
It was one of many unselfish acts Cink has managed over his 21-year PGA Tour career, one that made him a natural to receive the Payne Stewart Award in recognition of his philanthropic endeavors, his commitment to growing the game, his professionalism and the distinguished manner in which he embraces the values of golf.
Cink showed again why he was a deserving winner during his acceptance speech on Tuesday evening in Atlanta. Speaking for a little more than 20 minutes, he connected with an audience that included several current tour pros and past recipients, as well as Stewart's widow, Tracey, and daughter Chelsea.
The 2009 Open Championship winner thanked his family and friends, but mostly talked about the motivations people have for giving and reaching out. For him, they were numerous and typically evolved from personal experiences. He notable recalled driving past East Lake Golf Club in the 1990s while a college golfer at Georgia Tech, then in the midst of a drug-infested community that would soon be transformed through local iniatives. In those drives, Cink said he came to appreciate
"Golf helps us learn things about ourselves that we would have never otherwise known," Cink said.
Surprisingly, perhaps, there was only a passing mention of the personal drama he and his family went through in the last two years with his wife was diagnosed and treated for breast cancer. But Cink did recall the challenge they had while in college, when Lisa was expecting with their first son, Connor, and how a visit with a counselor at a pregnancy resource center changed their lives. Both Stewart and Lisa subsequently became volunteers themselves later in life in the same capacity to help others who faced a similar crossroads.
"We don't give to receive," Cink said. "We don't give because we have received. We give because there's need. We give because we can. It's what Payne did and it's what we all will continue to do."