The Loop
It's worth the time to watch Jim Furyk accept the Payne Stewart Award. Just do it with some tissues nearby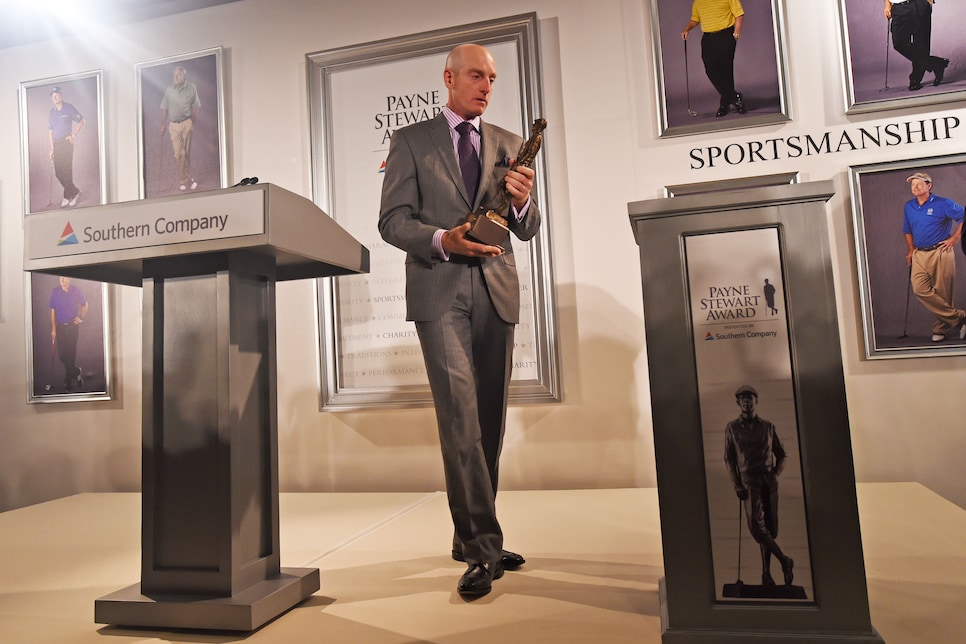 2016 Chris Condon/PGA TOUR
He made it funny. He made it sentimental. But most of all, Jim Furyk made his acceptance speech upon receiving the Payne Stewart Award on Tuesday in Atlanta inspiring.
The 23-year PGA Tour veteran knew it would be an emotional night and so he began with the ultimate ice-breaker. "I think I'm going to break the record for the quickest to cry," Furyk said. "[2014 winner Steve] Stricker is going down tonight."
Then, speaking without notes for nearly 20 minutes, Fuyrk captivated an audience that included among others Stewart's widow, Tracey, many past recipients of the honor and several current tour pros, including multiple members of this year's Ryder Cup squad.
Furyk recalled the first time he met Stewart when playing in a Merrill Lynch Shootout in Bermuda, and what it meant to have him as a friend. He went on to thanks his parents, Mike and Lydia, expression his deep appreciation for what they had done for him. He told a story of asking his father what he could do to repay him for helping Jim get into college and beyond, and his dad saying that he needed to pay it forward by making life better for Jim's children.
"You all are making it tough on me, because I can't do any better," said a tearful Jim.
With similar emotion he thanked his wife, Tabitha, for the support she has given him and for the work she has done with their charitable foundation.
Suffice it to say, it's worth taking the time to see Furyk's speech in its entirety. But fair warning, you might want to have a box of tissues handy.