News
Watch Tony Romo drain long birdie putt to get back to even par at Corales Puntacana Resort & Club Championship
Tony Romo's PGA Tour debut got off to an inauspicious start on Thursday morning at the Corales Puntacana Resort & Club Championship. After three-putting for bogey on the first hole at Corales Golf Course, Romo bogeyed the difficult, 239-yard par-3 second, dropping him to two-over through two holes. Those who pulled the trigger on the over bet for Romo's highest score, set at 80.5, were already celebrating like their favorite football team had a 14-point lead with under two minutes to play in the fourth quarter.
But like any franchise QB, Romo displayed the ability to mount a comeback, making par at the third and then holing his first birdie of the round at the par-5 fourth to get back to one-over. Then, he found the green at the 465-yard par-4 fifth, but faced a long birdie look. Two putts and run the to next hole with a par, right? Wrong! Check out this silky stroke from the quarterback-turned color commentator:
Not only can the guy throw the deep ball, but he can roll putts from deep too. This got him back to even par, and after dropping a shot at the seventh, he just added his third birdie of the day. Here's Romo's card so far: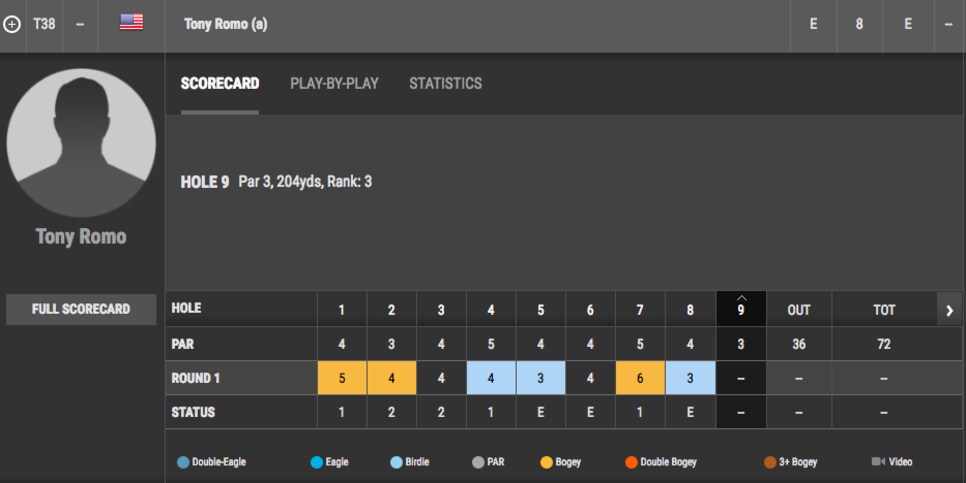 That 9.5 over/under birdie total is starting to look not so crazy after all. He's almost halfway there, on the front nine! Barring a catastrophe on the back nine, we can't help but be impressed by this start.