The Loop
Watch the wild hand that determined the World Series of Poker Main Event final table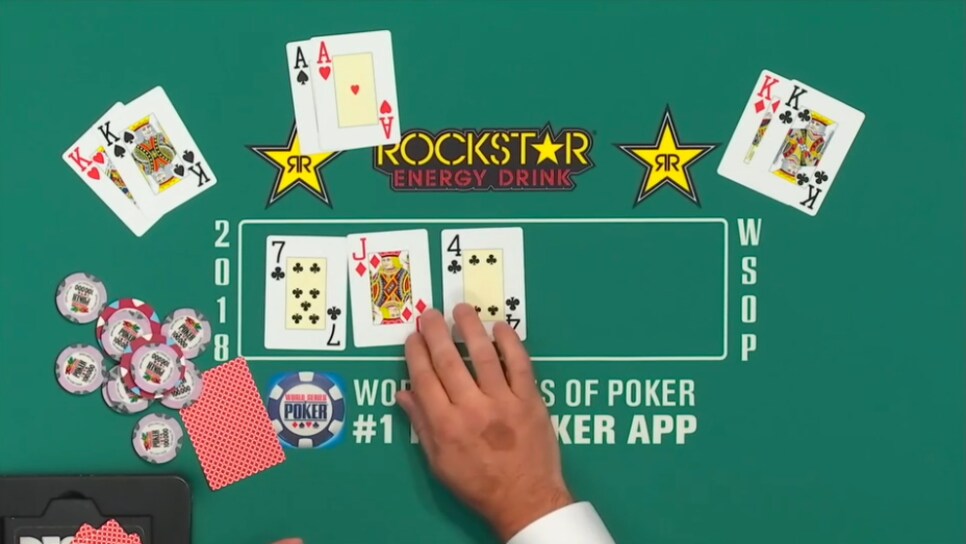 You would think that getting dealt pocket kings when you're about to make the World Series of Poker Main Event final table is a good thing. You'd be mistaken. And not one, but two people found that out the hard way on Wednesday.
With just 10 people remaining from the 7,894 who began the tournament, both Rich Zhu and Antoine Labat were put in that exact situation at the Rio in Las Vegas. But when they flipped over their cards against a third player who was all-in before the flop, Nicolas Manion, their hearts sank. Even Zhu, who held the king of hearts and king of spades. That's because Manion had the ace of hearts and. . . the ace of spades, virtually guaranteeing him a huge pot before the final five cards were dealt.
Usually, when you have an under pair, you still have about a 20 percent chance of winning the hand by getting a set. Obviously, that was not a possibility in this situation with all the kings accounted for. Wild. Anyway, here's a look at how this sick hand played out:
As you can see, Labat's chances improved to five percent after two clubs came on the flop (he could have still made a flush with his king of clubs), but he joined Zhu in the zero-percent club after the three of spades came on the turn. At least Labat, who began the hand with the biggest chip stack, still moved onto the final table. But he will begin in last place with 8.05 million in chips while Manion leads with 112.775 million.
Labat is still guaranteed to win $1 million and Zhu earned $850,000 after being knocked out on this crazy hand. Not too shabby. But the winner will walk away with a whopping $8.8 million. And will undoubtedly have had better timing than these two unlucky souls.