The Loop
Watch LeBron James and Kevin Durant face off. . . in flag football?
LeBron James and Kevin Durant will square off in the NBA Finals beginning Thursday night. It's the second time the two superstars have played for a championship, but the third time they've headlined a major sporting event. The other? "LeBron's Flag Football Classic."
OK, so it didn't quite have the same intensity as competing for an NBA title, but there were uniforms, pads and play books for this gathering near the end of the NBA lockout in 2011. And LeBron looked pretty into the game judging by his pep talk/strategy session with his teammates. "We in man, but the linebackers are only playing to a certain point," LeBron is overheard instructing in a clip, "and then you release them to me!"
In the end, Team LeBron beat Team Durant 70-63 -- a high-scoring affair like what's expected between the Cleveland Cavaliers and Golden State Warriors when they face each other in the Finals for a third consecutive year. But the flag football game wasn't all about offense. At least two of those TDs came from LeBron intercepting a pass and returning it for a score. Forget about the former all-state high school football player potentially being a wide receiver in the NFL, the dude loves to play safety. And high-stepping like Deion Sanders.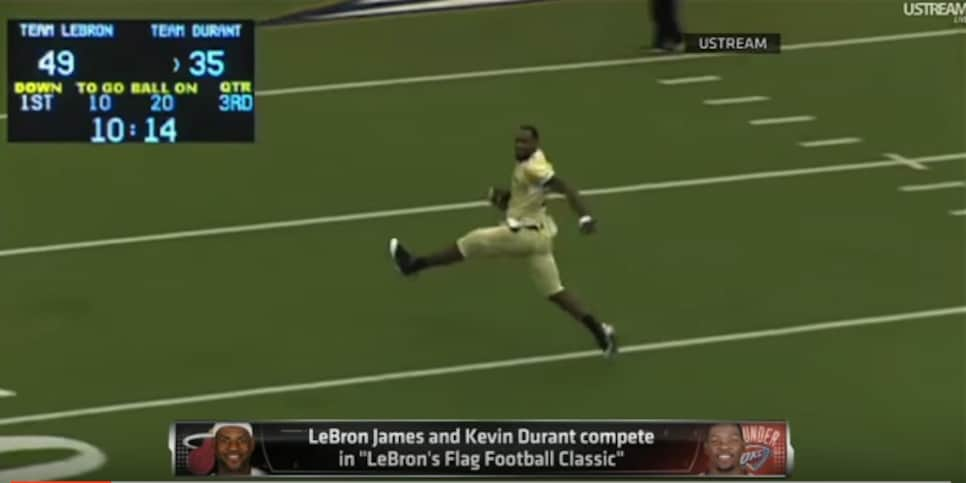 Check out more highlights from this cool SportsCenter clip:
And even more, including LeBron's other pick-six here:
If the 2017 NBA Finals battle between these two are even half as entertaining as this, we're in for a treat.