bigger stuff in life
Watch Erik van Rooyen's emotional interview after making a 72nd-hole eagle to win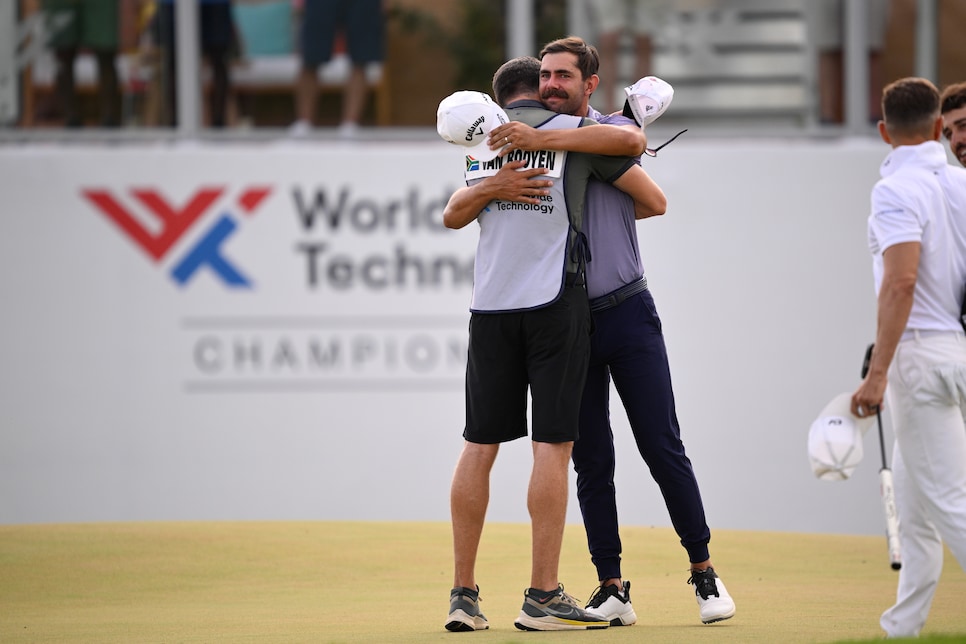 Erik van Rooyen held it together as long as he could. Then, after making eagle from 18 feet on the final hole of the World Wide Technology Championship to collect his second PGA Tour event, there was no reason to hold it inside.
Van Rooyen recorded a back-nine 28 that included six birdies and an eagle, playing the last three holes in four under to top Camilo Villegas and Matt Kuchar by two shots. When that eagle dropped, van Rooyen and caddie Alex Gaugert had several long, emotional embraces over the next few minutes.
"I was calm because there's bigger stuff in life than golf," van Rooyen, 33, said.
"Every shot out there today was for him. When you're playing for something bigger than winning some silly trophy it puts it into perspective. At the end of the day whether I won here or lost here it really did not matter. When something motivates you like that whether you make the put or miss the putt who cares?"
Van Rooyen said that he and Gaugert are flying to Minnesota on Monday and will spend time with Trasamar on Tuesday morning saying, "I'll give him a high-five then."
"We love him so much," van Rooyen continued. "I'm still sort of in disbelief what he's going through and I wish I could take all his pain away."