The Loop
Watch each Slam Dunk Contest contestant's best dunk this season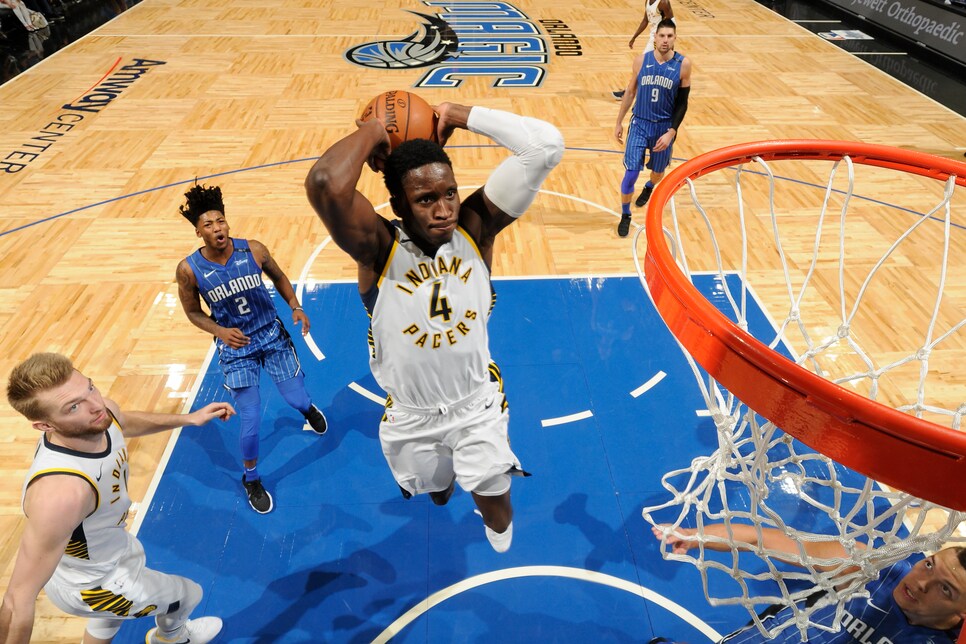 The halcyon days of the Slam Dunk Contest are dead and gone. You've heard it one hundred million trillion times. The scoring is broken, the theatrics are played, and LeBron isn't walking through that door. But where the memory of stars like 'Nique, Jordan, Vince, and Dwight have withered, a young, electric crop of jumpers and NBA hipster faves have emerged, breathing new life into the tired-but-time-honored format.
This year, that quartet includes Donovan Mitchell, Larry Nance Jr., Dennis Smith Jr., and 2015 Dunk Contest runner-up, Victor Oladipo, all of whom will be vying for the title of Grand Master Posterizer this weekend. So sit down, shut up, and feast your eyes on each contestant's (totally subjective) dunk of the season. There may be no A-list name to tune in for or A+ villain to hate, but if these rim-splattering show-stoppers are any indication, there will be nothing left of Staples Center but a smoldering crater and the Cheesecake Factory next door come Saturday night.
The alternate for the injured Aaron Gordon, Donovan Mitchell will be dunking with a chip on his shoulder this weekend. Then again, just take a look at this vicious put-back and try to tell us that isn't his default setting. This dunk is a behemoth, a primordial sea-beast, Godzilla playing "Master of Puppets" with a skyscraper as a guitar and we, for one, can't wait to see what he pulls out for an encore.
It's tempting to go with the now-Cavalier's albatross-ian alley-oop against the Spurs, but sometimes the obvious pick is the right pick and dunking all over Kevin Durant's face is definitely the obvious pick. Sorry, but not sorry, KD.
360 DUNK IN A GAME ALERT. Sure, the Pacers were up 18 and, judging by the Bulls' "well shit" body language, were already well on their way to a W, but a 360 dunk is a 360 dunk, and Confucius says there's no better 360 dunk than an in-game 360 dunk. Also, note the form, with Oladipo smacking the ball off his damn back before slamming it back to the Jazz Age. Needless to say, Oladipo's ability to turn the simplest dunk of his season into the most impressive bodes well for Saturday night.
Some dunks are about finesse and some dunks are about ferocity. This Smith special is 9,000% ferocity. Full-speed ahead on the break, Smith cocks the hammer, freezes time, and unleashes the full force of Sparta on the helpless, hapless rim. If they install seat belts in the Staples Center this weekend, it'll be because of Dennis Smith Jr. and dunks like this (also lawsuits, lots and lots of lawsuits).