News
Collin Morikawa is pushing the limit on amazing shots in a year after holing this insane 47-foot bunker blast from a buried lie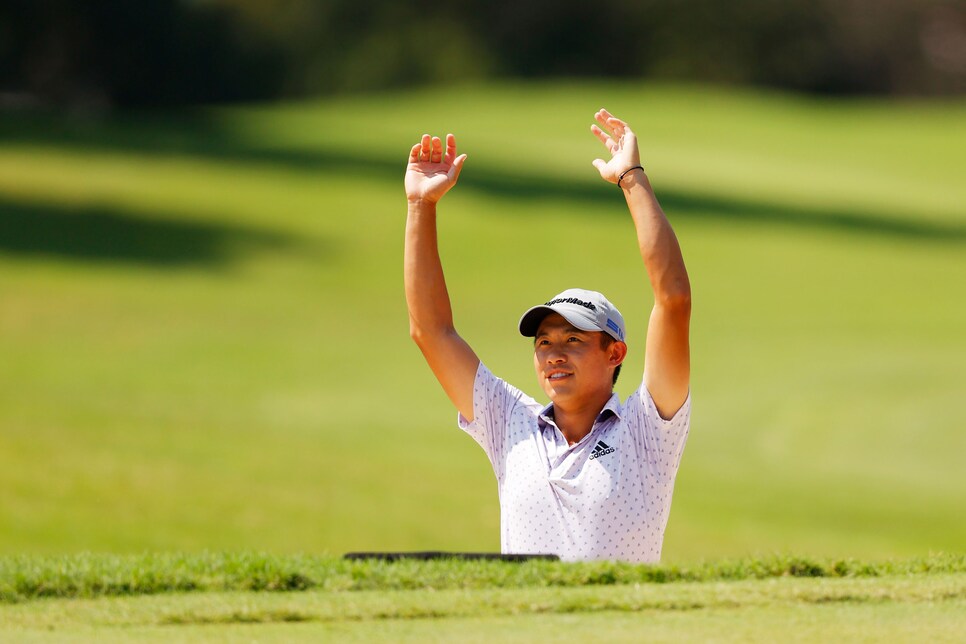 Collin Morikawa celebrates after making a 47-foot bunker from a buried lie on the first hole during the third round of 2020 Tour Championship.
Kevin C. Cox
Collin Morikawa's 2020 season had already been overflowing with impressive shots.
A month later, Morikawa hit what most will vote as the shot of the year on the PGA Tour when he drove the green on the par-4 16th hole at TPC Harding Park to set up an eagle that helped him win the PGA Championship.
The thing about that shot was that it came after Morikawa made a chip-in for birdie on the 14th hole that looked like it might be the turning point of the major before his heroics two holes later. But now, well, it's a bit of an afterthought.
Yet Sunday during the third round of the Tour Championship, the 23-year-old player-of-the-year candidate might have actually topped himself. After his approach shot on the first hole at East Lake Golf Club buried itself in a bunker, Morikawa was faced with an awkward third shot. The ball was nearly hip high by the way Morikawa was standing in the bunker, 47 feet from the hole, and the consensus among the TV commentators watching along was that he would do well to have the ball wind up within 10 feet of the hole.
Apparently, though, Morikawa had other thoughts.
The smile on Morikawa's face, one we've all become pretty accustom to this season, is pretty priceless.
Where this shot is different than the others is that it comes in the third round, with plenty of golf to be played, so its impact on the tournament is unknown (he was 10 under for the tournament, three back of the leaders, after making the shot, before finishing the day at 13 under after posting a 67). But from sheer difficulty, this one might have been the toughest of the bunch.