News
Watch Cody Gribble's priceless reaction to the horn blowing on his 18th hole for the SECOND straight day
For the third time in less than 24 hours at the John Deere Classic, play has been suspended due to inclement weather in the area. While situations like this stink for everyone involved, players, volunteers, fans, etc., Cody Gribble may have gotten the worst of it with some impossibly bad luck. Allow us to explain.
Late on Friday afternoon at TPC Deere Run, Gribble, safely inside the cut line at the time, faced a three-footer for par on his final hole of the round to turn in a six-under 65. As he began his backstroke, the Texas native noticed his ball may have been moving, so he backed off and went to grab a ball marker in his pocket. That's when the horn sounded, meaning Gribble had to stick around for a tap-in until the weather passed through, rather than be done with his round and back home on the couch. A total dagger, as you can see from his reaction:
Obviously, this is a bit of a first-world problem, and Gribble was a good sport about it, but it had to hurt knowing how close he was to getting the round in. As we've seen before, players will do just about anything to not have to wait around or come back early to finish their rounds the following day, like when Rod Pampling pulled a Happy Gilmore to beat the darkness at last year's PGA Championship. Or, that same day/night at Quail Hollow, when Dustin Johnson ran ahead to hit one off the 18th tee, allowing playing partner Jason Day to also beat the darkness and prompting the Aussie to call it "the most clutch thing anyone's ever done for him."
Gribble, who went on to miss that short putt and make a bogey, could have just chalked it up to some tough luck on Friday the 13th. But somehow, it happened to him AGAIN on Saturday after he hit his third shot in to the par-4 ninth, his final hole. Once again, as he read his 14-footer for par and his potential final stroke of the day, the horn sounded. No, we're not kidding: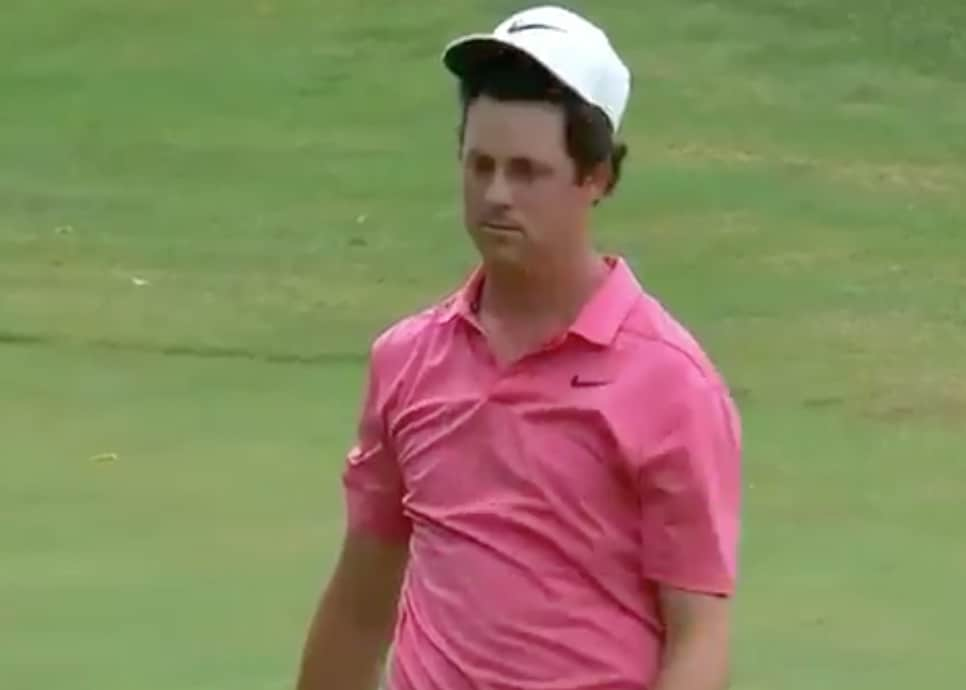 Looks like players are set to head back out on Saturday night, and hopefully for their sake, and mainly Gribble's sake, there are no more weather delays.