Normal golf stuff
Wanted gangster caught on camera refereeing bare-knuckle fight on UK golf green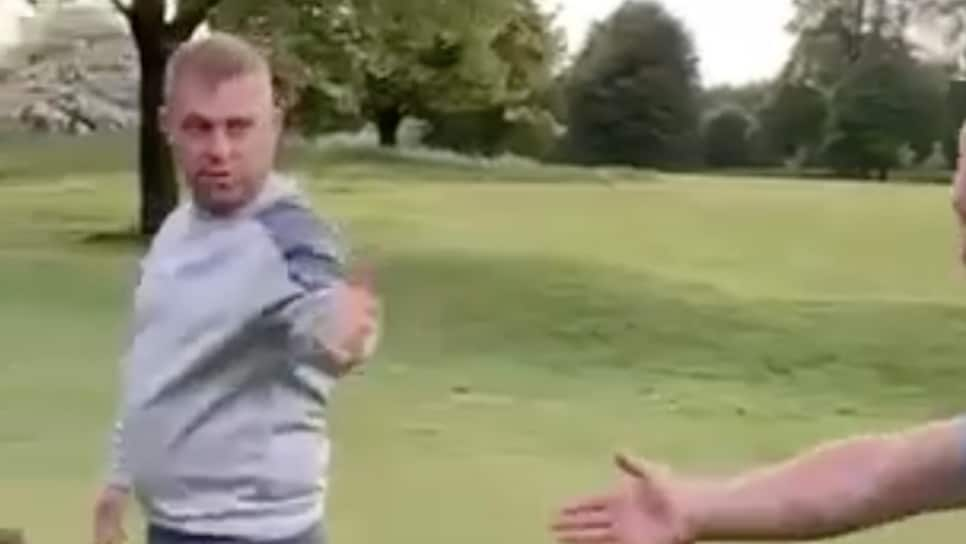 Wanted Drogheda feud gang member Mark Kavanagh was recently spotted—despite being sought by the Irish Republic's state police force—at a golf course in the United Kingdom refereeing a bare-knuckle fight.
Kavanagh has been described in a High Court affidavit as a "prominent member of the Price-Maguire Organised Crime Gang" and according to the "Irish Mirror," he fled Ireland after he became a target for a rival faction. The feud in question is and between associates of mob boss Owen Maguire and members of the Anti-Maguire faction has already led to four deaths, including that of a 17-year-old.
The golf course fight video, which goes on for about five minutes, shows a brawl on a green in which Kavanagh acts as a referee of sorts while rocking a gray tracksuit. "We're giving it five minutes," Kavanagh is heard shouting. He's also heard yelling, "Push it out there lads, push it out," and "watch the flag" when the fighters get too close to the hole. Kavanagh eventually jumped in and separated the two after one of the boxers stumbled once hit.
There are a few reasons that Kavanagh had to flee Ireland. Along with the potentially deadly target on his back, he's wanted by the gardai (Ireland's police force) after being sentenced for possession of €400 worth of cocaine along with a second warrant that followed his fourth "no insurance" road traffic offense.
It doesn't seem as if Kavanagh has put his dastardly ways behind him with his move to England as he was also charged—along with now deceased gang boss Cornelius Price—for conspiracy to kidnap and blackmail two brothers. Kavanagh faced a trial but was ultimately acquitted by the jury with one of his fellow gangsters, Ger Dundon, receiving a prison sentence of 15 years.
The "Irish Mirror" put together a quick rundown of his rap sheet which featured 27 convictions in 2019, "including a two-month suspended sentence for being in possession of a steel baseball bat and two large pickaxe handles, made for causing injury to a person." Kavanagh is still at large.
So, uhh, yeah. That's what's happening on the other side of the Atlantic.