Amateurs
Ricky Castillo, the rare healthy American at the Walker Cup, has become the team's unsung hero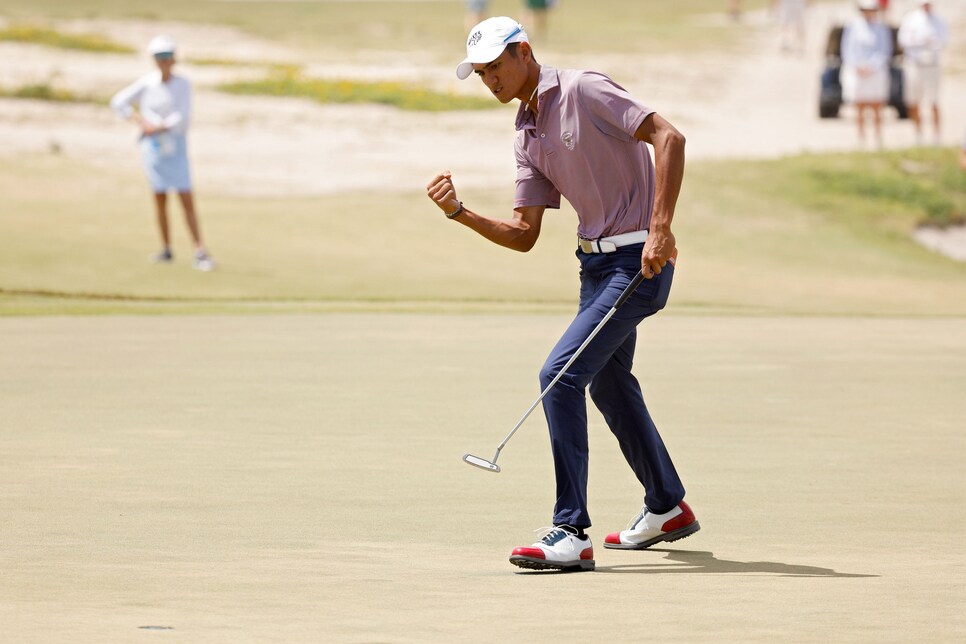 Ricky Castillo celebrates after rolling in a birdie putt on the 16th green during Sunday morning foursomes.
Cliff Hawkins
JUNO BEACH, Fla. — Ricky Castillo is one of the lucky five on the U.S. Walker Cup team whose stomach has been visited solely by butterflies rather than a bug this week at Seminole Golf Club. The 20-year-old sophomore at Florida has awoken each morning wondering if this was the day he too might not start feeling well. Yet, thankfully each night he's gone to bed no worse for wear.
"There were times I was a little nervous," joked the California native. "I think there were times when we were all a little nervous about it."
With many of his teammates not so fortunate, Castillo has made a point of trying to take advantage of his good health. Paired with William Mouw in Sunday morning foursomes, Castillo helped pull out 1-up victory over Alex Fitzpatrick and Barclay Brown, the lone United States win in the session. That lifted Castillo to 3-0 on the week, the only American to have won in every session after claiming points in both morning foursomes and afternoon singles on Saturday.
Suffice to say, Castillo's points have been crucial for an American team that holds a slim 8½-7½ lead entering Sunday singles.
The NCAA freshman of the year in 2019-20 season, Castillo said he's been fine-tuning his swing for the past six, seven months, and the work is paying dividend at Seminole Golf Club. "I've hit a lot of really good shots," he said. "Everything has been piecing together."
Castillo and Mouw had to piece together their morning triumph after it looked like they were going to run away with the match. The U.S. pair was 3 up after six holes, only to find themselves 1 down after the 15th.
On the par-4 16th tee, however, Castillo made the bold decision to use driver and try to cut the dogleg right and reach the green. The drive landed just shy of the green, carrying roughly 320 yards. Mouw chipped to 10 feet and Castillo made the birdie putt to tie the match back up.
On the par-3 17th Mouw made a clutch 12-foot par putt that won the hole and gave the Americans the lead again. And when the two sides tied the 18th, Castillo and Mouw could exhale.
The decision to try to drive the green on 16 was something team captain Nathaniel Crosby had talked to his players about during the practice rounds if the wind was helping and the hole location was in the back of the green. "I felt like we could pull it off, and we did," Castillo said.
The American are going to need more heroics out of Castillo during Sunday singles if they are going to avoid being upset at home in the Walker Cup for only the third time in the history of the match. Trailing 7-5 entering Day 2, GB&I saw the Irish duo of John Murphy and Mark Power defeat Pierceson Coody and John Pak in the opening game, while Matty Lamb and Jack Dyer dusted Stewart Hagestad and Tyler Strafaci, 6 and 5 in the anchor match. Strafaci was playing for the first time this weekend, having suffered from the bug and having to be pulled out of Saturday's singles matches when he came down ill on the driving range.
The visiting side then stole a crucial half point to close out the Sunday morning session when Angus Flanagan and Ben Schmidt tied their match with Davis Thompson and Cole Hammer after being 4 down through eight holes.
With his team entering competition considered by many the decisive underdogs, GB&I captain Stuart Wilson is happy with where his team stands even if it still trails by one.
"The message for the guys certainly has been obviously it's the Walker Cup; it's a big match for these guys," Wilson said. "There's going to be a bit of anxiety, a bit of pressure. They're going to feel that, but we want them to embrace that and harness it and use it as a positive thing. And I think they've responded and I think they're really enjoying the whole experience."
What Wilson might not want to tell his players is that GB&I has lost Sunday singles six of the last seven years, something it can't afford to do this time.
As for Crosby, once again he said there will be no Knute Rockne style motivational speeches from him as his team enters singles.
"You know, we're all adults in the room, and I think a guy with 40-year-old credibility is not going to tell these young would-be superstars a lot at this point," he said. "They all have a lot of great self-belief. I think they're going to go out and use their talent, and hopefully we'll prevail this afternoon."