Amateurs
Why GB&I's task of winning the Walker Cup on the road is even more daunting this year at Seminole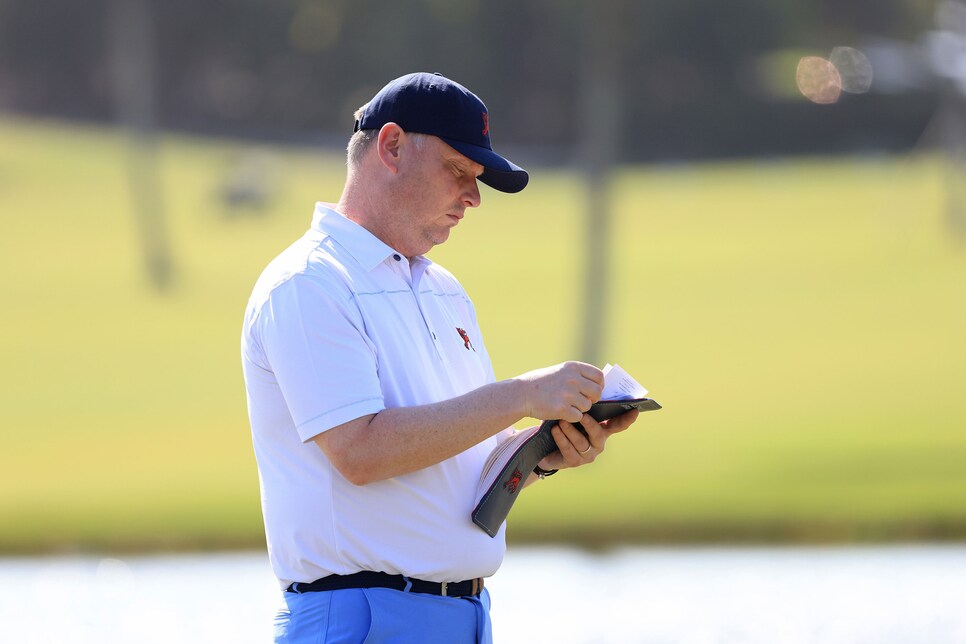 Great Britain and Ireland captain Stuart Wilson makes notes during a practice round at Seminole Golf Club ahead of this weekend's Walker Cup.
Sam Greenwood/R&A
JUNO BEACH, Fla. — In the 99-year history of the Walker Cup, there have been 310 golfers who have represented Great Britain & Ireland in the biennial matches. Of them, 84 have played for a victorious GB&I team (the Old World has won nine times in 47 matches). And of that group, a select 20 were on the winning side while competing in the United States (1989 and 2001).
Those numbers give context to the daunting task that GB&I captain Stuart Wilson and his 10-man squad face this weekend when the 48th edition of the two-day competition is held at Seminole Golf Club, the famed Donald Ross gem hard by the Atlantic Ocean. From the sound of it, however, Wilson is trying to turn the data on its head, using it as a rallying cry of sorts.
"We know there's only been two teams that have been successful over here … which shows it's not impossible," Wilson said on Thursday. "We're trying to make that 30 [winners in the U.S.] basically."
Yet what was difficult under normal circumstances is even more of a more demanding proposition this year for the GB&I side given the way COVID-19 impacted the amateur golf calendar in the U.K. the last 14 months.
In March 2020, officials were just beginning the evaluation process for the 2021 GB&I team, prepping for a summer's worth of competition to identify those deserving of making the trip to Florida. Then the pandemic hit, wiping out most of that schedule and leaving the selectors scrambling for ways fill out a team to compete at Seminole.
The R&A tried to help, creating an ad hoc Winter Series that unfortunately never became fully realized due to the lingering pandemic. The final blow was the February cancellation of April's Home Internationals, a competition that was supposed to be the last chance players could impress GB&I selectors.
Publicly, Wilson, one of those 84 victorious GB&I Walker Cuppers when he played for the winning side at Ganton in 2003, has tried to look on the bright side. He highlighted how the GB&I's infrastructure involved him helping pick teams for various international boys competitions in recent years, allowing him to become familiar with many players in their younger years so that when he took over as the eventual Walker Cup captain, they'd be rising to that level, too, and everyone would be familiar with one another.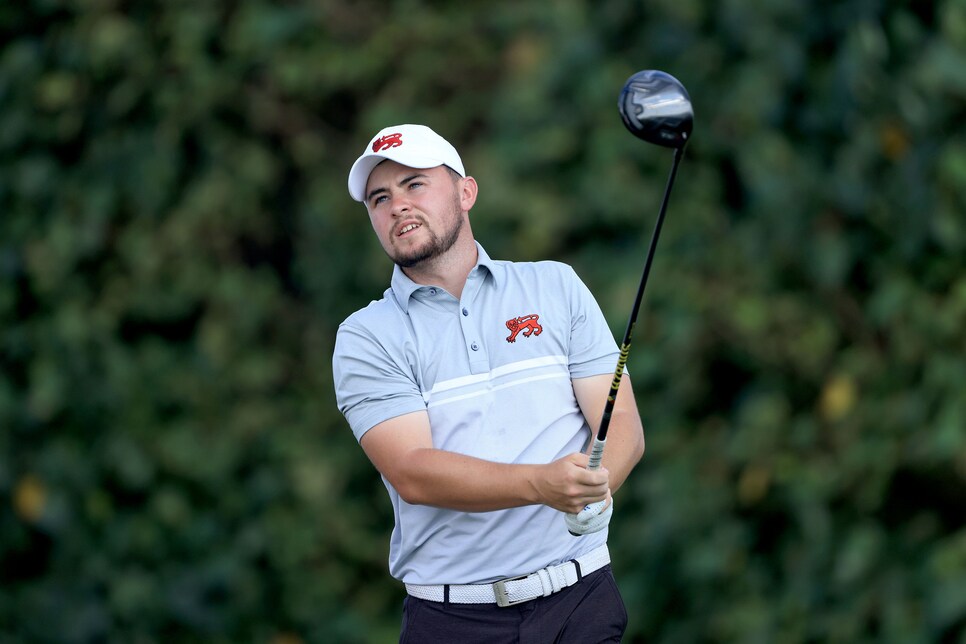 Alex Fitzpatrick is the only player on the 2021 GB&I Walker Cup team with previous experience in the match, having played at Royal Liverpool in 2019.
Sam Greenwood/R&A
"Fifty percent of the team we've had playing together in the past at the Jacques Léglise Trophy [a yearly competition between teams of junior boys from the GB&I against continental Europe], and we're all very familiar with each other to the point that it's like old friends meeting up in some respects."
That said, the 2021 GB&I team that arrives this week has just one player—Alex Fitzpatrick—back from the 2019 Walker Cup squad that fell to the Americans at Royal Liverpool (a second player, Sandy Scott, made the team but had to bow out because of an injured wrist).
Five team members play college golf in the U.S. (Fitzpatrick and Mark Power at Wake Forest; Angus Flanagan at Minnesota; John Murphy at Louisville; and Barclay Brown at Stanford), so they've gotten reps during the spring season. Reigning British Amateur champ Joe Long, spent the winter in South Africa honing his game. He arrived in the U.S. for the first time ever in March, competing at the Masters where he missed the cut but played for two days with World Golf Hall of Famer Bernhard Langer.
"Yeah, there was quite a few things I took from him," Long said, "but I think more than anything it was his mindset and like how much he wanted it still at his age."
Since the team assembled last Sunday, Wilson has brought in some voices of experience to help prepare them. On Monday, PGA and European Tour pro Matt Fitzpatrick (Alex's older brother and a GB&I player in 2013) was onsite walking with the team and giving them pointers on how to play the course. Victorious 2014 Ryder Cup captain Paul McGinley (1991 Walker Cupper) was out on Wednesday doing the same.
"It's all classified information," Alex Fitzpatrick joked, wary the Americans might get wind of it.
Fitzpatrick acknowledged a lesson from 2019 that you can "over prepare" in the run-up to the event. Five days of practice before two intense days of competition can lead to burnout.
"I feel like this time around, I learnt that it's not all about playing 18 as many times as you can but pacing yourself," Fitzpatrick said, "and maybe playing nine here and there and maybe focusing on the first—however many holes and just making sure that you don't overdo yourself because by the time come Saturday and Sunday, you're playing 36 a day, especially in the heat, it's going to be tough"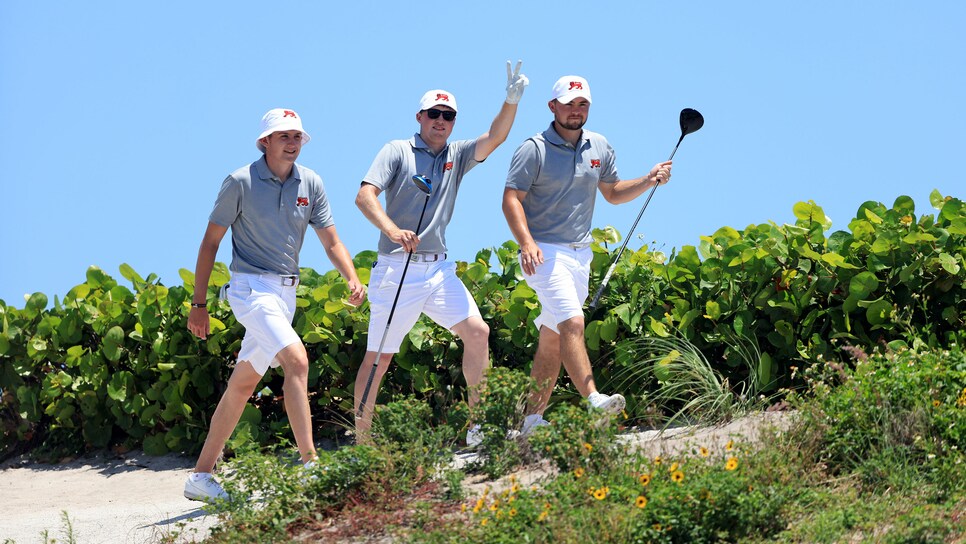 Barclay Brown, Mark Power and Alex Fitzpatrick were all smiles as they walked down the 18th hole during a practice round on Wednesday.
Sam Greenwood/R&A
COVID-19 brings another intangible this week that likely works against the visiting side. Restrictions on travel and spectators mean there will be fewer GB&I fans in attendance.
Wilson says that Seminole members have already taken to his team and might be quietly pulling for them, appreciating the underdog role they're in. The captain isn't about to start to make up excuses before the matches get under way; on the contrary he's turning another potential negative and trying to sell it as a positive.
"We'd never say we're outsiders because certainly with the format of the match and how 18 holes of match play, everybody knows anything can happen at any time," Wilson said. "As far as kind of being up against it, you're always up against it when you come … America is always going to be strong. And I think this year with the closed kind of conditions for coming into the event … we're going to have very, very few GB&I spectators here cheering us on, so we can use that to our advantage, as well, to kind of spur the guys on to not so much prove a point but use it as a motivation to do as well as they can."
Say this for Wilson, on the eve of the 48th Walker Cup, there is no such thing to him as a half empty glass.