Amateurs
GB&I selectors face unique challenges in picking 2021 Walker Cup team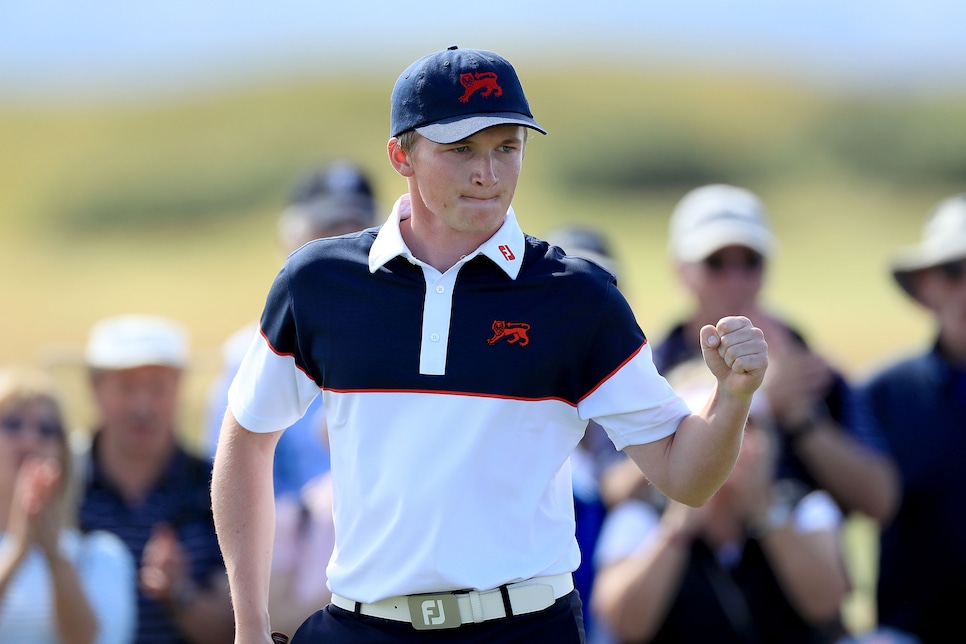 A veteran of the 2019 Walker Cup, Sandy Scott returns in 2021 as the highest ranked player on the GB&I squad.
David Cannon
Seven Englishmen, two Irishmen and one Scot have been selected to represent Great Britain & Ireland at Seminole Golf Club, May 8-9, in the 48th Walker Cup. Captained by former British Amateur champion Stuart Wilson, the youthful team—average age just older than 21—will be looking to record what would be only their third victory on American soil since the biennial contest began in 1922.
But the visitors will be doing so under uniquely trying circumstances. Because of the COVID-19 pandemic, the selectors have been forced to choose the 10-man squad more on past results rather than current form. Earlier this month, the Home Internationals at Royal Dornoch, scheduled to feature 11-man sides from England, Scotland, Ireland and Wales in what was clearly intended to be an unofficial Walker Cup trial, had to be cancelled. Clearly, the World Amateur Golf Rankings have played a large part in the selection process. Only Barclay Brown at 134th is ranked outside the top 100.
"We had our first selection meeting a year ago," Wilson says. "And we had plans in place. But lock-down came and events started to get canceled. The 2020 season ended up being seriously disrupted. It was almost impossible to get the contenders playing against each other in the same field. That happened only rarely, which was disappointing.
"Having said that, some of the guys have been playing some good golf. But selecting the team wasn't easy. We tried to give everyone the consideration they deserved. So a lot of what we came up with was based on historical results. We definitely trawled back further than we would normally do, and what we know about the guys themselves. All of which went into the mix."
Two men return from the GB&I team that lost 15½-10½ at Hoylake in 2019. Both were automatic selections as the highest-ranked players available and both play college golf in the U.S: World No. 8 Sandy Scott is a senior at Texas Tech and No. 14 Alex Fitzpatrick, younger brother of Ryder Cup player Matt, is in his junior year at Wake Forest. Scott reached the second round of match play at last year's U.S. Amateur and qualified for the U.S. Open at Winged Foot through his World Ranking.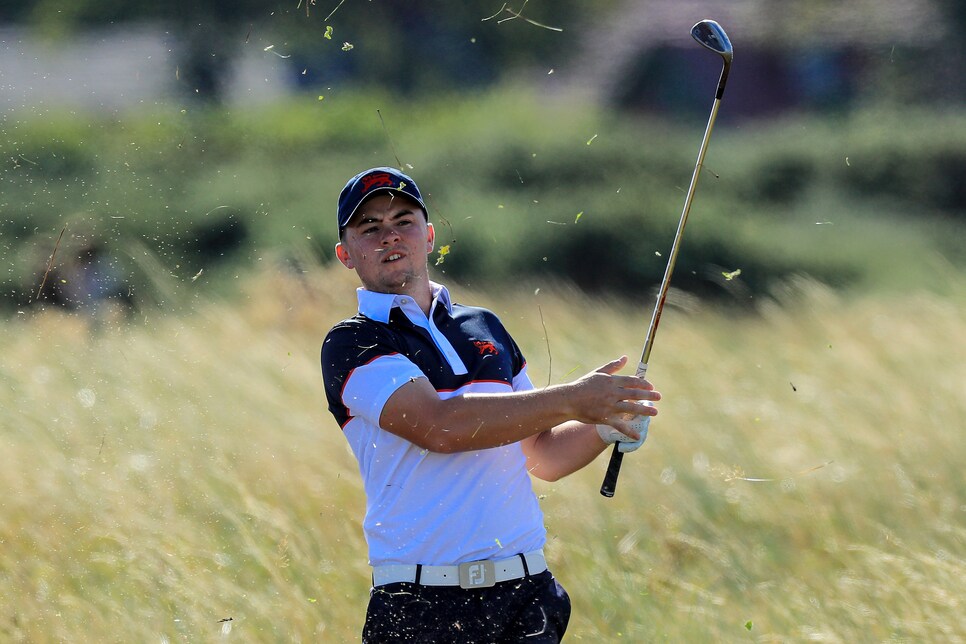 Alex Fitzpatrick, younger brother of tour pro Matthew Fitzpatrick, is also a returnee from the 2019 GB&I Walker Cup squad.
David Cannon
Fitzpatrick's clubmate at Hallamshire in Sheffield, Brown is one of eight first-timers a team that will be trying to win the trophy for only the 10th time overall, albeit seven of those triumphs have come along since 1989.
Other standouts in the GB&I side are Joe Long, who will play in next week's Masters at Augusta National as the 2020 British Amateur champion, Angus Flanagan, a University of Minnesota golfer who has competed in two PGA Tour events since last summer, and Ben Schmidt, 18, the only teenager in the squad is 31st on the WAGR ranking.
"The Walker Cup is the pinnacle of the amateur game for these players and we are delighted that they will have the opportunity to compete against their counterparts from the USA at Seminole," says Wilson, who won his Amateur title at St. Andrews in 2004. "It gives them the opportunity to display their exceptional talent and will provide a lifetime of memories. After a difficult year with the COVIF-19 pandemic, we are all looking forward to the match this year and I know the team will be doing their very best to win back the Walker Cup."
Barclay Brown (England)
Alex Fitzpatrick (England)
Angus Flanagan (England)
Ben Jones (England)
Matty Lamb (England)
Joe Long (England)
John Murphy (Ireland)
Mark Power (Ireland)
Ben Schmidt (England)
Sandy Scott (Scotland)
Non-playing captain: Stuart Wilson (Forfar, Scotland)