Amateurs
Remembering Bob Lewis Jr., who helped reignite Americans passion for the Walker Cup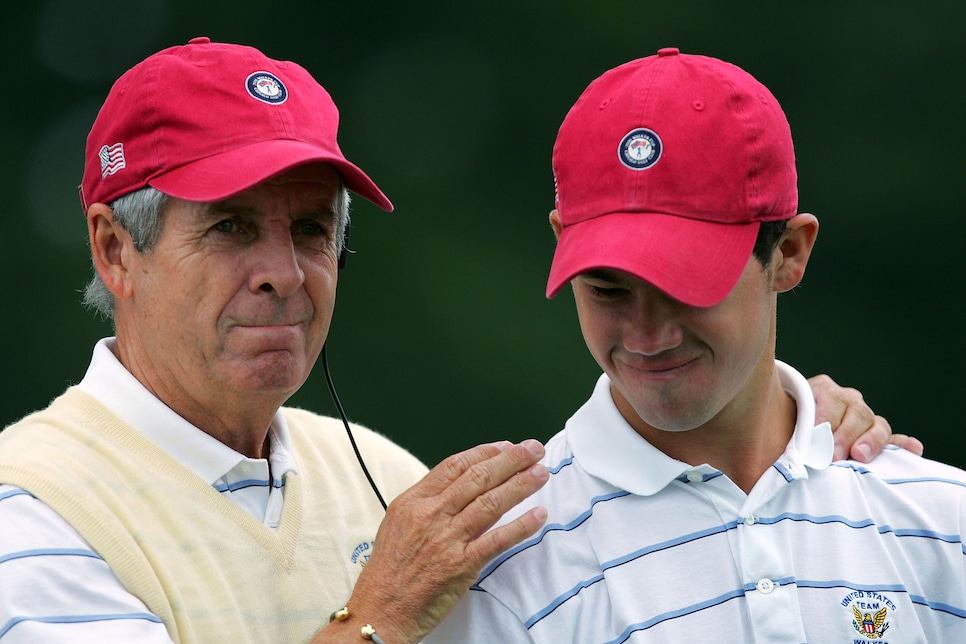 Bob Lewis Jr., talking to Brian Harman at the 2005 Walker Cup.
Jamie Squire
When you think about the history of the Walker Cup, Bob Lewis Jr.'s impact is muted by the passing of time and forgetfulness. Beginning with the 2005 squad he captained to a nail-biting 12½-11½ victory, Team USA holds a 6-2 edge over Great Britain & Ireland in the biennial competition, increasing its overall advantage in the century-old contest to 37-9-1. Yet prior to Lewis bringing his 10-player team—which included future PGA Tour winners Anthony Kim, Brian Harman, J.B. Holmes and Matt Every—to Chicago Golf Club, the Americans had lost four out of five times (including two years earlier at Ganton Golf Club under Lewis' watch) and top U.S. players were being swayed by the lure of the PGA Tour's green rather than the country's red, white and blue.
Lewis, however, perfected a sales pitch honed over four decades of playing top-level amateur golf. Sure you could turn pro, but why forgo a chance to compete in the game's biggest amateur event? Regardless of how many zeros might appear on your first few paychecks, you'll never be able to buy the memories you'd be sacrificing. The Walker Cup is two days that can last a lifetime.
"I remember him saying how you've got 40 years to play professional golf, why can't you wait a few more weeks to get started," said Jeff Overton, an Indiana University All-American who was one of five graduating seniors Lewis convinced to remain amateurs through the summer of 2005 and who secured the winning point at Chicago G.C. "He sold me on what an experience it could really be."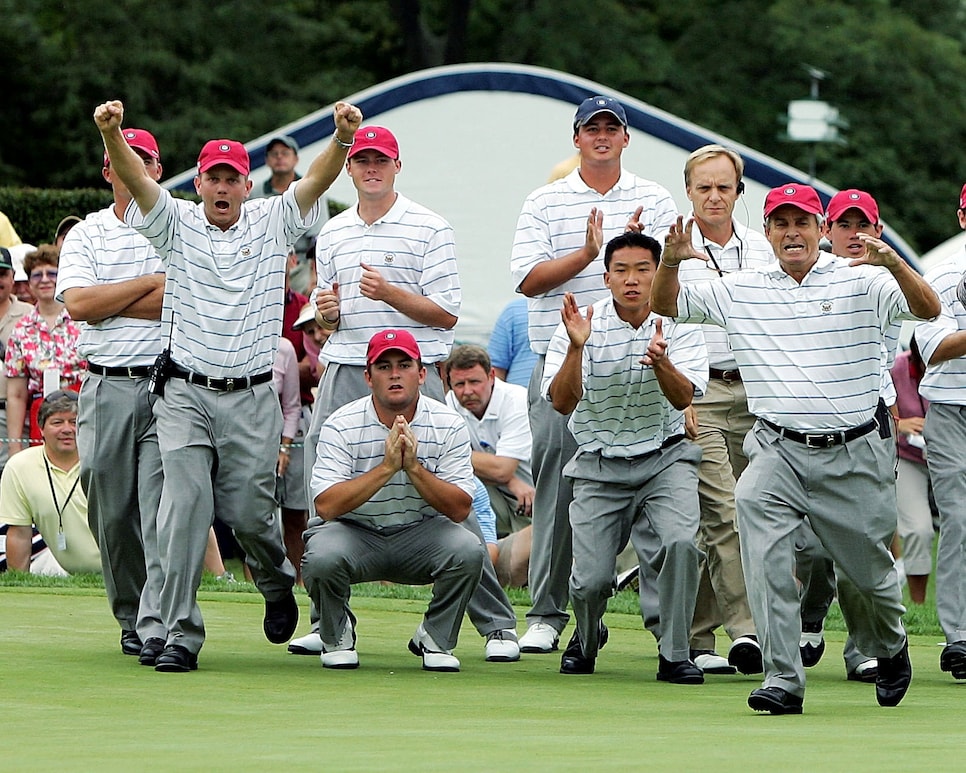 The American Walker Cup team, led by Lewis Jr (far right), race onto the final green after clinching the cup in 2005.
David Cannon
With his health fading after a battle with lung cancer, the USGA presented the award to Lewis last week. On Tuesday, Lewis passed away at age 76.
Beyond his stint as Walker Cup captain, Lewis has his own notable career as a player. After a brief stint on the PGA Tour from 1970-74, he got his amateur status reinstated in his early 30s and began an impressive stretch of play that included reaching the finals of the 1980 U.S. Amateur at C.C. of North Carolina, where he lost to Hal Sutton. Lewis also was runner-up at the inaugural U.S. Mid-Amateur in 1981, losing to Jim Holtgrieve. He reached the Mid-Am final again in 1984 and the semifinals of the U.S. Amateur in 1986.
"Bob represents all that is best about competitive amateur golf and his outstanding contributions to the game serve as a model we all strive to emulate," said USGA president Stu Francis.
All told, Lewis played in 31 USGA championships. He also represented the U.S. as a player in the Walker Cup four times, going 10-4, played in the Masters seven times (he was low am in 1987) and qualified for the U.S. Open three times. Locally, Lewis was a two-time Ohio Amateur champion and won the Ohio Open in 1978, becoming the first amateur to accomplish the feat since Jack Nicklaus in 1957.
Lewis is survived by his wife, Patricia, his daughter, Tiffany, and his son Tristan, who played college golf for Georgetown University.