honors
Former Walker Cup standout and captain Bob Lewis chosen for USGA's Bob Jones Award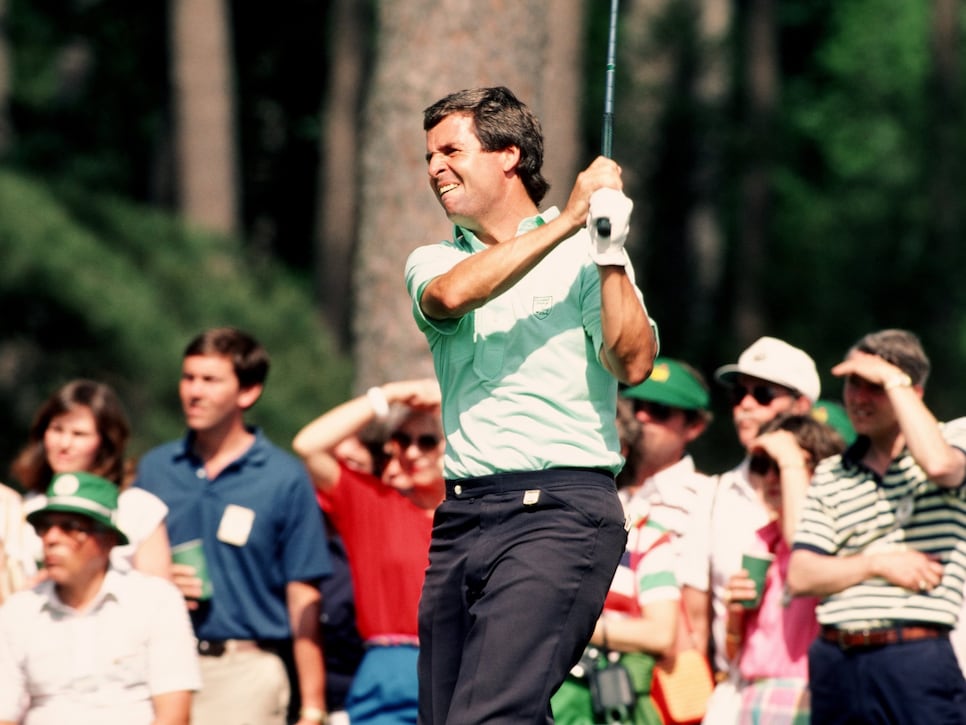 Bob Lewis, shown playing in the 1984 Masters, played seven times in the major in Augusta.
Augusta National
Francis Ouimet was an obvious choice to be the inaugural recipient of the USGA's Bob Jones Award in 1955. As the first amateur to capture the U.S. Open in 1913, Ouimet exemplified the ideal Jones held dear in remaining an amateur all of his life.
Interestingly, since Ouimet, more pro golfers—from Arnold Palmer and Jack Nicklaus to Mickey Wright and Nancy Lopez—have received the Jones Award for their contributions to the game than those who were career amateurs. It's the nature of golf's evolution, of course. Still, when an Am is chosen for the honor, it seems the spirit of Jones may glow just a little bit brighter, and that will be the case in 2021.
On Tuesday, the USGA announced that Bob Lewis will receive the Bob Jones Award when the 48th Walker Cup Match is contested in May at Seminole Golf Club in Juno, Fla. It's a wholly fitting occasion, considering Lewis' stellar amateur record—the highlights of which were playing four times on the U.S Walker Cup squad and then serving as its captain twice.
"I am so deeply humbled to receive this award," Lewis said in a USGA press release. "To be included among such a special group of influential figures in the game who I love and respect moves me beyond words.
"The USGA has played such an important role in my life. Many of my fondest memories in amateur golf come from representing our country as both a player and captain of the USA Walker Cup Team. Bob Jones was the ultimate amateur and I am truly honored to be included in his company."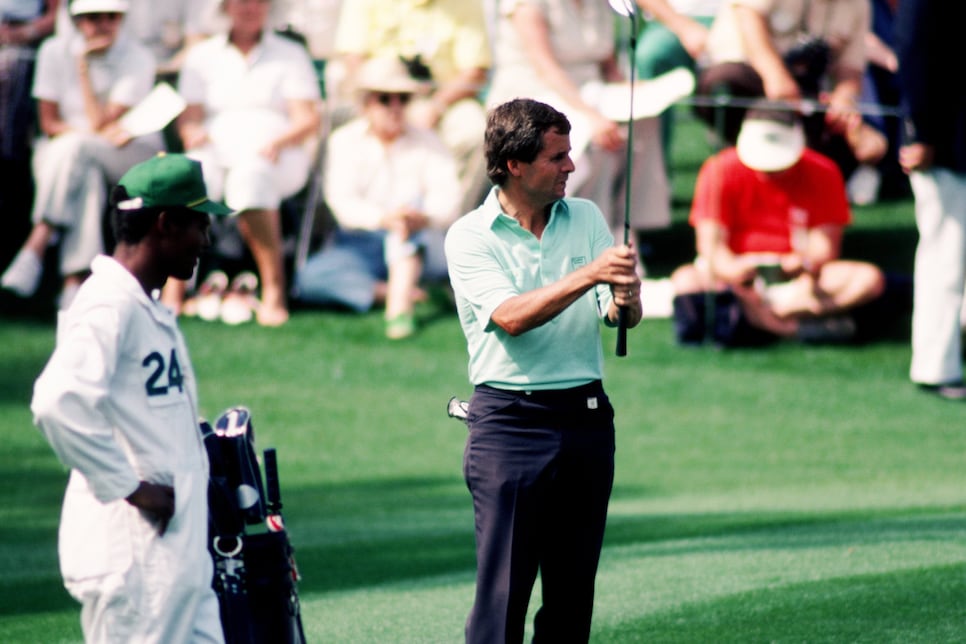 Bob Lewis watches his putt alongside his caddie during the 1984 Masters.
Augusta National
Lewis has played in 31 USGA championships, with three runner-ups, including a loss to future major winner and Ryder Cup captain Hal Sutton in the final of the 1980 U.S. Amateur. In his four consecutive Walker Cup appearances (1981, '83, '85, '87)—all victories over Great Britain & Ireland—Lewis notched a 10-4 individual record. Among his teammates on those squads: Corey Pavin, Brad Faxon, Davis Love III, Duffy Waldorf, Scott Verplank, Billy Andrade, Len Mattiace and Billy Mayfair.
As the American captain, Lewis was involved in two thrilling Walker Cups—a one-point loss to GB&I in 2003 with a squad that included Bill Haas and Ryan Moore, and a one-point victory in '05 by a U.S. team on which J.B. Holmes, Brian Harman and Anthony Kim played.
"The level of respect he earns from everyone he comes in contact with provides a remarkable and aspiring example of the best that golf has to offer," USGA CEO Mike Davis said in the release. "The Walker Cup Match is the embodiment of sportsmanship in the game, and Bob Lewis is a quintessential Walker Cupper, both as player and captain."
Because of his USGA accomplishments, Lewis played in seven Masters—the highlight coming in 1987, when he was low amateur and was present for the champion's green jacket ceremony after Larry Mize stunned Greg Norman with a 50-foot chip-in on the second playoff hole.
Lewis, 76, who has battled lung cancer in recent years, is an Ohio native and resident who inherited his father's steel-tubing business. He learned the game from his mother, who carried a handicap index as low as 1. Lewis did play professional golf in the early 1970s but didn't find it to his liking and applied to gain back his amateur status.
In citing his achievements, the USGA said Lewis' "character is exemplified" by him serving as a volunteer head coach at Gilmour Academy in Gates Mills, Ohio. He also sat on the board of the Northeastern Ohio chapter of Boys Hope Girls Hope, which provides support for at-risk youths, and played a leading role in establishing the "Values and Visions" education endowment in support of Catholic education in his home county.