Amateurs
This was already the craziest run-up to any Walker Cup in recent memory, and then both teams got a stomach bug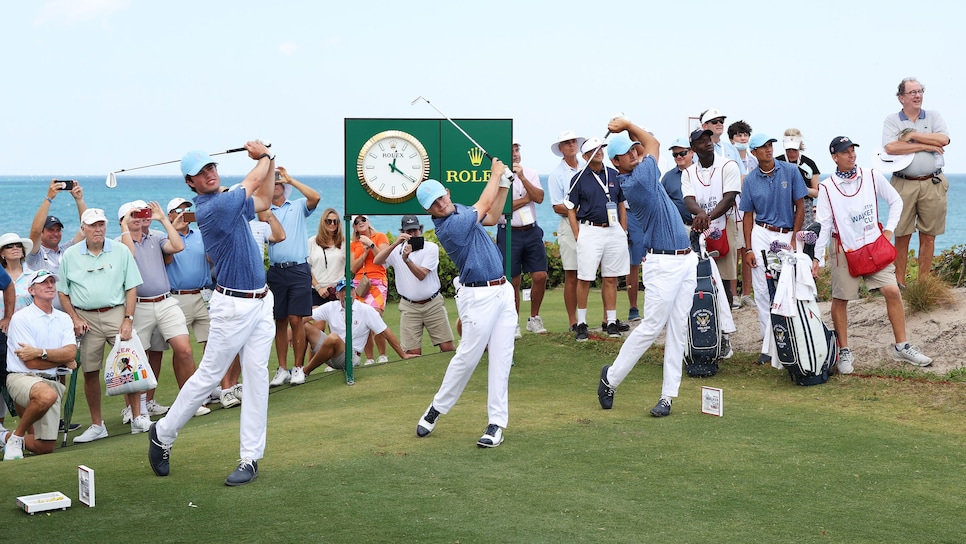 Cole Hammer, William Mouw and Stewart Hagestad of the U.S. Walker Cup team all play simultaneous shots from the 17th tee during Friday's practice day.
Cliff Hawkins
JUNO BEACH, Fla. — The 2021 Walker Cup was always going to be a memorable event by virtue of its host venue, the nearly 100-year-old biennial competition being played at famed Seminole Golf Club for the first time. But the rare public showing of the ultra-private Donald Ross course has been overshadowed on the eve of the two-day competition by another storyline playing out in South Florida.
Within a 72-hour span, 14 of the 24 players, including alternates, on the United States and Great Britain & Ireland teams have been stricken by what USGA and R&A officials have identified as a gastrointestinal illness. (All players have tested negative for COVID-19, which was ruled out as a cause earlier in the week.)
Both captains, Nathaniel Crosby and Stuart Wilson, also came down with the bug. All but two players did eventually get out to the course on Friday for a little late practice ahead of the kickoff for the two-day event on Saturday.
Before the opening flag-raising ceremony on Friday, USGA Senior Managing Director of Championships John Bodenhamer and R&A chief executive Martin Slumbers said the plan remains that the official 10 members of the teams will compete in the event, with the format—four morning foursome matches both days and eight (Saturday) or 10 (Sunday) singles matches in the afternoon—also staying in place.
However, some accommodations are being made for the terms of the match. If a player (or players) are not be able to compete, captains could use of one of the two alternates that each team has named in their place. If the original player(s) then are healthy enough to play later in the matches, they could be put into the lineup.
This is all contingent was on no other players falling ill on Friday evening. And because of that, the announcement of the Day 1 morning foursome pairings has been delayed until 7 a.m. ET on Saturday.
UPDATE, Saturday, May 8, 7:10 a.m. -- When the foursome pairings were announced, one alternate from team team was in the line-up, Mac Meissner from the U.S. and Jake Bolton from GB&I.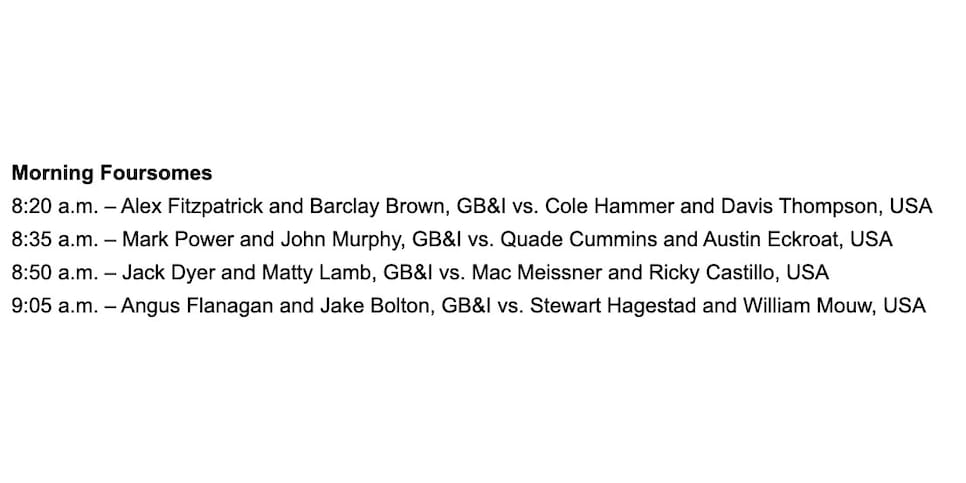 Ironically, the flexibility of using the alternates is a byproduct of COVID-19 safety measures that were put into place for the 2021 match. Having both alternates on-site is unprecedented, according to Bodenhamer.
"We were prepared, but it wasn't for this. It was for COVID," he said. "But it's kind of worked out in a funny way that all those health and safety protocols have put us in a good place."
Suffice it to say, the spread of the bug has been an unexpected distraction during a week where players had hoped to focus exclusively on learning the nuances of Seminole, something that is its own challenge.
"We've just been kind of sitting back on our heels not knowing what the next step is going to be," said Cole Hammer, one of three Americans who played for the victorious 2019 Walker Cup team under Crosby at Royal Liverpool (and one of five Americans not to yet get sick). "You know, it's all been happening so fast that one guy goes down, the next guy goes down. But we're all trying to rally around each other, and it's kind of been … I wouldn't say it's made us any more nervous about the match just because both teams have so many great players and obviously no one wants to get sick. But we'll be just fine. I promise we'll be ready to go tomorrow no matter what the deal is."
"It's difficult. It's something that it just happens, and it just happened to be at a time like this when it's happened to these people," said Alex Fitzpatrick, the lone player on the GB&I side back from Liverpool. "It's unfortunate, but everyone is doing everything they can to get better for Saturday, and hopefully everyone is healthy soon."
Members of both teams have repeatedly mentioned how firm and fast Seminole is playing, the greens reportedly rolling 14 on the Stimpmeter. Storms on Thursday night brought near an inch of rain that helped soften things up a bit, making the course more playable but hardly easy.
The Americans, winners of the last two Walker Cups, were already expected to be heavy favorites this week—nine of the 10 players on the official roster are inside the top 17 of the World Amateur Golf Ranking, with the 10th player ranked 34th. By comparison, only two GB&I golfers (Fitzpatrick and Joe Long) are inside the top 27. And yet, Fitzpatrick says that his underdog side is ready for whatever comes.
"Ranking is just a number. It doesn't matter, you could be ranked 500, you could be ranked 1," he said. "It really doesn't matter in match play. For me personally, I think if you're No. 1 you've got way more pressure on you than someone who's 500."
There are no silver linings when players get sick, but Slumbers did note that there's a takeaway from what's transpired that will be evident when the competition finally does start Saturday.
"After this dreadful year we've all had," Slumbers said, "I think one of the glories of this week is we've sort of stripped back to see this is a match between the 10 best amateurs in the United States and the 10 best amateurs in GB&I, and they know it, and they just want to play."