BMW International Open
Viktor Hovland holds off charging Martin Kaymer and makes European Tour history in the process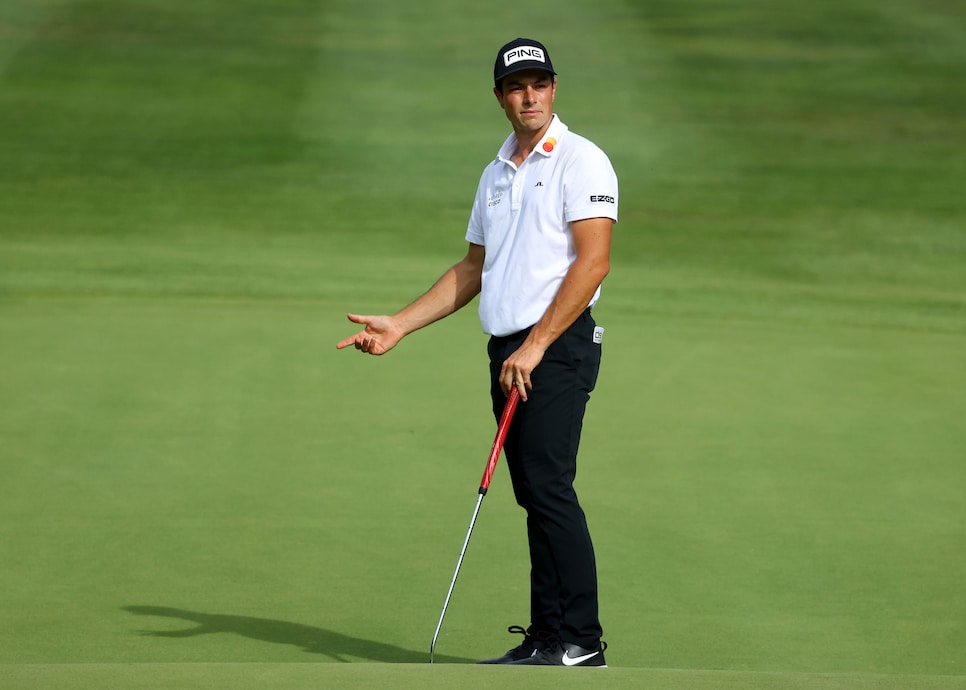 Viktor Hovland reacts to his putt on the 17th green during the final round of the BMW International Open.
Andrew Redington
The to-do list continues to compress, just as the ticks he is placing in elite golf's various boxes continue to multiply. Already a two-time victor on the PGA Tour, Viktor Hovland can now call himself a winner on the European Tour. With a final-round two-under 70 at the Golfclub München Eichenried, the 23-year-old former U.S. Amateur champion reached 19 under par for the week and held off all-comers by at least two shots to claim the BMW International Open title.
Not incidentally, in the process of ticking yet another box in a professional career still just two years old, Hovland became the first Norwegian to finish first on the Old World circuit. It is a maiden victory that came in only his 17th European Tour event, matching exactly the number of starts it took him to win for the first time on the PGA Tour.
All of which was not achieved without more than a little discomfort over the 7,284-yard layout just outside Munich. On a day when former U.S, Open and PGA champion Martin Kaymer made 10 birdies to match the low score of the week (64), Hovland was, for long enough, relatively becalmed. Only one birdie came his way in the first 12 holes, three-putts for par on both the ninth and 11th especially jarring.
Indeed, when Kaymer holed-out for one last dip under par on the 18th green, he was tied with Hovland on 17 under par. Further complicating matters, Spain's Jorge Campillo was only one-shot back. The pressure then, was all on Hovland, who was in the process of making par on the short 12th. At that stage he had made only 28 feet of putts on the round.
The key, however, was that, even amidst his struggles, Hovland was caught but never passed. Having begun the day with a three-shot edge and fully recovered from getting sand in his eye that forced his withdrawal from last week's U.S. Open, he was spared the ultimate psychological blow. Especially vital in that regard were the 12-foot putts he made for birdie on the 424-yard par-4 13th, then par on the following green. The up-and-down for birdie at the drivable 319-yard 16th wasn't too shabby either. Lead restored, then maintained, then extended.
Which was perhaps just as well. A third three-putt from Hovland on the penultimate green meant a dropped shot and the need for no more than a par on the 568-yard par-5 18th to clinch victory. In the end, his immaculately played closing birdie meant the margin of victory over Kaymer was two shots.
"I'm kinda glad that's all over," said Hovland, who is expected to move to a career-high 13th in the World Ranking and has all-but clinched his Ryder Cup debut at Whistling Straits in September. "Sleeping on the lead you think about winning and yes, it was a long day and very stressful. I saw that Martin was creeping up from behind and Jorge was hanging in there. But making birdie on 13 helped me a lot, as did the par-save on 14. That was big for momentum. From there, I was just trying to play solid golf and not make too many mistakes. It was good enough today. And I have a lot to look forward to. The Open. The Olympics. The Ryder Cup. But first I can relax for a couple of weeks at home in Norway with all my friends. I'm going have a blast."
As for Kaymer, the 36-year-old former World No. 1 was more than happy to follow his T-26 finish at last week's U.S. Open with another strong showing. Since his last victory at the 2014 U.S. Open, the Dusseldorf native has watched as no fewer than 149 different men have won on the European Tour. So it's been a while since he performed this well at this level. There was also the thought that, only a few days after being named one of European Ryder Cup captain Padraig Harrington's assistants, he was sending a wee "I can still play" message to his prospective boss.
"I knew at the start of the day I needed something really low," said Kaymer, who teed-off eight shots behind Hovland. "But the putter was hot today, I made a lot of good ones. My goal at the beginning of the week was to get to 20 under. That is usually what you need to do on this course. And I played well over the first three days without holing too much. Still, even when I made the birdie on the last, I had feeling it wasn't going to be quite enough. But it felt good to make it. Those are the moments you need when you haven't been successful for a while.
"Last week at the U.S. Open gave me confidence," Kaymer continued. "I found something in my swing during the third round. It feels good to putt as well as I did today. I made pretty much everything. And yes, of course I would like to participate in the Ryder Cup. It's a huge honor to be a vice-captain, but I will be giving it everything I have to make the team. If it's enough it will be a massive bonus, especially after the way I have played the last few years. If I put myself fin contention a few more times, maybe Padraig has something to think about."
One last thing. Keep an eye out for Vincent Norrman. Following up his recent T-14 finish at the Scandinavian Mixed in his Swedish homeland, the 23-year-old, surely destined to be known as the "Great White Sharrk," closed with a 66 to finish T-5 in his professional debut.