Arnold Palmer Invitational
Viktor Hovland is 18 holes away from ending one of the weirdest streaks in golf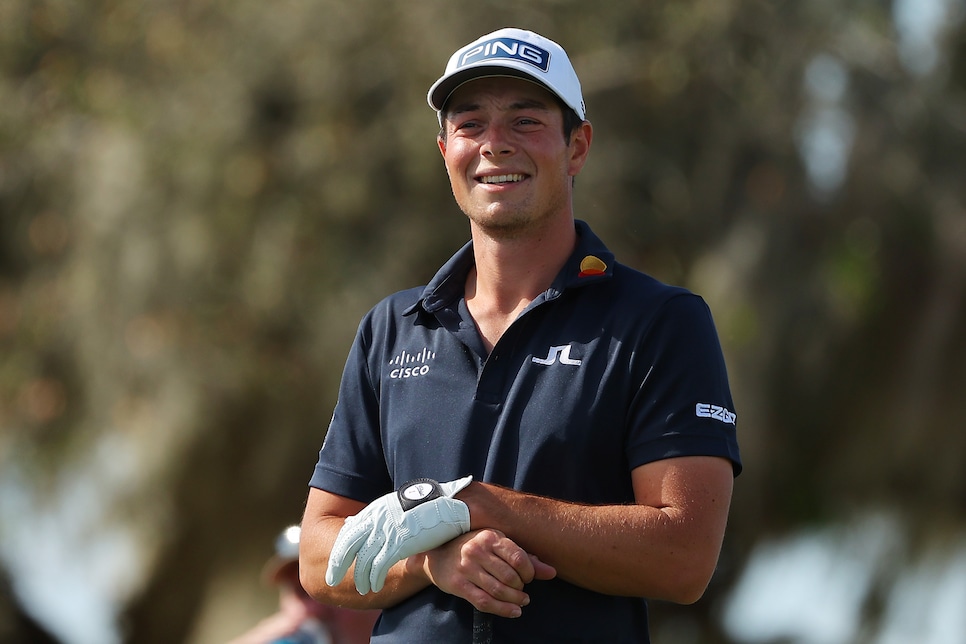 Viktor Hovland looks on from the eighth tee during the third round of the Arnold Palmer Invitational.
Kevin C. Cox
ORLANDO—One could argue that Florida, with all of its glorious idiosyncrasies (and some, uh, not-so-glorious), is not so much a state as it is a sovereign territory unto itself. Or maybe that people wish it was its own country, separate from the rest of the union. Any good historian will note that for a brief period in 1810 Florida was an independent republic. Nevertheless, Florida—at least as of writing—remains part of the contiguous United States. Meaning one of golf's oddest streaks is in serious jeopardy.
Viktor Hovland, the fledgling superstar who has risen as high as No. 3 in the Official World Golf Ranking despite never winning a professional event in the Lower 48, is 18 holes away from sinking that oddity into one of Bay Hill's many ponds. He was one back of Billy Horschel and Talor Gooch as night fell on Saturday at the Arnold Palmer Invitational.
"I managed to kind of stay in it," Hovland said. "I missed on the right sides, and the bad shots only cost a bogey and not double or worse to really take me out of the tournament."
Was it Hovland's best day? It was not. After knocking Bay Hill on its rear on Days 1 and 2, the course responded in kind, Hovland carding six bogeys and pars on three of the four par 5s. One of the best second-shot players on tour (13th in SG/approach), Hovland lost more than a stroke and a half to the field with his irons and hit just nine greens in regulation. The short game wasn't much better, with a negative 2.021 SG/putting figure. Truth is it could have been worse had he not holed out for eagle from a greenside bunker on the par-5 sixth.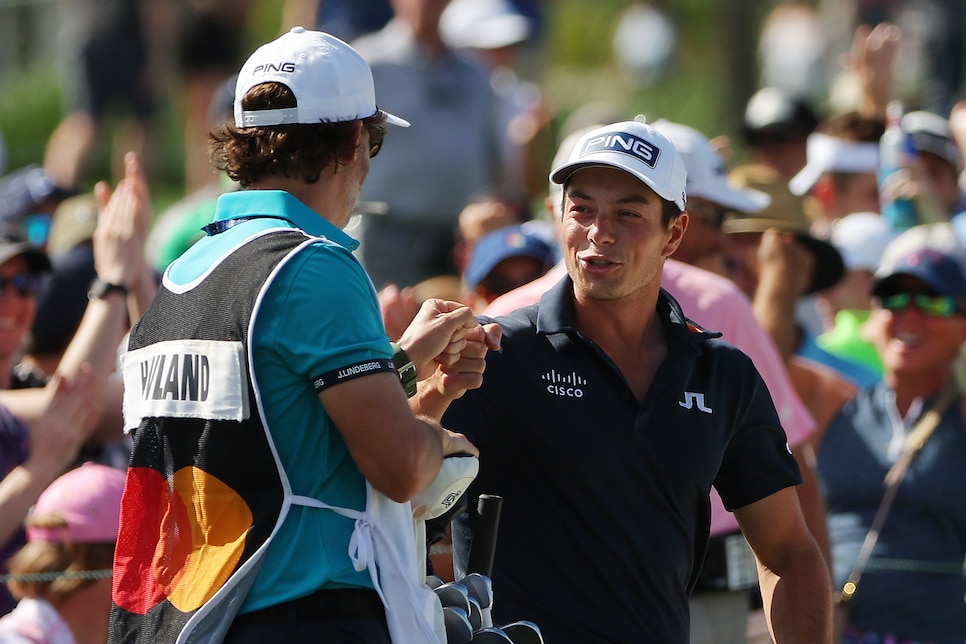 Viktor Hovland reacts after holing his shot from the bunker for eagle on the sixth hole during the third round of the Arnold Palmer Invitational.
Kevin C. Cox
"It's still just really hard, especially when I just didn't have my game today," Hovland said. "I hit a lot of really bad iron shots today."
The normally affable Hovland even ran a bit hot, perplexed why his irons were going places they shouldn't and indignant when putt after putt would get lost en route to the cup. There were head shakes and head hangs, wondering what he had done for his game to betray him. (Or maybe those were directed at the gallery. We're sorry to report that "Mashed potatoes!" Guy has been replaced by "Cranberries!" Guy, which … haven't we suffered enough indignities over the past two years?)

The final damage for Hovland: a three-over 75, lowlighted by four bogeys over his last eight holes.
Which is fine. Even the best have poor days with rough breaks and loose swings, where the cups have posted "Sorry, we're closed" signs. What puts a golfer among the best is the ability to compartmentalize coming out on the business end and not letting today affect tomorrow. And maybe realizing that there's a tomorrow to be had.
What Sunday holds is a chance for Hovland to win for the fourth time in his last eight starts, albeit his first tour win in a conterminous state. In one sense, it's not terribly peculiar. The man is barely a man, just 24 years old. He's been a professional for less than three years and logged just 55 tour starts since losing the (A) next to his name. But that lack of experience is bucked by what Hovland has achieved in this span. He's has racked up six worldwide wins with 20 top-10 finishes. He finished 23rd in total strokes gained in his first full campaign on tour and jumped to ninth last season, and while the sentiment is not reflected in the record, he turned in a solid Ryder Cup debut at Whistling Straits. So in that vein … it is a tad funny that he's won in Puerto Rico and Mexico and Dubai and Germany, yet where he plays the majority of his golf, nada.
But there are 18 holes left and Hovland admitted that this type of golf, hard golf, does not suit him. "To be honest, not really. I think now it's maybe on the border where everything kind of becomes a scrambling competition," Hovland said. "As I've said before, that's not really the strength of my game." Still, he remained upbeat Saturday night and it's at this point we should mention Hovland is as human as these tour cyborgs come.
However, his youthful visage and unfailing courtesy and endearing disposition belie a stone-cold vigor. You don't reach the heights Hovland has without it. Despite Saturday not going his way, he likewise didn't allow it to get away, and if that sounds simple all one needs to do is look at Hovland's playing partner, Tyrrell Hatton, who ejected from the final pairing with a six-over 78.
"What I think is cool at least is I'm able to be in contention in a tournament under these conditions that don't really play into my hands," Hovland said. "I feel like I have to really be patient and miss on the right sides … I think that's a good lesson for me because when it's easy, you don't think about the worst case outcomes. You just look at the hole and try to putt it in or hit a good shot."
Hovland will need that vigor and more to take down Horschel, Gooch, Scottie Scheffler, an ever-hardening Bay Hill and, yes, his conterminous curse. For what it's worth, Hovland had his collar unbuttoned darn near down to his navel on Saturday. That is a look only a special type of person can pull off. A look only a man confident in himself can pull off. A look that looks, dare we say, Floridian.