Viral Video
Watch tour player shotput putter into pond at Arnold Palmer Invitational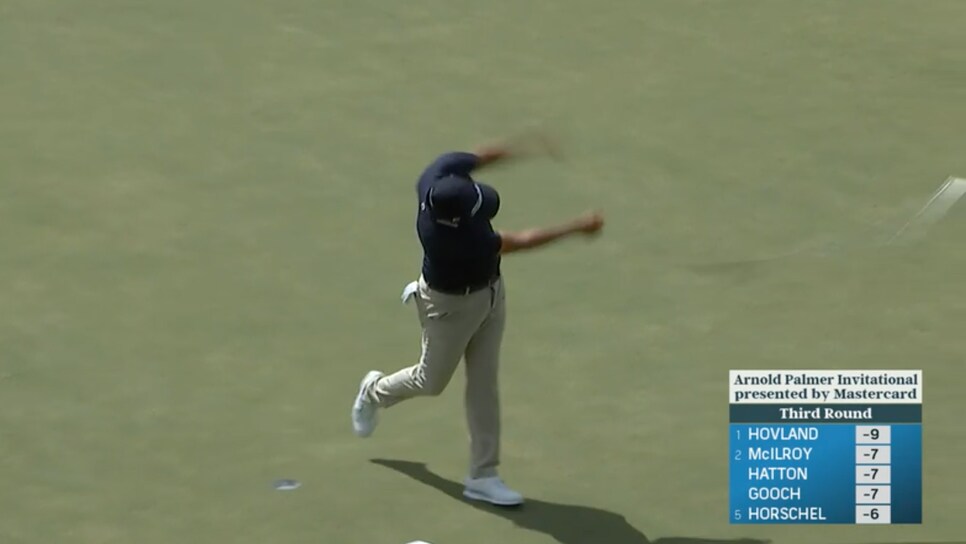 Sometimes a golf club needs to die. On Saturday at Bay Hill, it was time for Matt Jones' putter to take that eternal nap. And it was Jones who put it to sleep.

Jones, 41, is enjoying a nice season, taking third at the Sentry Tournament of Champions to open 2022 and he entered the Arnold Palmer Invitational inside the top 40 of the FedEx Cup standings. Though a second-round 75 knocked down any aspirations of contention, the Aussie still made the weekend in Orlando. All things considered, Saturday's round wasn't going that bad, Jones one over through the first 10 holes, with an eight-footer at the 11th to get to even.
But Jones missed that putt, and missed it bad, chasing after his ball after it barely left the putter face. Given the struggles Jones has had with his flat stick—he ranked 120th in SG/putting coming into Bay Hill and had lost a whopping 3.582 strokes to the field on the greens this week—Jones decided it was best to part ways with his Scotty Cameron, and part ways immediately.

And by immediately we mean sending that Cameron soaring with the eagles.

It's unclear if Jones meant to shotput his putter in the direction of the pond, which is where it met its demise. Considering the man didn't break stride we're guessing he's at peace with his decision.

Perhaps it wasn't the best time for an equipment change; Jones had seven holes remaining. He ended up shooting three over in that stretch en route to scoring 76, though he did make five pars. He had a two-putt double bogey at the 15th and a tap-in for bogey at the 17th when his greenside bunker shot didn't find the green. Given the aforementioned short-games woes ... well, sometimes a club just needs to die.