Rules
Players 2021: Viktor Hovland receives two-shot penalty thanks to … his mom?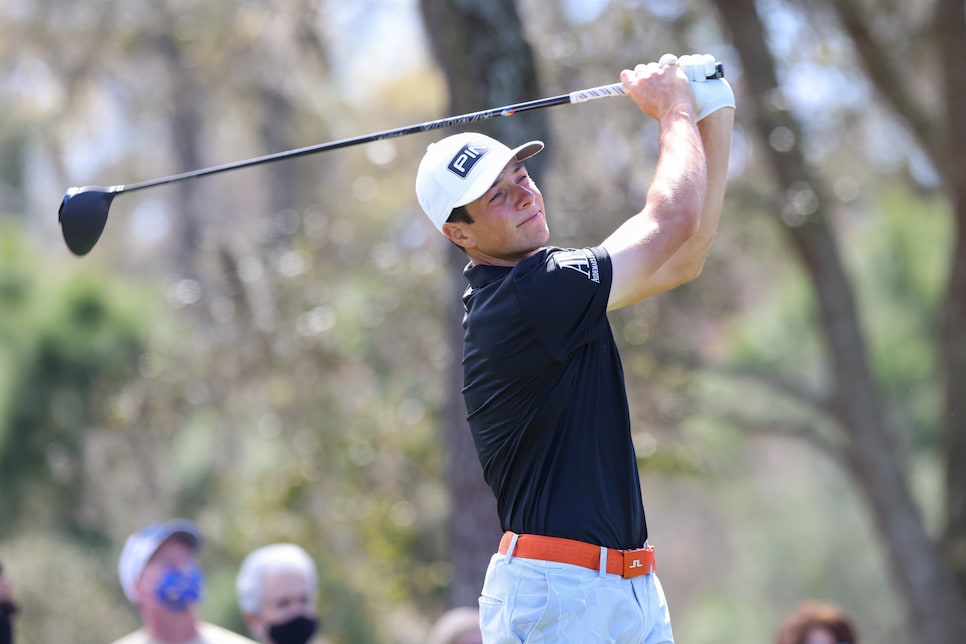 To all you kids out there thinking mom doesn't know what she's talking about when she makes you clean your room or eat your vegetables, heed these words. One, she's making you do that because she cares. Two, that's nothing compared to the autocratic power wielded by other moms, as poor Viktor Hovland can attest.
Hovland, as you may recall, signed for a two-under 70 on Thursday at the Players Championship. Unfortunately, it was not the right score, as the tour announced hours later Hovland had been docked two strokes under Rule 14.7 for playing a ball from the wrong place. At the par-4 15th Hovland had moved his ball mark out of a competitor's putting line, and it was determined that Hovland failed to replace the mark back in its proper spot. How that ruling ultimately came to pass is a doozy.
On Thursday afternoon rules official Gary Young told PGATour.com that Hovland was notified by someone in Norway of the infraction. "I think he heard about it from someone in his home country," Young said. But during Friday's Round 2 coverage, the NBC Sports broadcast said the person from Norway was … Hovland's mother.
Apparently Hovland was heading to his car when his mom called and asked him if he was going to get penalized for what happened at the 15th. Hovland didn't know what she was talking about, at which point his mom dropped some tough love on her boy. "He and his caddie reached out to our committee and asked if we had any video of it, because he had no recollection of doing it." Video did confirm that Hovland has failed to put the mark in its original spot—instead of moving the ball back the putter head to the old spot, Hovland moved it another putter head in the opposite direction—thus leading to the penalty.
"He had left the property," Young said to PGATour.com. "I sent him a clip of the video, and he's very comfortable with the result, that he's getting the penalty. He understands the rule. He didn't know he did it."
If you're wondering why Hovland wasn't disqualified for signing an incorrect scorecard, Rule 3.3b(3)/1 (hard to believe people still have a hard time with the Rules of Golf) says a player cannot be retroactively DQ'd for unknowingly violating a rule (this is a change from the past).
However, the two added strokes proved very, very costly when Hovland shot a two-over 74 on Friday, leaving him at two over for the tournament. When the second round is finished Saturday morning (darkness kept the entire field from finishing on Friday afternoon), the cut is expected to fall at even par. Meaning Hovland's penalty was the difference in him playing the weekend with $15 million at stake and leaving town early.
Indeed, given the purse at stake at TPC Sawgrass, that is a brutal, brutal lesson for Hovland. However, golf is a game of honor, and Hovland can take solace that he told the truth. So in that vein ... mothers, they always know best.