News
Vijay Singh positions himself to end winless skein, but Bernhard Langer still leads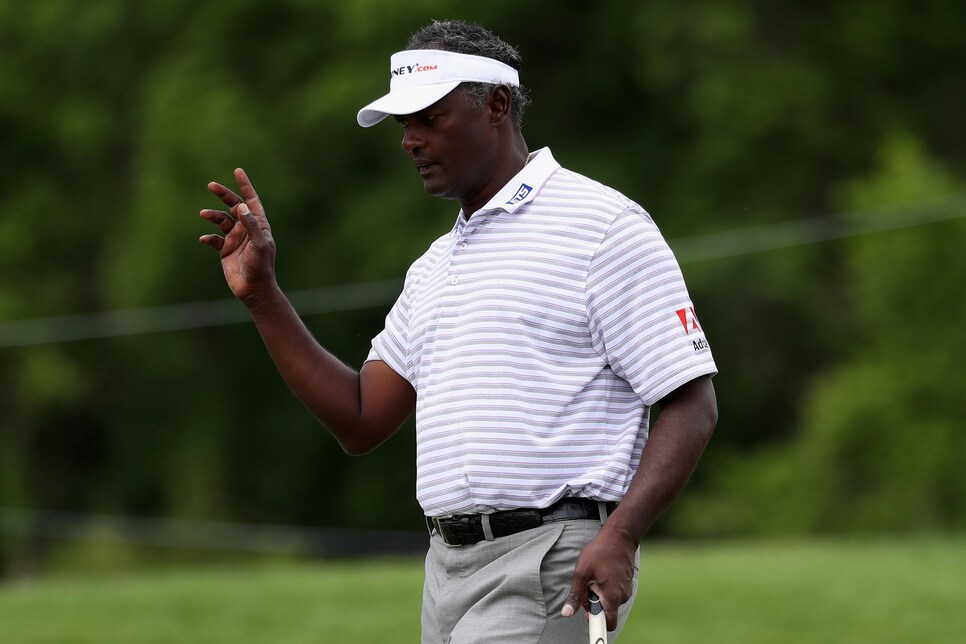 Vijay Singh, for a time last decade, took up residence in the victory circle, but he was inexplicably evicted in 2009.
Halfway through the KitchenAid Senior PGA Championship, Singh is hinting at a return to his winning ways. On an exceedingly windy and difficult day for golf Friday at Trump National, Washington, D.C., Singh shot a four-under-par 68 to set up a weekend run at ending his winless streak.
The leader, not surprisingly, is Bernhard Langer, who in search of a second-straight senior major and record ninth in his career, began the second round as a co-leader with Larry Mize. Langer made five straight birdies on Friday and completed a round of 67 on Saturday morning to open a two-stroke lead over Singh and Scott McCarron.
"It was blowing 20 miles per hour, so it was hard to hit it close," Singh said. "But if you manage your game and hit away from pins sometimes, you can score because the par 5s are pretty much all reachable [in two shots].
"I played pretty solid. I was always in play and never really went out of position. I played solid and I putted well. You have to putt well in windy conditions."
Billy Andrade, meanwhile, also expertly managed the wind in also posting a two-under 68 and trails Langer by two.
"It really got blowing hard, and it's really hard to putt," Andrade said. "I think that's the hardest part. On the greens the ball's oscillating a little bit.
"You have a few of the holes with crosswinds and few down-winds and just a few into the wind. Overall I'm very happy where I'm at and really looking forward to this weekend. But if the weather stays like this it's going to be a survival test."
Colin Montgomerie, meanwhile, had his PGA Tour Champions streak of consecutive rounds of par or better end at 38, which ties Jay Haas for the senior record. Montgomerie shot a three-over par 75 in the second round.