News
Vegas shooting hero A.J. McInerney finishes T-10 at Shriners, eyes Web.com Tour Q-school
Nick Price described best the reaction to Bernhard Langer's PGA Tour Champions dominance at age 60. When I asked the four-time major champion what he could say about Langer's accomplishments in 2017, the 60-year-old Price broke into laughter and said incredulously, "I have no idea where he gets his desire from." Price's honesty sums up what Langer's seven-win, three-major 2017 season comes down to, doesn't it? Flat-out desire. Langer, a two-time Masters champion, victorious European Ryder Cup captain and respected member of the World Golf Hall of Fame, had nothing to prove when he turned 50 on Aug. 27, 2007 and started winning senior tournaments at a rate where he's only 10 wins behind Hale Irwin's supposedly untouchable record of 45 victories. Price wished he had "a 1/10th of Langer's desire," pointing out that Langer has been doing this since he was 16, and somehow the competitive fire still burns. "I don't know where it comes from," Price said. "But I've got 100 percent admiration for the guy. It is unbelievable. It is absolutely unbelievable."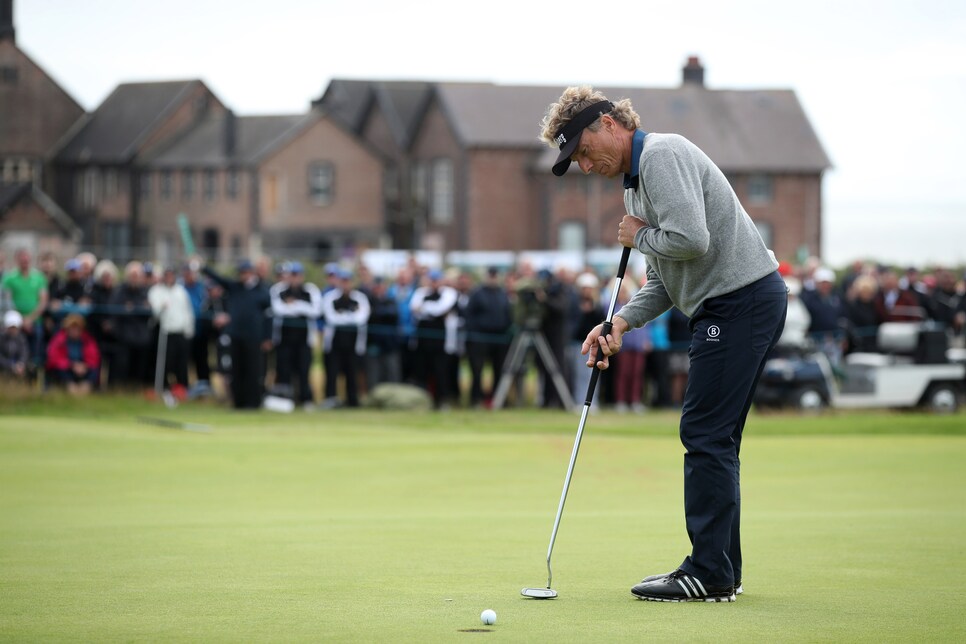 Reached at his home in Boca Raton, Fla., last week, Langer acknowledges right away that motivation has never been an issue, but admits it's physically harder to do this at 60. He says his body has been hurting this year more than it ever has, even if the numbers disprove it. We discussed all the wins, the third British Senior Open title being the one he says meant the most. A close second was beating Vijay Singh to win the Senior PGA—the one senior major that eluded Langer before this season—to pass Jack Nicklaus' record of nine majors. There were a number of weeks, he admitted, "Where I thought this is as good as it can be." Of course, you don't get to Langer's zenith without bemoaning a loss like the one he had to Scott McCarron in the Senior Players, when Langer surprising blew a late lead in a way rarely seen during the second stage of his playing career. With this year's Schwab Cup, what would be Langer's fourth straight, not locked up yet, this past week was more of a rest and reset than a time celebrate back-to-back wins and three out of four going into Phoenix Country Club for season finale. "I never thought I'd be playing at this age, at this level, period," Langer said. Unlike Price, Greg Norman, Nick Faldo and all the greats from his generation, Bernhard Langer is still playing with the mindset that his best golf these days is pretty close to his best ever.
A.J. McInerney make a difficult decision after a successful debut in a PGA Tour event at the Shriners Hospitals for Children Open. By making the cut, and finishing with a 30 over his final nine holes on Sunday to shoot 67 and finish T-10, the 24-year-old Vegas-area native, a hero for his efforts was at the Route 91 Country Festival that turned into the worst mass shooting in United States history, earned a spot into the field at this week's OHL Classic at Mayakoba in Mexico. But McInerney turned it down to instead be in Dallas to play in the second stage of Web.com Tour Qualifying School at TPC Craig Ranch. The long-term goal of being a card-carrying PGA Tour member is best served, he decided, by the Q-school stop. The good news is he brings with him plenty of momentum thanks to his performance at TPC Summerlin, where he more than justified the sponsor's exemption he received to play in the tournament. It also shed a larger light on McInerney, one of the heroes on the night of Oct. 1, when he helped others to safety amid the chaos of the shooting.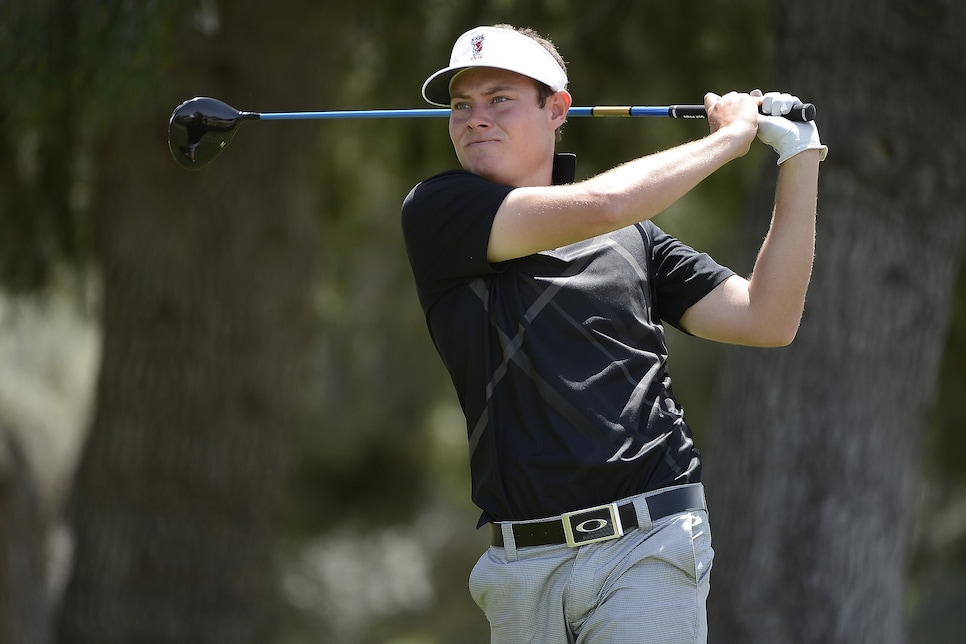 McInerney had been sending officials with the Vegas PGA Tour stop letters since he was a teenager growing up in the Henderson suburbs, hoping one day to make the tournament his first PGA Tour start. As McInerney repeated many times last week, "I want to be known as that Las Vegas guy." All of this resonated with executive director Pat Lindsey, who built up a relationship with McInerney in his first year on the job. "Hopefully this will help him start his PGA Tour career in his hometown," Lindsey told me leading up to the tournament. I heard from McInerney after he shot rounds of 72-71 to make the cut. "It was cool to have a lot of local fans out supporting me with a reason to smile and have fun in the midst of the last month," McInerney said in a text message. "I was nervous, I'm not going to lie, but playing for Las Vegas feels amazing. This week is a win for Las Vegas in so many ways." With spectators yelling "Vegas Strong," McInerney made a move on Saturday, turning at four under for the day, five under for the tournament, in a tie for fifth. After some dropped shots, he posted 71 to be tied for 18th.  He told the media then that he was going to second stage of Web.com Tour qualifying on Tuesday even if he finished in top-10 and got the spot in the field in Mexico. McInerney lived up to his word, flying out Monday morning after having a Sunday celebration dinner in Vegas with about 25 friends and family at his favorite sushi place. "I tried to make Vegas proud," McInerney said before heading to the airport. "They came out strong today, and it was absolutely amazing to be a part of that."
Club president Dan Dillon in an interview say that The Olympic Club was still a USGA club. Dillon made that point by reminding people the U.S. Women's Open is coming there in 2021. The difference now, however, with the club set to officially announce this week it will hold a PGA Championship in 2028 and a Ryder Cup in 2032, is that it is no longer is exclusively a USGA club, as it has been historically dating back to 1955. With the exception of two Tour Championships (1993-1994), Olympic's most prominent national events have been USGA affairs: five U.S. Opens, the most recent in 2012, three U.S. Amateurs, a U.S. Junior and the inaugural men's Amateur Four-Ball. So why also start a relationship with the PGA of America? Without being specific, Dillon explained there were roadblocks in negotiations with USGA executive director Mike Davis for another U.S. Open. And since the USGA schedule was set for a decade after nearby Pebble Beach was recently awarded the national championship in 2027, it meant a significant gap in time before Olympic would again get the attention of the national public. "We couldn't quite come together on the U.S. Open," Dillon said.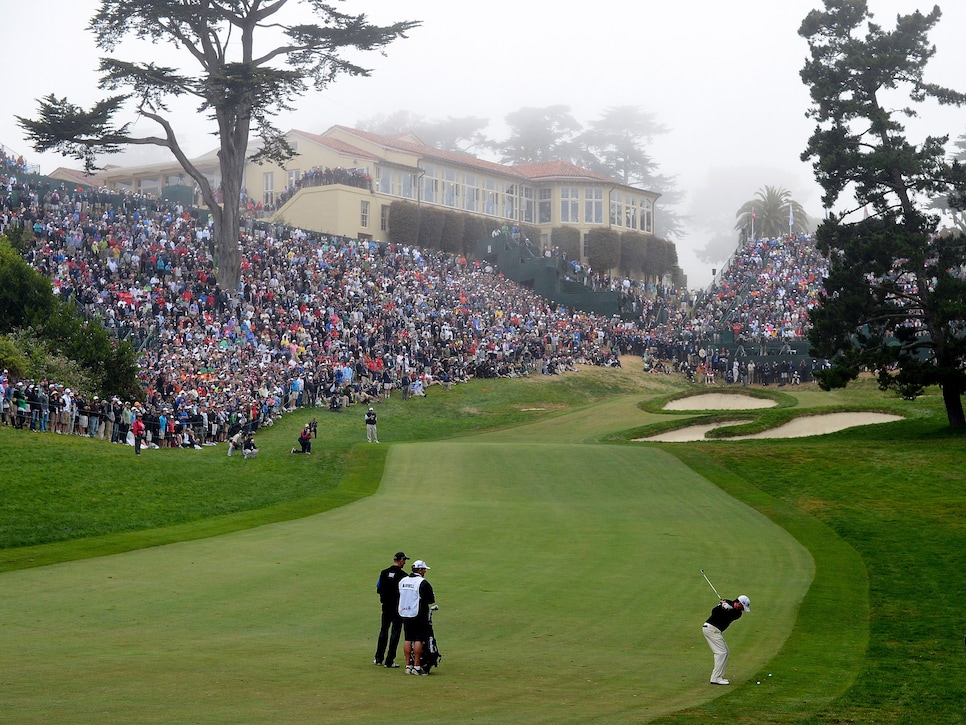 That impasse opened a discussion initiated by PGA of America CEO Pete Bevacqua on a possible PGA-Ryder Cup package. Bevacqua and Dillon had a relationship after Dillon, representing the City of San Francisco, helped negotiate a deal to bring the PGA to TPC Harding Park in 2020. So once it became clear that it wasn't going to work with the USGA, Dillon started negotiating with Bevacqua. The real carrot was the Ryder Cup, as it was in packages signed by the PGA with traditional USGA venues Oak Hill (1995), Oakland Hills (2004), Medinah (2012), Hazeltine National (2016) and Bethpage Black (2024). "The Ryder Cup is as big event as any in golf," Dillon said. "It's an opportunity that only comes around once every four years." According to Dillon, negotiations with Bevacqua went quickly once talks ended with the USGA. The money, still undisclosed, and the prime-time exposure for San Francisco and the PGA, were hard to pass up. "This is a great package for us financially and otherwise," Dillon said. The lone downside? He admits it might not sit well with some of the older, more traditional members of his club, but Dillon said he will deal with that among the 1,000 members with golf privileges at a club that has more than 10,000 members when including juniors, seniors and non-residents. "Being president for this big a club is a pain on occasion," Dillon admitted. "But I'll live with it."