News
Varner's nerves jangle, but he's still in hunt for first tour win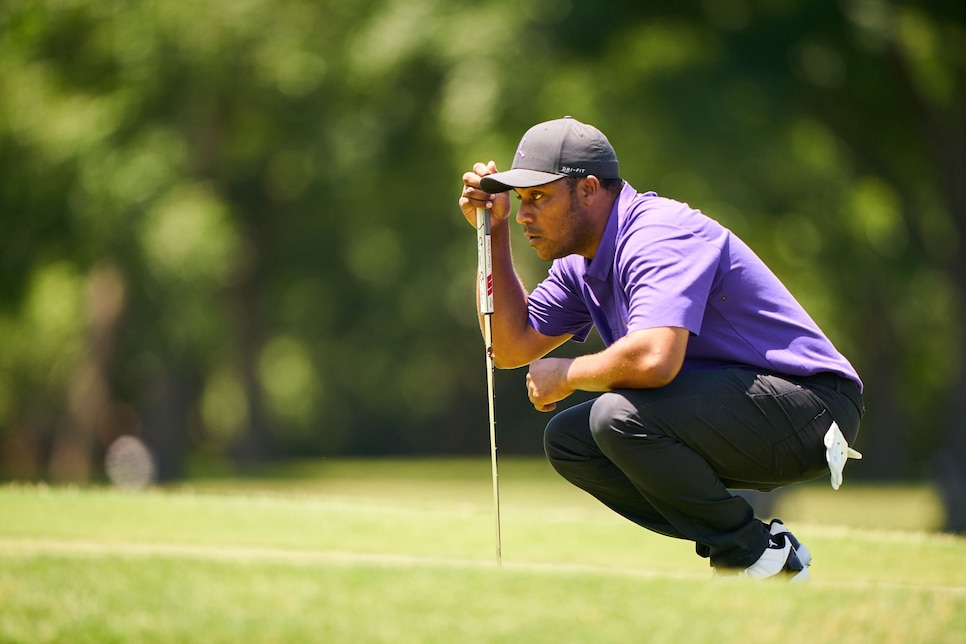 Darren Carroll for Golf Digest
FORT WORTH – The last silhouette on the putting green Saturday belonged to Harold Varner III. He was a man making amends.
Sweat beaded on his arms. It was nearing 5:30 p.m. He rolled ball after ball from short distances. He sent a text.
Bruce Sudderth had just completed a lesson with one of the members at Gaston Country Club when the question from Varner arrived. Sudderth, in fact, had not watched. He was teaching all day on the practice tee in Gastonia, N.C. He read the rest of the message from Varner, who confessed to his teacher that he'd felt oddly tense over putts in the third round of the Charles Schwab Challenge.
Sudderth gave it some thought.
"You're trying too hard," he wrote. "Don't be afraid to miss."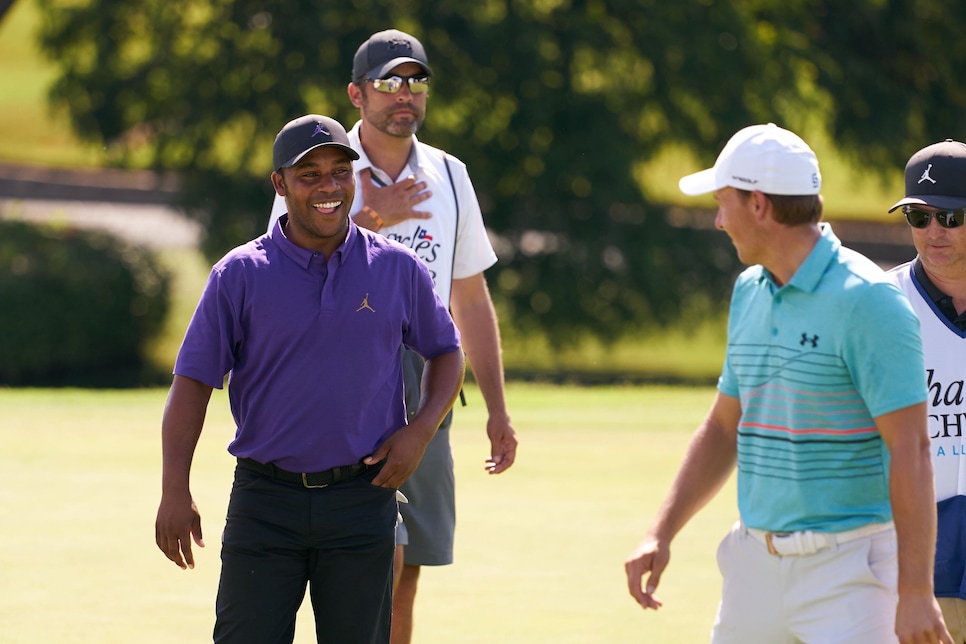 Harold Varner shares a laugh with Jordan Spieth after finishing at 18.
Darren Carroll for Golf Digest
Back at Colonial, out there over those short practice putts in the sun, Varner read those words and remembered his time last Sunday with Sudderth. They had convened at the country club to go through some putting drills. They worked on his alignment. They worked on his grip. Then Varner left for Texas, where he shot 63-66 to lead the Colonial by one.
It had been pretty easy, those first two rounds. Varner even survived a triple bogey start on Friday. He birdied the first hole Saturday with a 12-foot putt he stroked so purely and freely that you never would've known he was, at the age of 29, still trying to win for the first time on the PGA Tour. But Varner knew it. And it started to show.
Nothing fell after the first green. His pace was fine, but every putt seemed to glide past the hole instead of going in. Par. Par. Par. Too many pars. Then, at No. 14, he missed from 15 feet after his approach plugged in a greenside bunker. Bogey. Here came the misses that could've been makes. A missed 12-footer at 15. A miss from seven feet at 16. A miss from four—yes, 4 measly feet—on 17. Finally, a missed 11-footer on the last hole that meant the difference between a tie for second and a share of seventh.
Varner shot 70, even par, stuck right where he started at 11 under on a tournament course where even par isn't good enough. He got passed by six players, including Xander Schauffele, whose 66 gave him a one-shot lead at 13 under. There's an entire round of golf left. That's what kept Varner so late on the practice green, banging those short putts.
"I just want to have a chance with nine holes to go," Varner said. "And right now we have a chance with 18."
Back home in North Carolina, Sudderth has seen Varner achieve a lot in situations like this. "He's streaky, OK?" his 79-year-old coach said Saturday afternoon on the telephone. He wanted people to know that Varner won the North Carolina State Amateur [and was the first male African American to do so]. He wanted people to know that Varner was the Conference USA player of the year as a senior at East Carolina University. He wanted people to know how diligent and disciplined Varner is. (A story, told by the coach: Varner was 16 and working in the bag room at Gastonia when he asked Sudderth, "Would you help me get better?" Sudderth sized him up. He saw a hint of potential. "The next day, at 10 o'clock in the morning, we started." End of story.)
"When he comes home," Sudderth said, "he always wants me to watch him."
And Sudderth will Sunday when CBS goes live with the telecast. He'll be watching for any sign of nerves. He doubts he'll see any.
"Experience," Sudderth said. That's what Varner needs, he said. That's what Varner got Saturday at Colonial. Good experience can come from bad experiences.
"You shoot even par some Saturdays, it can kind of get away from you a little bit, having the chance to win," Varner said.
"I know what I've got to do. I've just got to go out there and do it now."