Players
Players 2022: Harold Varner III shrugs off brutal finish to stay in the hunt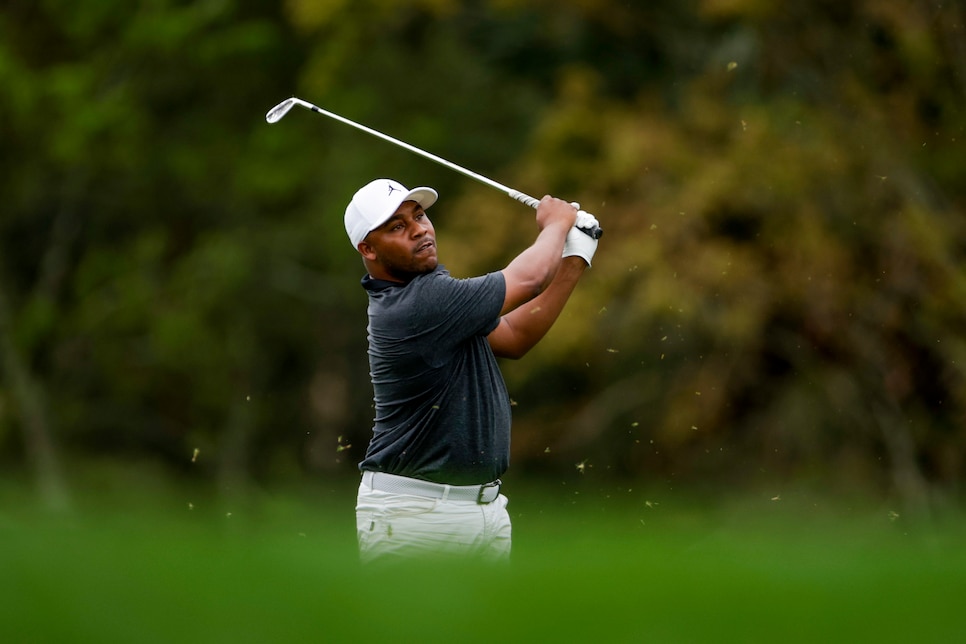 Harold Varner III plays a shot on the 14th hole during the first round of the Players Championship.
Icon Sportswire
PONTE VEDRA BEACH — Harold Varner III took a look down, took a look back, shook his head and shrugged it off. The man shrugs most things off, owning a carefree attitude that begets a swagger unmatched in these parts. Still, Varner had the right to feel salty after an auspicious start at TPC Sawgrass was doused by the final holes, watching a first-round two-stroke lead wave bye-bye with a triple bogey-bogey finish. So here was Varner walking off the 18th green, knowing he'd just come out of the business end of the beast, attempting to take stock of how it happened and realizing his detective work was futile.
"It's a game. That's why we play it," Varner said Thursday afternoon. "No one is going to die out there. I've always said that. … Either you get it done or you don't."
For the most part Thursday, Varner got it done, turning in a three-under 69 at the Players Championship. It's a number that looked like it was going to be better and probably should have been. But there's no use for "probably," not in the professional game and especially at this tournament.
"Yeah, 16 great holes," Varner said with, yes, a shrug. "Hopefully I can do it again."
This championship is known for many things, among them its boast one of the deepest field in golf. It is a badge meant to convey how tough it is to win this shindig and that notion is certainly not untrue. In that same breath, while the game's best are here, well, there are a lot of rank-and-file players here, too. Varner, historically, has been classified among this group. Played in 174 career tour events. Finished T-3 or better just twice. Enters the week outside the FedEx Cup top 100. To be fair, Varner won the 2016 Australian PGA and grabbed victory this February at a certain event backed by a certain group attempting to start a certain rival circuit (more on this in a second), and being a rank-and-file tour player is a damn fine thing to be and to be proud of. Still, given the Players' notoriety for catering to both everyone and no one, it may be the best chance these rank-and-files have of graduating to a higher echelon.
Varner was doing his best Thursday to make that move, tied for the lead at four under when the first round was hit with a weather delay. When play resumed so did Varner. He birdied the difficult 180-yard, par-3 13th, dropping a 10-footer to move to five under. His approach from a bunker 140-something yards out at the 15th finished 20 feet left of the pin and converted what was left. He added another birdie at the 16th to move to minus seven, and with the showers turning Sawgrass' usually tabletops into dart boards, Varner had chance to tie the course record of 63.
Now it's no secret when it comes to big events golf has no appetite for the underdog. However, should an underdog win, Varner is a darn good dog. In a tour filled with nice but somewhat stiff and unrelatable personalities, he is as relatable and personable as it gets. Cat is always joking, always busting chops, always looking like he's playing in a Tuesday night men's league. (A vibe that was reciprocated by playing partner Charley Hoffman Thursday.) Varner loves what he does and loves to put on a show yet understands there are more important things than how many strokes it took to get a tiny white ball into a tiny white cup.
"It doesn't kill me when I play bad or good. I love just the opportunity to play as well as I can," Varner says. "Standing there on 16 tee or 17 tee, I'm like, give it to me, I want it every time."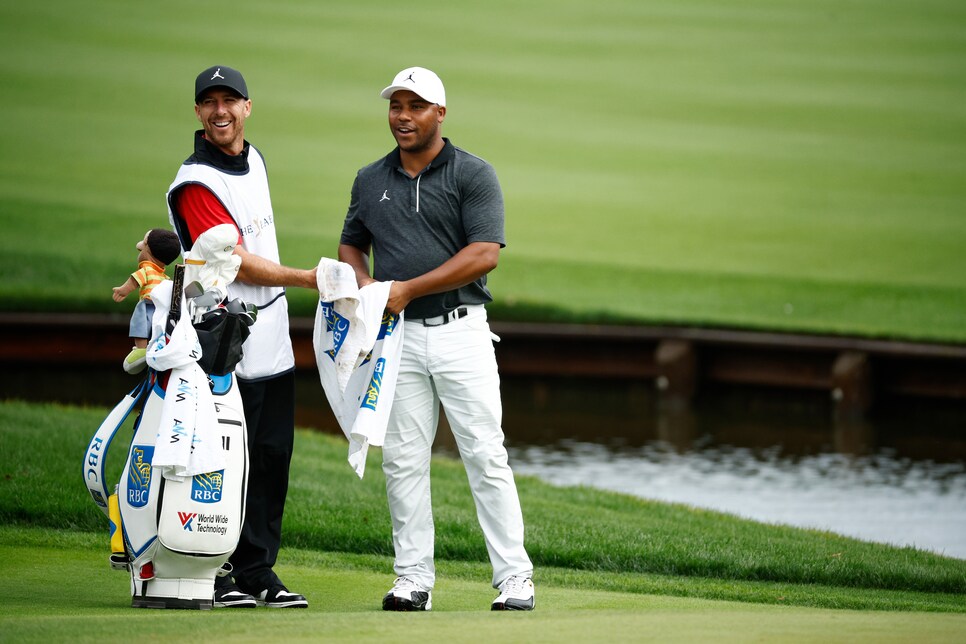 Harold Varner III smiles alongside caddie Chris Rice on the fourth green during the first round of the Players Championship.
Jared C. Tilton
Unfortunately for Varner, the 17th giveth and the 17th taketh away. You already know what we mean but we will spell it out for posterity. Varner went with a hard wedge. Should have went with an easy 9, because hard wedges tend to spin hard and that's what Varner's ball did, backing up and going down into the pond. His third did the same, saved from a same watery demise by the collar. The first putt wasn't much better and neither was the next.
"I hit it where I wanted to, just didn't go—I think if it would have been a little further right, it would have had a better chance, but it is what it is," Varner said of the triple. "It's golf."
On the 18th, Hoffman hit his drive into the water left, which we mention only to explain why Varner might have bailed out to the right. He could only advance his second shot 80 yards and the third ended up on the green, 55 feet away. It was a good lag, but lags don't find the cup. The final damage: four over on the final two, dropping Varner from the lead to three back when play was called due to darkness.
"I guess I was more disappointed by not hitting a better shot off the tee on 18 because it's how you respond," Varner said.
It's at this point we should revisit a sentence above. That, historically, Varner is a rank-and-file guy. "Historically" being the operative word. Varner enters the week No. 48 in the World Ranking. Stay inside the top 50 and Varner earns his first career trip down Magnolia Lane. It is an opportunity that exists solely because Varner won the controversial Saudi International a month back and we do mean solely, with just two other top-10 finishes in the past three seasons. Varner acknowledged as much. However, that win came with baggage because it connected Varner to the Saudi-backed proposed Super Golf League.
"Yeah, if I wouldn't have won, no one would have talked about it," Varner said. Varner's comments are not entirely true; nearly everyone who competed in the event has been tied to some degree to the league. Yet Varner wanted to leave no doubt where he wants to be.

"Obviously it's really good to hear all the talk about the Saudi league and all that stuff," Varner said. "My name went right to the top of the list, and I do have to commend [PGA Tour Commissioner Jay Monahan] for sitting down and talking to me and being totally open about it. "I look at Jay as a friend, but it's pretty odd how my name just went straight to the top of the list. You do your job, that's what you do, and I thought that was pretty odd.
"I've always supported the PGA Tour when they needed me, and I want to be there."
In spite of his stumble Varner is still very much here, three shots back of clubhouse leaders Tommy Fleetwood and Tom Hoge. More than half the field needs to finish the first round, and with the course vulnerable from the showers don't be surprised if that three-shot deficit widens when he tees off again. Doesn't matter; the only mission in Round 1 is to make sure Round 2 matters, and on that front mission accomplished. "It was a long day," Varner said. "I think it's going to be a long week, and I'm looking forward to the opportunity to just have a chance."
On that last point, no shrug. The man may be carefree. He's not short on confidence, either.